advertisements

Astronauts honored at Walt Disney World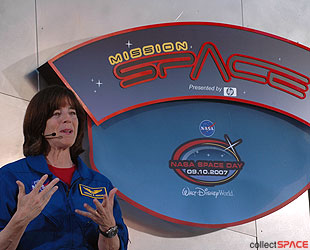 Educator-astronaut Barbara Morgan stands in front of a still-covered plaque installed in her honor at Walt Disney World's Mission: SPACE attraction at Epcot.
More photographs below.
September 11, 2007
— More than fifty years ago, rocket scientist Wernher von Braun worked with Walt Disney on a series of animated TV specials with the goal of exciting the American public about space exploration.

Half a century later, NASA is still partnering with Disney, and on Monday (Sept. 10), it was the crew of the shuttle Endeavour that took the spotlight at the Epcot and Magic Kingdom theme parks in Florida.

"It is so appropriate that we are here at Epcot, where our founder Walt Disney's dreams come true. We are standing before Mission: SPACE — what better place to think about [their] accomplishments than right here," James MacPhee, vice president of Walt Disney Parks, said.

The ceremonies honoring the seven astronauts began outside Epcot's space-themed attraction, Mission: SPACE, where educator-turned-mission specialist Barbara Morgan was singled out for her achievements.

"We are also standing in front of the Wall of Honor, where we've paid tribute to astronauts who have traveled before us and today's a very special day, because we're honoring our newest dreamer, Barbara Morgan," stated MacPhee. Together with NASA Assistant Administrator for Education Joyce Winterton, MacPhee welcomed Morgan, who, with the accompaniment of a Disney-style countdown complete with billowing smoke and silver confetti, revealed a glass plaque etched with her inspirational message.

"I do have some words to share, and they say, 'Reach for your dreams, the sky is no limit.'" said Morgan.

The plaque, which hangs along a wall with similar quotes from moonwalker Neil Armstrong, astronomer Carl Sagan, aviator Charles Lindbergh and President John F. Kennedy, was placed next to one honoring teacher in space Christa McAuliffe, for whom Morgan served as back-up on the ill-fated 1986 space shuttle Challenger mission.

Morgan spoke to collectSPACE.com about the plaque.

"I think it is great and it is quite honoring, and more than anything, I just thank Disney for honoring exploration and education. This is not a me thing, this honors all teachers, students, space explorers and my crewmates," she said.

"And, it really is pretty neat."

Morgan also thought that the partnership between NASA and Disney was "wonderful."

"First of all, you know they inspire kids to dream and to imagine and it takes dreaming and imagination to make all this stuff happen. They're also keen on education and do a lot for and with [it]. You can't do space exploration without good education. They go hand in hand. You have to have educated folks and dreamers, imaginers who can put all of this together," said Morgan.

Morgan's STS-118 commander, Scott Kelly, agreed.

"Disney is known as a company that can package science and education very well [and] make it exciting, especially with the rides that they have, to try to educate the public," he told collectSPACE. "I think between NASA performing these missions and Disney's experience with outreach and public image and how many people they get through this park — I mean it is an incredible number of people every year — it's kind of a good relationship."

While still at Epcot, the crew — which also included pilot Charles "Scorch" Hobaugh and mission specialists Dave Williams, Tracy Caldwell, Rick Mastraccio and Al Drew — participated in a live webcast with local students and met with park visitors. Later that afternoon, the entire crew was celebrated with a procession down Magic Kingdom's Main Street USA, where, despite a rain shower, guests lined the street waving American flags.

"I was pretty excited knowing that we were going to come out here," Caldwell said. "I wish that we had more time to explore the whole park and to see the other ways in which Disney is capturing the imagination of the people who visit here."

"Partnering up with Disney I think is a very smart idea. It is one of the best ways to bring something as complicated and sometimes as technical as space and space travel and space exploration to the American public in a way that not only excites them but it answers their questions and presents it in a way that everyone can appreciate. They don't have to be geeks like the rest of us to really get into it. They can experience the fun parts of it," she continued.

"Disney is just so good at capturing imagination," Caldwell said, "and we need that if we are going to get everybody's participation in something as difficult as space travel."

The activities at the Walt Disney World Resort marked the first public appearance by the STS-118 crew since landing on Aug. 21 following a 13 day mission to the International Space Station. While on orbit, Endeavour's crew installed a truss segment, delivered supplies, and, given Morgan's presence, participated in three live educational downlinks with students in classrooms and at science centers.



Click on thumbnails to enlarge

Barbara Morgan, before and after revealing her plaque on the Wall of Honor at Epcot's Mission: SPACE attraction.

Morgan, Disney's VP of Epcot Jim MacPhee and Dr. Joyce Winterton, NASA's administrator for education, take part in a smoke-enhanced countdown revealing Morgan's plaque.

The plaque reads: Reach for your dreams, the sky is no limit.

The crew of STS-118 answer students questions during a live webcast from Epcot's Base21 Siemens VIP Center.

The crew take a stroll down the Magic Kingdom's Main Street.

© 2023 collectSPACE.com All rights reserved.