advertisements

Chinese space memorabilia now available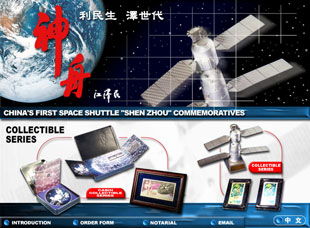 September 11, 2000
— Asian Star Development today announced the launch of its marketing program for China space souvenir products. The commemorative and flown collectibles are now listed on chinaspacesouvenirs.com and are in over 60 jewelry and book stores in Hong Kong.

The souvenirs are a result of a joint partnership between the Chinese Academy of Space Technology (CAST) and the China Space Foundation South Agency (CSF).

The selection includes authentic, limited edition articles carried in the cabin of the first Chinese Shenzhou I craft during its maiden unmanned voyage into orbit in 1999. Each are accompanied by authenticity statements from the Chinese government.

Projected sale revenues are expected to reach $8 million.

Stephen Chow, President of Asian Star stated: "We are most honored to be selected as exclusive joint venture partners with CAST and CSF. This merchandising joint venture is just the beginning of what we anticipate will be a long-term working relationship between ASTV and the two Chinese space organizations."

© 2023 collectSPACE.com All rights reserved.