September 9, 2009
— Space shuttle Discovery undocked from the International Space Station (ISS) Tuesday with six NASA astronauts, one European Space Agency (ESA) mission specialist and a Star Command Space Ranger for the trip back to Earth.
Yes, that's right, Buzz Lightyear is on his way home.
The animated astronaut has been on a real space mission in the form of a 12-inch tall action figure
since launching
last year aboard Discovery's STS-124 mission, as part of
an educational partnership
between NASA and the Walt Disney Company.
Buzz is returning with the STS-128 crew, including space station flight engineer Tim Kopra who spent 44 days living on the ISS. By comparison, Lightyear will have logged 467 days in space, assuming that the weather in Florida does not delay his scheduled landing on Thursday evening.
That is a record, says Disney, pointing out that Lightyear's stay surpasses the longest duration space mission set in 1995 by Russian cosmonaut Valery Polyakov by a month.
During his time on-board the station, with the help of his crewmates, Lightyear has been the star of recorded videos that are aimed at exciting children about spaceflight, while teaching them the basics of working in weightlessness.
A similar goal is shared for other items returning with the STS-128 astronauts. Although in space for less time than Buzz, just 13 days, the astronauts each packed items to thank those who supported them while helping promote the role space exploration plays back on Earth.
Toys and games
Buzz Lighyear is not the only toy aboard Discovery.
STS-128 pilot Kevin Ford, making his first flight, brought a seven-inch model of the space shuttle for his elementary school and as a Hoosier, a model car for the Indianopolis Motor Speedway in Indiana.
Swedish astronaut Christer Fuglesang, who coincidentally combined both of Ford's items
in the form of candy
he flew for his crewmates, chose among his mementos a chess piece for the Swedish Chess Academy.
The wood-carved knight, like the shuttle and car models, were stowed inside the
STS-128 Official Flight Kit
, a duffle bag-sized container of souvenirs flown at the request of the astronauts and the space agency. The items it carries remain out of reach of the crew for the length of the flight.
Which is why Fuglesang, who also flew a mini frisbee, was unable to best his own record on this mission. Once a Swedish national frisbee champion, Fuglesang on his first flight in 2006 set a record for "time aloft" by floating a spinning frisbee for 20 seconds aboard the ISS.
With his chess piece and frisbee out of reach, Fuglesang devised other means of sharing a game from space.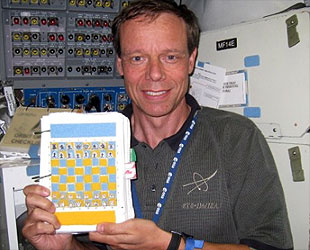 Christer Fuglesang with his Velcro chess board (ESA)
Challenging the public to a chess match, Fuglesang built a board on the back page of mission checklist.
"I needed some kind of chess board and so I made it out of Velcro for myself," he explained in a pre-flight interview with collectSPACE. Using blue and yellow hook-and-latch squares, Fuglesang affixed paper pieces that he moved in response to e-mailed challenges.
As of Wednesday, the Swedish media was reporting that Fuglesang's rook, guarding his queen, might be in trouble.
"I am kind of a good amateur player," Fuglesang said of his own abilities. "When I was a teenager, I played for two years in a club and did a bit of competition, but I never raised above average."
Flying the flag
Fuglesang is not flying the white flag to surrender just yet, though the completion of his chess match, which began before he launched, may not come until after he lands. He is however, flying the Swedish flag.
The blue and yellow banner, which is also featured on the STS-128
crew's mission patch
, is among a collection of flags inside the Official Flight Kit.
"I am flying a couple of flags," shared Jose Hernandez, whose family were Mexican migrant workers. "One is for a squadron from Mexico that participated in World World II. They asked me to fly their squadron's flag. I am flying a Mexican flag that I will present to President Calderon when I return."
Danny Olivas, who like Hernandez is a mission specialist of Mexican descent, chose to highlight another country's role in his youth.
"The country of Bhutan and my alma mater, University of Texas at El Paso, share an affiliation. The architecture at UTEP is all Bhutanese architecture and so the country, their government, and UT El Paso have a pretty close relationship and so in discussions with the folks at UTEP and with representatives of the country, we were able to get a flag."
Ford, in addition to packing models, brought a flag for one of his schools, the Air Force Institute of Technology.
"Although they have graduated many astronauts, I do not think they had ever had anything ever offered to them. So I am flying their flag and they are going to hang it back in their entry way and make a little note underneath about their contribution to the astronaut corps," said Ford.
For astronaut Pat Forrester the chance to fly a flag was even more personal.
"During the training for this flight, my father passed away. He was my biggest fan, loved space, loved NASA. So he was 30 years with the military, a West Pointer just like me and he was buried at Arlington [Cemetery] in September. And the honor guard that did his service, I am flying their guidon and will present that back to them when I get back, just a way of thanking them for the way that they honored him in his burial."
Homecomings
As Forrester mentioned, the crew members will embark on tours of the country, and to Sweden and other international destinations, to return the items they flew.
"Hopefully, [these items] will serve as motivation for kids and for people who are part of the organization that once presented to them, will say 'Hey, if they did it, why can't I do it?'" said Hernandez.
One such opportunity is set for early October when Disney plans a ticker-tape parade at the Magic Kingdom in Florida to welcome Buzz Lightyear back to Earth, together with several of his NASA space station crewmates.
---
The STS-128 Official Flight Kit Manifest
The following is the STS-128 Official Flight Kit manifest, as provided by NASA. Inventory numbers that are missing indicate items that were removed prior to launch.
No.
Description
Sponsor/Purpose
1.

625 STS-128 crew patches
75 Expedition 21 patches

Agency Presentation
2.
800 Small United States Flags
Agency Presentation
3.
5 Sets U.S. States & Territories Flags
Agency Presentation
4.
5 Sets United Nations Members Flags
Agency Presentation
5.

20 Small Texas Flags
5 Small NASA Flags
5 Small POW/MIA Flags
5 NASA Patches
2 Texas Lapel Pins
1 Bronze NASA Seal Medallion
1 Silver Shuttle Pendant

Agency Presentation
6.
Small Flags of the Following States:

10 California
10 Texas
10 Indiana
10 Virginia

Agency Presentation
7.
Small Flags of the Following Countries:

20 Mexico
10 Isle of Man
5 Sweden
2 Bhutan
2 Norway
2 Denmark
2 Finland

Agency Presentation
8.
10 Each Small Military Flags:

U.S. Air Force
U.S. Army
U.S. Coast Guard
U.S. Marine Corps
U.S. Navy

Agency Presentation
9.

10 Small United States Flags
10 Small Alabama State Flags

Marshall Space Flight Center Presentation
10.

10 Small Louisiana State Flags
10 Small Mississippi State Flags
5 Small NASA Flags
5 Small United States Flags

Stennis Space Center Presentation
11.

2 Small United States Flags
2 Small Florida State Flags

Kennedy Space Center Presentation
12.
140 Silver Snoopy Pins
Space Flight Awareness Presentation
13.
25 EVA Patches
Agency Presentation
14.

10 STS-128 Crew Patches
10 Small U.S. flags
10 DoD Space Test Program Patches
10 Det 3 Human Spaceflight Support Office Commander Coins
100 HICO-RAIDS Payload Decals

DoD Presentation
15.
20 Constellation Pins
Constellation Program Office Presentation
16.
25 COD Patches
Center Operations Directorate Presentation
17.
25 Mission Operations Patches
Mission Operation Directorate Presentation
Items 18 through 64 are manifested at the request of the STS-128 crewmembers.
18.
35"x56" Gold and Navy Flag
Patriot Guard Riders, Houston, TX
19.
36"x60" State Flag
Indiana State Senate, Indianapolis, IN
20.
48"x72" Navy and Gold Flag
Air Force Institute of Technology, West Point, NY
21.
2.5" Green Ceramic Airplane
Nortre Dame Aerospace Engineering, Notre Dame, IN
22.
Gold "Class of 1978" Medallion with Ribbon
Blackford High School, Hartford City, IN
23.
South Bend Radio Control Patch
South Bend American Model Assoc., South Bend, IN
24.
7.5" White "B" Band Letter
Blackford Bands, Hartford City, IN
25.
2.5" Red Model Car
Indianopolis Motor Speedway, Speedway, IN
26.
7"x5" White Space Shuttle Model
Montpelier Elementary School, Montpelier, IN
27.
4"x5" Indiana State Flag
City of Montpelier, Montpelier, IN
28.
Gold Class of 1979 Medallion
U.S. Military Academy, West Point, NY
29.
19.5"x29.5" Navy and White Pennant
The Old Guard, Arlington, VA
30.
6.5"x6.5" Metal Airplane Hardware
Mission Aviation Fellowship, Nampa, ID
31.
Gold Unit Medallion
4th Battallion, 3rd Aviation Regiment, Savannah, GA
32.
Blue and White Stripe Square Unit Patch
3rd Infantry Division, Fort Stewart, GA
33.
6"x8" Orange Plastic Plaque
University of Virginia, Charlottesville, VA
34.
Black, White and Red Team Jersey
The Durban Sharks, Durban, South Africa
35.
Gold Astros "Defending Freedom" Medallion
Houston Astros, Houston, TX
36.
36"x51" Maroon and White Flag
Wounded Warrior Foundation, Arlington, VA
37.
23"x26" Green, White and Red Flag
Survivors of Squadron 201, Mexico City, Mexico
38.
City Lapel Pin
City of Stockton, CA
39.
35"x57" Red, Black and White School Flag
University of the Pacific, Stockton, CA
40.
Red, White and Blue Ribbon
League of United Latin American Citizens, Stockton, CA
41.
37"x60" Orange, Gold and White Flag
Kingdom of Bhutan, Bhutan
42.
36"x60" Green and White School Banner
Dr. Walter Cooper Academy, Rochester, NY
43.
Congressional Medallion
16th Congressional District, Washington, DC
44.
13"x19" Green, Gold and Navy Pennant
U.S. Border Patrol Museum, El Paso, TX
45.
17.5"x22" Purple and White Chapter Pennant
Alzheimer's Association National Office, Chicago, IL
46.
9"x11" Purple and Silver Chapter Pennant
Alzheimer's Assoc., Houston and Southeast Chapter, TX
47.
13"x15" Maroon Centennial Seal Felt Piece
Drew School, San Francisco, CA
48.
36"x60" White and Blue Flag
National Renewable Energy Lab, Golden, CO
49.
36"x60" Green and White Banner
Oyster-Adams Bilingual School, Washington, DC
50.
36"x60" White and Blue Flag
HENAAC, Los Angeles, CA
51.
Silver Carved Spoon
Sametinget, Kiruna, Sweden
52.
9.5"x15" Black and Gold Pennant
Kungliga Operan, Stockholm, Sweden
53.
Nobel Peace Prize Medallion Replica
Norsk Romsenter, Oslo, Norway
54.
24"x36" Navy, Blue and Gold Team Flag
Djurgardens IF Football, Stockholm, Sweden
55.
4.5" Round Yellow Felt Piece
CERN, Geneva, Switzerland
56.
6"x9" White Swedish Olympic Pennant
Sveriges Olympiska Kommitte, Stockholm, Sweden
57.
Gold "Christoph Polhern" Medallion
Sveriges Ingenjorer, Stockholm, Sweden
58.
2"x5" Carved Wooden Knight Chess Piece
Svenska Schackakademien, Stockholm, Sweden
59.
"Wargentin" Medal
Kungliga Vetenskapsakademien, Stockholm, Sweden
60.
7"x9" Miniature Orange Life Jacket
Sjoraddningssallskapet, Gothenburgh, Sweden
61.
Gold Astronaut Pin
Agency Presentation
62.
Gold Astronaut Pin
Agency Presentation
63.
Gold Astronaut Pin
Agency Presentation
64.
Gold Astronaut Pin
Agency Presentation
Items 65 through 86 are manifested at the request of the Space Shuttle Program Office and Payload Customers.
65.
320 8.5"x11" Sheets of Bookmarks
Space Shuttle Program (SSP) Presentation
66.
50 TriDAR Patches
SSP Presentation
67.
75 TriDAR Labels
SSP Presentation
68.
150 17A Mission Patches
International Space Station Program (ISSP) Presentation
69.
150 17A Logo Pins
ISSP Presentation
70.
150 17A Logo Placards
ISSP Presentation
71.
30 Treadmill "T2" Patches
ISSP Presentation
72.
4 Colbert Treadmill Patches
ISSP Presentation
73.
30 Crew Quarters Patches
ISSP Presentation
74.
30 FPS Patches
ISSP Presentation
75.
30 TOCA Patches
ISSP Presentation
76.
200 4"x6" MSRR-1 Flags
ISSP Presentation
77.
30 FCF Patches
ISSP Presentation
78.
10 LMM Patches
ISSP Presentation
79.
37 LMM/CVB Labels
ISSP Presentation
80.
3 ROI Labels
ISSP Presentation
81.
12 EuTEF Pens w/o Ink
ISSP Presentation
82.
100 MPLM Logo Patches
ISSP Presentation
83.
105 MPLM ASI Patches
ISSP Presentation
84.
200 (4"x6") MPLM Flags
ISSP Presentation
85.
250 CMC Patches
ISSP Presentation
86.
250 CMC Pins
ISSP Presentation