advertisements

Astronaut autographs lead to arrest
---
'Moon dust' salesman sent to prison
March 15, 2001
— On March 12, Richard Keith Mountain (aka: Nicholas Parker Cole) was sentenced to 21 months in prison, three years probation, 300 hours of community service, ordered to pay $98,750 restitution and pay a $600 special assessment fee, the NASA Office of the Inspector General reports.

The sentencing followed Mountain's indictment last year by a federal grand jury on 24 counts of mail and wire fraud for misrepresenting terrestrial "dirt" he was selling as being "moon dust." An investigation confirmed that Mountain had sold the sand-like granules to multiple buyers across the United States, Australia, and Canada.

The NASA Office of Inspector General, Office of Criminal Investigations and FBI conducted the investigation. Asst. U.S. Attorney Michael Shelby with the District of Arizona handled the prosecution.


---
'Moon dust' dealer pleas guilty to fraud
Oct. 30, 2000
— Richard Keith Mountain (also known as Nicholas Parker Cole) of New Milford, CT, entered a plea of guilty to six counts of mail and wire fraud in connection with a scheme to sell "moon rocks" to interested buyers.

Mountain was previously indicted by a federal grand jury on 24 counts of mail and wire fraud for misrepresenting that the materials he was selling were collected from the lunar surface during the Apollo 11 mission. The sand-like granules he sold were not from the moon.

The April 1999 indictment described Mountain as having owned and operated businesses in Arizona and California to identify, solicit and defraud buyers from throughout the United States, Australia, and Canada.

Mountain now faces a possible prison term of 5 years and fines totaling $250,000. Sentencing is set for Jan. 8, 2001.


---
Astronaut autographs lead to arrest
September 8, 2000
— A U.S. citizen, wanted in Arizona for the sale of $90,000 of fake lunar soil, was arrested in Canada on Sept. 2, after he was found dealing authentic astronaut autographs to benefit a cause he invented.

Richard Keith Mountain, 53, fled the country with his wife and two children to British Columbia after U.S. Marshals issued a warrant for his arrest. Arriving in Canada on Aug. 26, Mountain began identifying himself as representing the Canadian Cattlemen's Association (CCA).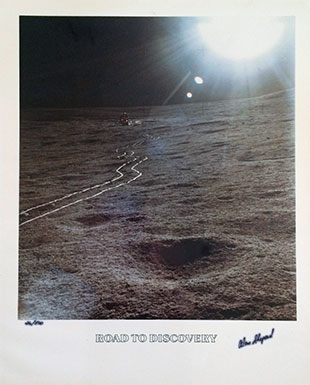 "Road to Discovery," signed by astronaut Alan Shepard, is one of several in Pacific Coast Galaxy's "American Dream" series.
Mountain approached area galleries offering to sell limited edition prints autographed by astronauts, including the first American in space Alan Shepard, Apollo moonwalker Alan Bean and Apollo-Soyuz Test Project commander Thomas Stafford. The photos, which Mountain marketed under the title "American Dream," were laminated after being signed, causing the autographs to sometimes bleed into the paper.

While trying to sell the prints, Mountain claimed that the proceeds would be donated to the CCA charity that would send area children to space camp.

After successfully selling a few of the prints for $160 each, Mountain reportedly tried to arrange a fourth larger sale for $8,000 with an art gallery in Surrey, Vancouver. The owner became suspicious after noticing that caller ID identified Mountain's phone number as belonging to a hotel. The art gallery owner then contacted the CCA.

Soon after, Constable Tim Shields of the Royal Canadian Mounted Police (RCMP) received a phone call.

"I was contacted [by the CCA] about a gentleman going by the name of Steven Mountain who was approaching B.C. area galleries as a representative of the Association," said Shields in a telephone interview with collectSPACE.

Not only was the CCA not aware of Mountain's activities, but had never organized a space camp fund.

Shields obtained a warrant to enter Mountain's hotel room, but upon arriving found that Mountain had fled.

"He jumped out the window, luckily of a first floor room," Shields stated. "He then proceeded to climb a barbed wire fence ripping apart his bare hands, ran through brambles of blackberries, all awhile wearing only boxer shorts and a t-shirt."

"He finally fell down a ravine and while he was attempting to climb out we apprehended him."

Mountain, now in RCMP custody, is facing three counts of fraud and one count of obstruction. According to Shields, Mountain is then "likely to face deportation to stand trial in the United States."

Mountain's troubles with autographs date back to the early 1990s. After several years of selling the "American Dream" set and other signed prints (including one created for the Mercury 7 Foundation), Mountain stated his then-company Pacific Coast Galaxy bankrupt in 1993. Although the court ordered he was to surrender all the prints and artwork to a court trustee, and reportedly many were, the bankruptcy was overturned when it was revealed Mountain was still selling prints from the series.

© 2023 collectSPACE.com All rights reserved.