Full Coverage: 2001 Astronaut Hall of Fame
Article index:
---

Space shuttle astronauts enter Hall of Fame

November 11, 2001 — Four space shuttle veterans have joined Mercury, Gemini and Apollo astronauts in the U.S. Astronaut Hall of Fame.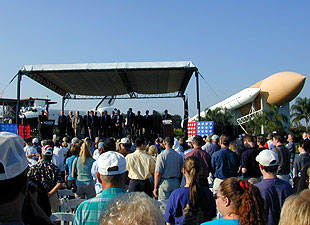 Commanders Bob Crippen, Joe Engle, Rick Hauck and Dick Truly were enshrined during a public ceremony held at the Kennedy Space Center Visitor Complex in Florida on Saturday.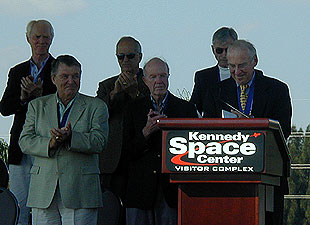 James Lovell, Apollo 13 commander and chairman of the Astronaut Scholarship Foundation, served as host of the event. Lovell, seen here at the podium, is joined by Rusty Schweickart, Bill Anders, John Young, Wally Schirra, and Gordo Cooper.




Each inductee was introduced by a fellow astronaut. From top left to bottom right: Crippen with John Young, Engle with Vance Brand, Truly with Fred Haise, and Hauck with Schirra.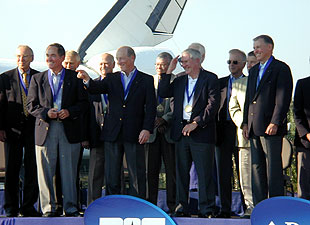 The inductees were selected from the 21 U.S. astronauts who flew aboard the Space Shuttle between 1981 and 1983. An independent committee voted for their top 10 choices. When the votes were counted, Crippen, Hauck, Truly, and Engle (as seen above) were the clear leaders.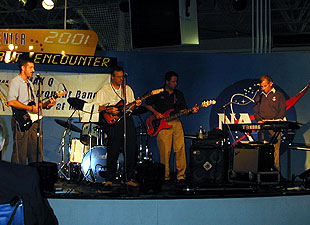 The evening prior to the induction, the astronauts, their families, friends, co-workers, and members of the general public gathered to celebrate at the Kennedy Space Center Visitors Complex. Above, the astronaut band Max-Q performs: (from left to right) Dan Burbank, NASA engineer Max Kelldof, Steve Robinson, and Ken Cockrell (Jim Wetherbee was on drums).




Previous Hall of Fame inductees met the public and signed autographs during the course of the two days. From top left to bottom right: Gordon Cooper, Walter Schirra, Scott Carpenter, and Alfred Worden.




The astronauts also took part in question and answer sessions: Schweickart, Brand, Bill Anders and Young.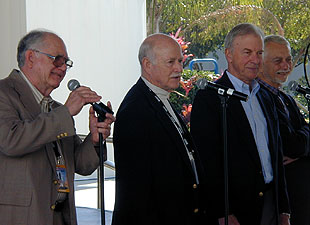 Four Skylab astronauts — Bill Pogue, Jerry Carr, Paul Weitz and Owen Garriott — joined the 24 fellow space explorers in attendance.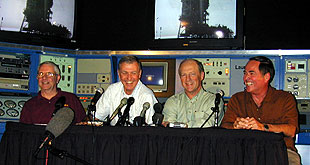 At a press briefing on Friday, Crippen told collectSPACE that the four inductees plan to donate memorabilia from their flights and career, including "flight suits and flown checklists," to the Astronaut Hall of Fame. A new exhibit honoring the space shuttle astronauts is set to debut in January.

Future Hall of Fame inductions will proceed at a rate of two space shuttle astronauts per year. In addition to the 17 flyers passed over by the committee this year, those whose first mission was in 1984 will be eligible next year.


---

Space Shuttle astronauts to be inducted

October 24, 2001 — The largest contingent of former astronauts ever to assemble on the Space Coast will be at the Kennedy Space Center on November 9-10 for the induction of the first four Space Shuttle astronauts into the U.S. Astronaut Hall of Fame.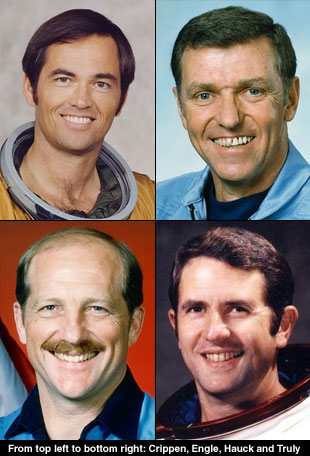 A total of 34 space explorers from the Mercury, Gemini, Apollo, Skylab, Apollo-Soyuz and Space Shuttle programs will pay tribute to Robert L. Crippen, Joe H. Engle, Frederick H. "Rick" Hauck and Richard H. Truly. The number will top the 27 who were at the Hall of Fame for the induction of Apollo astronauts in October 1997.

"This terrific turnout is a tremendous tribute to these four veteran shuttle commanders, who will join 44 Mercury, Gemini and Apollo astronauts already enshrined," said Apollo 13 commander James A. Lovell, chairman of the Astronaut Scholarship Foundation, which is hosting the event, in cooperation with Delaware North Park Services Inc., which operates the KSC Visitor Complex.

Throughout the weekend the astronauts will meet with the public, answer questions and sign autographs. Max Q — a group of five current shuttle astronaut musicians — will also play a variety of music.

The celebration kicks off at 7:00pm Friday with a pre-induction buffet dinner and entertainment at the Kennedy Space Center Visitor Complex. The enshrinement of the four shuttle astronauts is set for 2:00pm Saturday, at the Visitor Complex's Shuttle Plaza, with Lovell as host.

Astronauts will be available to meet the public on Friday evening and Saturday morning. Autographs will be limited to one per person per astronaut.

Tickets are still available, either online at www.kennedyspacecenter.com, or by phone at 321/449-4444. In addition to the dinner and induction ceremony, they provide visitors with three days' access, November 9-11, to the KSC Visitor Complex and the Astronaut Hall of Fame in nearby Titusville. The entire package is priced at $82 for adults, and $60 for children ages 3-11.

In addition to the four inductees, astronauts scheduled to attend include Buzz Aldrin, Andrew Allen, Bill Anders, Frank Borman, Vance Brand, Roy Bridges, Scott Carpenter, Jerry Carr, Gordon Cooper, Brian Duffy, Sam Durrance, Owen Garriott, Fred Haise, Joe Kerwin, Jim Lovell, Jim McDivitt, Bruce Melnick, Ed Mitchell, Bill Pogue, Wally Schirra, Rusty Schweickart, Loren Shriver, Paul Weitz, Al Worden, John Young and members of the Max-Q band.

Crippen, Engle, Hauck and Truly were selected for induction by a blue ribbon committee of former NASA flight directors and officials, space journalists, a space historian and the director of the Smithsonian's National Air & Space Museum. The committee was appointed by the Astronaut Scholarship Foundation.
back to News



© 2018 collectSPACE.com All rights reserved.
Questions? E-mail contact@collectspace.com