September 4, 2012
— Neil Armstrong will be remembered during a public memorial service at Washington National Cathedral, where a moon rock that he returned to Earth is on display overhead.

The late astronaut will be mourned Sept. 13 at the historic church, located in northwest Washington, D.C. Known as the spiritual home for the nation, the cathedral includes a stained glass tribute to Armstrong's 1969 lunar landing.

Referred to informally as the "Space Window," the colored glass display features a sliver of moon rock embedded at the center of a rose-tinted sphere.

Armstrong, 82, who died on Aug. 25 of complications from heart surgery, commanded Apollo 11, the first mission to land men on the moon. His first words upon stepping onto the lunar surface were, "That's one small step for (a) man, one giant leap for mankind."

The memorial service, which NASA will broadcast live on its television channel and website, is scheduled to begin at 10 a.m. EDT (1400 GMT). Invited dignitaries, including NASA chief Charles Bolden, political leaders, members of Armstrong's family and the NASA family, including current and former astronauts, will pay their respects.

"Neil Armstrong's first step on the moon paved the way for others to be the 'first' to step foot on another planet," said Bolden in a statement. "A grateful nation offers praise and salutes a humble servant who answered the call and who dared to dream."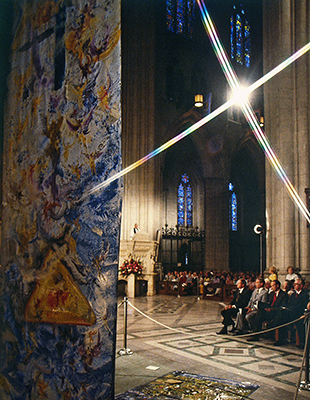 Neil Armstrong and his Apollo 11 crewmates attend a service at National Cathedral marking the 5th anniversary of the first moon landing, July 21, 1974.
(NASA / Retro Space Images)
A very limited number of seats at the service will be made available to the public on a first-come, first-served basis. According to NASA, those interested in attending should e-mail Christine Peterson (christine.peterson@nasa.gov).

Additional details regarding the service and its participants will be released by NASA as plans are finalized.

Family members held a private ceremony for Armstrong in Cincinnati on Aug. 31. NASA visitor centers in Florida and Alabama also held remembrances the same day.

President Barack Obama ordered flags be flown at half mast on the day Armstrong is interred, although when that will occur and where the late astronaut will be laid to rest is not yet public.

Armstrong, along with his crew members Buzz Aldrin and Michael Collins, presented the National Cathedral with an Apollo 11-recovered moon rock on July 21, 1974, during a service to commemorate the fifth anniversary of the first lunar landing. The iconic Space Window, which later would display a sliver from that rock, was also dedicated at that ceremony.