September 4, 2007
— In recognition of the anniversary of the launch of the first satellite, Sputnik, 50 years ago next month, the United Nations Postal Administration (UNPA) is planning to release a set of six commemorative stamps that celebrate "Space for Humanity."

Preliminary designs for the six stamps were published in the UNPA Philatelic Bulletin for August-September 2007.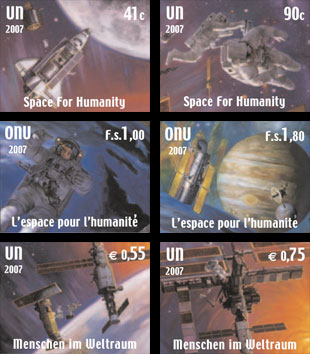 The commemoratives will be offered in denominational pairs: two in US dollars with a face value of 41 cents and 90 cents for the UN offices in New York; two in Swiss francs (1,00 and 1,80) for the offices in Geneva; and two in euros valued at 0,65 and 1,15 for the UN in Vienna.

Each stamp features the inscription "Space for Humanity" in either English, French or German.

The cent-value stamps depict the U.S. space shuttle and astronauts spacewalking. The franc-value stamps depict the Hubble Space Telescope and the Galileo spacecraft near Jupiter, as well as an astronaut on a spacewalk. The international space station, among other orbiting outposts are shown on the euro-value stamps.

In addition to being sold in mini-sheet format (six sheets with six stamps on each), the UNPA will also offer three "souvenir" sheets that extend the artwork of three of the commemoratives beyond their boundaries, one for each denomination.

Visitors to the United Nations' Headquarters in New York can also obtain an exclusive "personalized" sheet that shares the same theme as the other stamps but features designs that depict classic UN, New York images held between space scenes and the World Space Week logo.

The six stamps, souvenir and personalized sheets are to be issued on October 25, 2007, three weeks after the 50 year anniversary of Sputnik's launch on October 4, 2007.

The United Nations is the only organization in the world that is neither a country nor a territory that is permitted to issue postage stamps. It is also the only postal authority to issue stamps in three different currencies. Since 1951, the UNPA has issued over one thousand stamps.