September 3, 2010
— Angelo Sosa's short ribs are going to the International Space Station.

As a 'cheftestant' on Bravo's Emmy Award-winning cable reality show "Top Chef," Sosa won Wednesday's episode where the challenge was to develop a dish for astronauts to eat in space.

"My food is going to be in outer space!" exclaimed Sosa after learning that his concoction had won. "It is too much to embrace as a human to be honest to you. I need to breathe a little bit and process and everything."

As it turns out, NASA needs some time to process Sosa's win too, to 'deconstruct' his dish and make it suitable for spaceflight.

"We're going to try to remain as true to the original recipe as possible but until we actually [freeze-dry] it, we won't know exactly how much modification we have to make," explained Vickie Kloeris, NASA's own 'top chef' for the International Space Station (ISS), in a post-show interview with collectSPACE. "It is going to be a kind of trial and error thing."

Hold the horseradish

Sosa's winning recipe — "ginger-lacquered short ribs with pea puree, pickled mushrooms and horseradish créme fraiche" — will require at least some changes before it can be launched on the space shuttle.

Addressing the chefs during the show, Kloeris offered her advice as to what to include and avoid in their dishes.

"We do have a couple of things that we normally look at when creating freeze dried formulations: not a high, high level of sugar because it doesn't freeze dry super well, and then also very large pieces ingredients tend to not freeze dry as well," she said. "And a lot of our astronauts say that spicier things on orbit taste really good."

Some of the judges, including lead judge Tom Colicchio, thought Sosa's use of ginger was too sweet.

"I really made a conscious effort to go light on the sugar," commented Sosa. "In my head I'm like, 'Oh my god, that's too sweet. It can't be too sweet [as it's] going to the space station.'"

Ultimately, the judges thought Sosa's short ribs were "an out-of-this-world dish."

"I thought this dish was very sophisticated and I think might actually be easily adaptable to an extraterrestrial situation," said guest judge chef Anthony Bourdain during the show.

Apollo 11 moonwalker Buzz Aldrin, who with his fellow astronauts Sandra Magnus and Leland Melvin were invited to taste the dishes, hinted at the challenge NASA would face adapting Sosa's creation.

"Very tasty and then when I got the pickled mushroom... what a surprise!" Aldrin remarked. "But I could see where it would be difficult to keep those together in some space dish."

Kloeris said the solution may be just that — to divide the dish and perhaps even leave some elements behind.

"It is kind of three things in one and we are really probably going to have to break it down into separate components to be able to freeze-dry it," she said. "Also, the dish was served with components at different temperatures. We will not be able to do that."

"I'm not even sure we are going to touch the horseradish because [the astronauts] already have a horseradish condiment sauce that is available to them on orbit," Kloeris added. "We're looking at that, but there is a good possibility we'll just do away with that part of it because they add that back by using the horseradish condiment paste they have on orbit."

Muscling out the mussels

Sosa's winning short ribs faced four other dishes including New York strip steak, yogurt-marinated rack of lamb, pan roasted halibut and pan seared Alaskan hailbut. None of them, according to Kloeris, could have flown as is.

"They would all have to have been modified in some form or another to make it possible for us to freeze dry them. None of them were 100% compatible to the freeze-drying process," she said.

None of the cheftestants' recipes resembled menu items already available to the astronauts, either.

"In the context 'Do we have fish? Do we have meat?', yes, we do, but of course these ["Top Chef" recipes] were very sophisticated entrees," Kloeris commented. "We do not have anything exactly like them on the menu."

Astronauts do have meat and seafood dishes available. Among the latter, Kloeris lists shrimp cocktail, shrimp with pasta, seafood gumbo and crawfish etouffee as already having flown.

"We do not have filets of fish, which is what the basis of [the "Top Chef"] fish dishes were," she said.

It was a fish dish — the pan-seared halibut with coconut curry, snow pea shoots and Jasmine rice — that ultimately lost, costing fan-favorite chef Tiffany Derry a place in the show's finals. Her recipe originally called for mussels and their absence contributed to her loss.

"Originally, the curry was supposed to have mussels in it. I was going to open up the mussel broth inside but the mussels were frozen," said Derry.

Had that dish won however, Kloeris isn't sure the shellfish would have made it to space.

"Having never tried to freeze-dry a mussel, I can't really answer that question but I would say probably not as a whole mussel. It probably would've had to been chopped up, if we were going to do that," she explained.

Too long for the label

Kloeris and her coworkers at the space food systems lab at Johnson Space Center in Houston, Texas expects to have their first taste of Sosa's freeze-dried recipe in a few weeks.

"We're working on it now. If we can get it ready in time, it will be [aboard] the November flight. If not, it will be on the February flight," she said, in reference to NASA's final two scheduled space shuttle missions.

Shuttle Discovery is targeted to liftoff on Nov. 1 with the STS-133 crew. Nearly four months later on Feb. 26, 2011, the orbiter Endeavour with the STS-134 crew is scheduled to liftoff on the final flight of the 30-year shuttle program.

An additional flight, STS-135, to be launched in late June on Atlantis, is also currently under consideration.

Regardless of which crew takes it up, Kloeris hopes to have enough onboard for everyone to taste.

"Presumably what we will do, assuming everything works out, is provide enough so that each shuttle crew member could have a serving as well as potentially the station crew members. It just depends on how it all works out and how much room there is," she told collectSPACE.

Kloeris doesn't know yet if Sosa will have the chance to taste the final product before it flies, though as part of his being named the winner, NASA has invited him to view one of the final launches from Kennedy Space Center. He will get to see what his dish looks like once freeze-dried though.

"I was planning on making some extras and having them packaged so that he would see how they were launched, what it looked like when it was packaged and sent up," Kloeris said. "I'm going to give him that as a memento."

When he does finally see the packaging, Sosa may notice another change — the name of his winning dish.

"It is definitely going to have to be shortened because we do not have enough room for [ginger-lacquered short ribs with pea puree, pickled mushrooms and horseradish creme fraiche] on the label. Not real sure what we're going to call it yet, but it definitely won't be that long," Kloeris said with a laugh.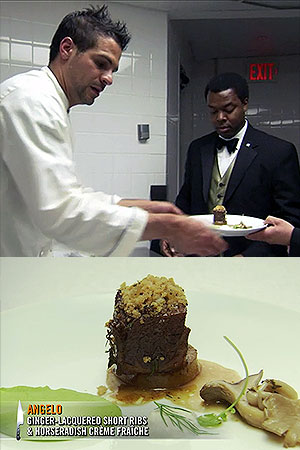 "Top Chef" cheftestant Angelo Sosa's winning short ribs will fly to the International Space Station, after some changes. (Bravo)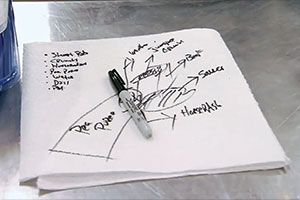 Angelo Rosa's handwritten plan for his winning dish as shown on "Top Chef." NASA will change his plan for space. (Bravo)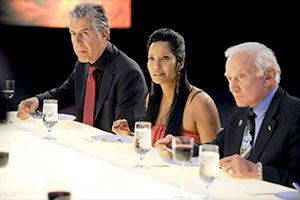 Moonwalker Buzz Aldrin (at right) with "Top Chef" host Padma Lakshmi (center) and guest judge chef Anthony Bourdain. (Bravo)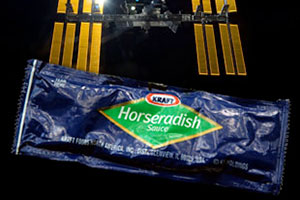 Horseradish condiment packages like this one are already on the International Space Station. (collectSPACE/NASA)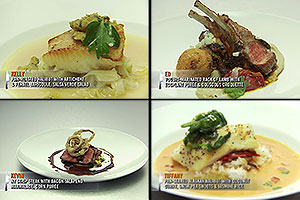 The four competing dishes that Sosa's ribs beat to win. (Bravo)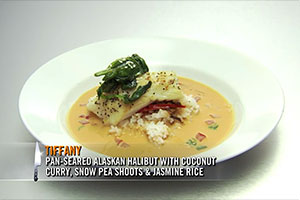 Cheftestant Tiffany Derry's pan-seared Alaskan halibut. (Bravo)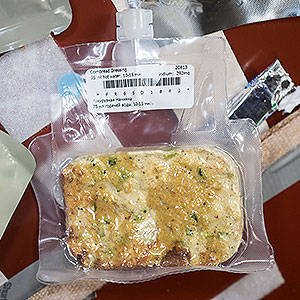 An example of the packaging used by NASA for the freeze-dried food that launches on the space shuttle. (NASA)