advertisements

Photo gallery: Lightsaber lands in Houston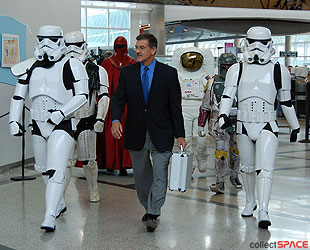 Stormtroopers escort Roger Bornstein, Space Center Houston's director of marketing, as he carries Luke Skywalker's lightsaber through Houston's Hobby Airport. More photographs below.
(cS)
August 28, 2007
— Luke Skywalker's lightsaber landed in Texas this afternoon, on its way to the international space station with a layover at Space Center Houston.

After accepting the Jedi weapon from Chewbacca, one of the many Star Wars characters to turn out for the event, Roger Bornstein, the space center's director of marketing, boarded a Southwest Airlines plane to fly from California to Texas, where he was met by R2-D2, Darth Vader, and was flanked by Stormtroopers.

"We got our first impression of space exploration walking out of a movie theater late one night having just seen Star Wars. We looked up into the night sky and wondered about the possibility of that galaxy far, far away," said Bornstein, explaining the connection between the NASA communities and the men and women behind the movie.

"Likewise, for many of the visionaries at Lucasfilm, I am told they were first inspired by the numerous far reaching missions of NASA," continued Bornstein.

"So, it just seems natural that we are here today and together to launch a special mission to celebrate the 30th anniversary of Star Wars."

According to Bornstein, after it logs over six million miles in space and returns from orbit on the shuttle Discovery's STS-120 mission targeted for October, the lightsaber will be on display at Space Center Houston and then returned to Lucasfilm.

The ceremony, held outside Gate 44 at Houston's William P. Hobby Airport, drew a crowd of passengers, security guards, the press, and employees of Southwest Airlines.

"Southwest Airlines is honored to be the official carrier of the original Jedi lightsaber," Heather Douglas, marketing director for Southwest, said. "May the flight be with you!"
Click on thumbnails to enlarge

Left, Space Center Houston's "astronaut" is inspected by a Transporation Security Administration (TSA) agent. At right, Roger Bornstein makes his way to Gate 44 after de-planing at Hobby Airport, flanked by Stormtroopers.

Left, R2-D2 and an unidentified droid await the arrival of the lightsaber. Right, Southwest's Heather Douglas and Space Center Houston's Roger Bornstein display the original prop.

Left, Darth Vader and his troops watch as Roger Bornstein addresses the crowd. Right, Southwest Airlines' flight crew pose with their special delivery, the original Jedi weapon.

Left, Heather Douglas and Roger Bornstein admire the Jedi lightsaber. Right, a close-up of the prop from the 1983 film, "Return of the Jedi", that will launch to space this October.

Left, Roger Bornstein is led to his police-escorted Hummer. At right, Bornstein and his Star Wars friends pause outside Hobby Airport, prior to departing for Space Center Houston.

© 2023 collectSPACE.com All rights reserved.