August 27, 2010
— The launch pad from which the first United States astronauts left Earth for orbit may soon be revived as an engineering classroom for a new generation of rocket builders, where laid off space shuttle technicians are the teachers.

Jennifer Scheer, who will soon end her eight-year career servicing NASA's orbiters, conceived the idea, which she has dubbed "Project Mercury Rising." She has proposed restoring Cape Canaveral's Complex 14 launch pad to give students hands-on engineering experience working with a replica Mercury-Atlas rocket.

This space camp for budding rocket builders would then trade the replicas for the real thing, sending payloads the students build into space on commercial rockets launched from a nearby active pad.

"This idea [behind Project Mercury Rising] formulated as something that could both refurbish the launch complex and educate and inspire kids after the shuttle program is over," wrote Scheer in an e-mail to collectSPACE.com. "It would also employ former shuttle program workers and help the area economically."

As Scheer envisions, engineers and technicians who have or will soon lose their jobs as a result of NASA's shuttle program shutting down next year would act as instructors and mentors.

The rise and fall of Complex 14

Erected in 1957 to support the development of the Atlas intercontinental ballistic missile (ICBM), Launch Complex 14 (LC-14) at the Cape Canaveral Air Force Station in Florida was the departure point for four Mercury missions that launched the first U.S. astronauts into orbit, including John Glenn's history-making three orbits in February 1962.

The same pad later supported the unmanned Agena target vehicle launches during NASA's follow-on two-man Gemini program before it was deactivated in 1967.

In the decades that have passed since it was abandoned as a launch pad, LC-14 has evolved into part conference center, part monument, and part ruins.

In 1976, the almost 150-foot mobile service structure that towered over the pad's concrete ramp and launch stand was toppled and scrapped after falling victim to excessive rust.

The nearby blockhouse with its 10.5-inch thick walls was renovated in 1988 to host meetings for the Air Force. A monument installed on the ramp and another outside the complex perimeter stand to remind visitors of the historic role the pad once served.

Scheer thinks that the pad should actively demonstrate its history, rather than have markers describe it.

"I don't feel that the site is living up to its potential," she said. "It gets occasional visits from tour groups, but from what I have been told, the tour buses from the Kennedy Space Center Visitor Complex no longer even go to the site itself, they stop at the monument in front only."

"If Project Mercury Rising was approved, it would breathe new life into the site. Students would go there to learn and become inspired. Aerospace experts would share their knowledge with the next generation of space workers."

"I truly care about making the site a fitting tribute to the astronauts who launched there and those on the ground who made it all possible," Scheer explained.

Recreating history to launch the future

Project Mercury Rising calls for a full-scale replica service tower to be assembled, which students would then use to access and -- during simulated countdowns -- ready a replica Mercury-Atlas rocket for launch. The rocket and gantry would sit atop the real concrete pad and ramp used to launch John Glenn, Scott Carpenter, Wally Schirra and Gordon Cooper on their Mercury flights.

"The idea of using the history of this amazing place to help accomplish the inspiration is what makes the project so exciting," said Scheer.

The fact that the tower and rocket are to be actively used, rather than only placed on display as with most museum restorations, means that there will likely need to be trades between maintaining historical accuracy and making the site safe for students.

"I think it will have to be a delicate balance," described Scheer. "I would love for it to be an accurate recreation of the site, but it must be practical as well. This project will involve students, and their safety and the safety of [our] employees is of utmost importance."

"There have been many changes to environmental and safety regulations in the years since the site was active, and I'm sure these regulations will shape the project in some way as well," she wrote. "I'd like to preserve original structures wherever it is feasible to do so."

"Personally, I would be happy if the end result was very similar to the original in look and feel, but incorporates features that will make it safer, easier to maintain, and more environmentally friendly," said Scheer.

Although the project would bring new activity to LC-14, it would not be reactivated as a real launch site. For that, Scheer has partnered with a commercial launch company that plans to use a nearby active pad.

"The idea is that students will be taught the basics of engineering, mechanics, and electronics in a historical context by working on a replica Mercury rocket. They will learn skills -- such as wiring, soldering, fabrication, troubleshooting, and testing -- using the legacy hardware. After mastering these skills, participants will move on to process their own real payload, which will actually be launched into space by our commercial space partner, Masten Space Systems," wrote Scheer.

Founded in 2004, Masten won more than $1 million last year from NASA as part of the Northrop Grumman Lunar Lander Challenge managed by the X PRIZE Foundation. Using a vertical take-off and landing prototype that they dubbed "Xoie," Masten demonstrated a rocket-powered vehicle that simulated a flight on the moon.

Raising Project Mercury Rising

Scheer, who in addition to her work at NASA founded the Space Tweep Society for space-enthusiastic Twitter users and recently secured funding to publish her photography taken of sunrises over Kennedy Space Center, first came up with the idea for Project Mercury Rising in April, while visiting LC-14 just a few days before the launch of space shuttle Discovery.

"On the Saturday before the launch of STS-131, I visited the Mercury launch complex with a friend. It is such an important site in U.S. human spaceflight history, and I thought it was sad how there wasn't much left there. It stuck in my mind as a place with enormous possibilities," she shared with collectSPACE.

Since then, Scheer has created a website for the project at projectmercuryrising.org and founded a company to run it and other endeavors she has planned.

"I have established a limited liability company (LLC) called Rocketopia to administer the project. I am working with the local Florida Small Business Development Center and Space Florida to create a solid business plan so that I can get approval and funding," she said.

As part of her research, Scheer has identified challenges that her project faces. Among them is LC-14's status as a National Historic Landmark, but she feels that is a minor hurdle compared to other barriers.

"It may add an element of complication to the plan, but in the scheme of things it appears to be one of the smaller obstacles I must face. Other hurdles include getting adequate funding and approval from both the Air Force and NASA to proceed," she explained.

Scheer had initially targeted the 50th anniversary of John Glenn's launch from LC-14 -- February 20, 2012 -- for Project Mercury Rising's debut, but now realizes that may not be feasible.

"As the project progresses, I will get a better idea of a realistic timeframe. Of course, I am eager to get it up and running as soon as possible."

For now, she's focusing on defining corporate sponsorship packages and further developing a business plan. Scheer encourages anyone interested in learning more, to sign up via the Rocketopia.net website.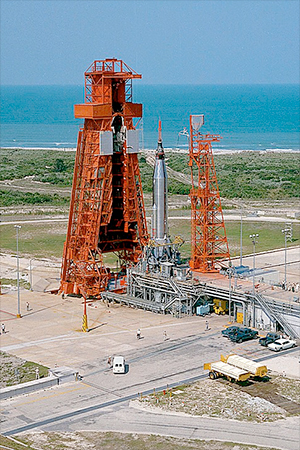 Aerial view of Launch Complex 14 (LC-14) at Cape Canaveral as taken in 1963 prior to the final Mercury mission. (NASA)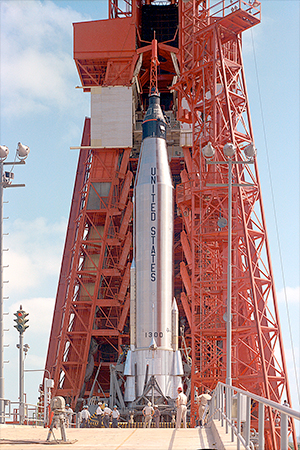 Technicians prepare the Mercury-Atlas 9 rocket for launch atop Cape Canaveral's Launch Complex 14 in May 1963. (NASA)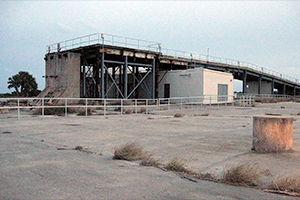 Space Launch Complex 14's launch ramp and platform as it exists today. The service structure was toppled in 1976. (Tom Jones)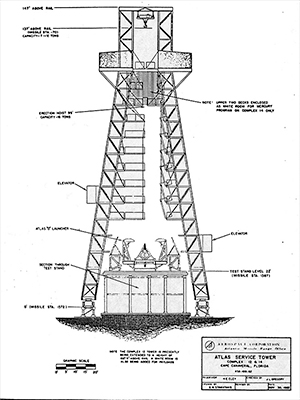 Engineering drawing of the 147-foot Atlas mobile service tower. Project Mercury Rising would recreate the structure. (NASA)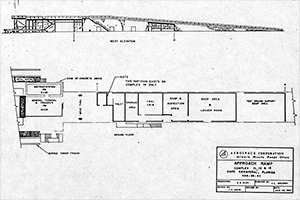 Engineering drawing of the Complex 14 launch ramp. Project Mercury Rising would restore this historic ruin. (NASA)