August 24, 2018
— A spacesuit worn on a 2012 mission seen by millions is now up for auction.

The white and blue suit, which is set to sell to the highest bidder on Saturday (Aug. 25), closely resembles a cosmonaut's pressure garment and is adorned with a mission patch bearing the original wearer's name — Wolowitz.

Yes, the spacesuit worn by Howard "Froot Loops" Wolowitz can now be yours, courtesy the Hollywood prop house that fabricated it for the engineer-turned-reluctant astronaut, as portrayed by actor Simon Helberg on the CBS sitcom "The Big Bang Theory."

"Global Effects normally does not sell items, since we are in the business of renting things, but we recently had to move our 12,000 square-foot facility, so we made an exception," said Chris Gilman, president and founder of the replica and costume company, in an interview with collectSPACE.

The Sokol KV-2 spacesuit costume was donned by Helberg for the Season 5 episode, "The Countdown Reflection," which had Wolowitz "launch" alongside real-life astronaut Mike Massimino (playing himself) and cosmonaut Dimitri Rezinov (actor Pasha Lychnikoff) aboard a Russian Soyuz spacecraft (replica) bound for a stay at the International Space Station. According to Nielsen TV Ratings, the episode was watched by more than 13 million people when it first aired on May 10, 2012.

On Wednesday (Aug. 22), CBS joined Warner Bros. Television and Chuck Lorre Productions in announcing that "The Big Bang Theory" will end its run after 12 seasons in 2019.

Six years ago, astronaut Mike Massimino spoke to collectSPACE about appearing on the show and wearing a similar costume suit, also fabricated by Global Effects.

"They were not real suits but they were pretty close replicas as far as how they looked," Massimino said. "They weren't as heavy as a real suit, but they were still concerned about us getting overheated under the lights and everything, so they gave us a cooling water bag to wear on our chests to help keep us cool."

ScreenUsed, which is hosting the Wolowitz suit auction, notes on its website that the round blue fitting in the center of the chest on the suit "has a built-in fan which still works."

According to Gilman, the suits were based on patterns taken from a real Soviet-era Sokol KV-2 pressure suit that he had acquired. Some of the latch details were molded from the real hardware.

"The trick was finding cording and webbing all the same color blue in the short time we had to make the suits — I think it was three or four weeks," he said.

The Wolowitz spacesuit, which opened for auction at $10,000, also includes a framed poster of Helberg wearing the costume. The same image, which is styled after a NASA astronaut portrait, has appeared in smaller format as part of the set decoration on "The Big Bang Theory," as a nod to Wolowitz's storyline.

Several real Russian Sokol pressure suits have been sold at auction over the past few decades. In 2015 and 2016, Bonhams sold the actual suits worn in space by International Space Station Expedition 6 crewmates' Ken Bowersox and Don Pettit for $43,750 and $62,500, respectively.

In 2017, the Strategic Air Command & Aerospace Museum in Ashland, Nebraska helped raise the $50,000 needed to acquire astronaut Clayton Anderson's Sokol pressure suit that he wore to the space station in 2007.

ScreenUsed states on its website that the Wolowitz costume spacesuit "belongs in a museum."

"I hope a fan of the show, and a 'space geek' gets it," said Gilman, "or perhaps the Museum of Pop Culture in Seattle."

To learn more or to bid on the Howard Wolowitz spacesuit, see ScreenUsed.com.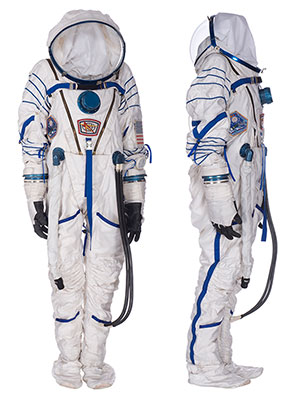 Global Effects' replica Sokol spacesuit as worn by Howard "Froot Loops" Wolowitz (actor Simon Helberg) on CBS's "The Big Bang Theory." The suit is now up for auction. (ScreenUsed)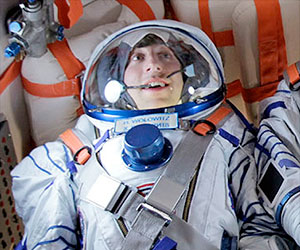 Howard "Froot Loops" Wolowitz (Simon Helberg) with his crewmates as seen on CBS's "The Big Bang Theory" in a 2012 episode. (CBS)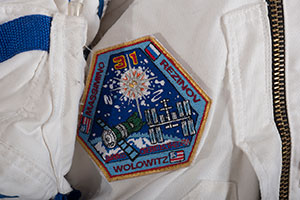 Fictional "Expedition 31" mission patch as attached to the costume spacesuit worn by Simon Helberg on "The Big Bang Theory," showing the crew names Massimino, Rezninov and Wolowitz. (SU)