August 24, 2015
— Fifty years ago on Monday (Aug. 24), two NASA astronauts were more than one-third of the way through what was destined to be the world's longest space mission at the time.

Gordon Cooper and Charles "Pete" Conrad, seated snugly in the U.S. space agency's third-manned Gemini capsule, had launched atop a Titan II rocket from Cape Canaveral on Aug. 21, 1965. Cooper, who two years earlier had flown on the longest of NASA's one-man Mercury missions, was now the first person to fly into orbit twice.

Half a century ago Monday at 1:39 a.m. EDT (0639 GMT), Cooper set a new American record for the most time spent in space, surpassing the 97 hours and 56 minutes logged by the all-rookie Gemini 4 crew two months earlier. And he still had more than 125 hours to go before he and Conrad were slated to return to Earth.

The "space twins," as the press had dubbed the two-man Gemini 5 crew at the time, had a slew of experiments and engineering tests to conduct, including the first flight of a power-providing fuel cell onboard a crewed spacecraft and conducting the first precision maneuvers to evaluate new rendezvous technology and techniques.

The Gemini 5 mission's planned length was more than just an attempt at a record but a test itself, designed to show that astronauts could survive the time needed for a trip to the moon and back.

Cooper and Conrad chose to underline that particular goal while setting yet another American first in space.

"8 Days or Bust"

Sewn to the right chest of each of their spacesuits was a cloth emblem depicting a Conestoga wagon. Embroidered in red lettering was their mission designation ("Gemini 5") and their names. And hidden under a thin piece of hastily-added cloth was the inscription, "8 Days or Bust."

Cooper and Conrad were sporting the first-ever astronaut-designed space mission patch.

Two years earlier, unbeknownst to anyone at the time, the first woman to launch into space also wore a cloth patch. But cosmonaut Valentina Tereshkova's embroidered dove representing her Vostok 6 mission had been designed and sewn to her inner suit without her prior knowledge.

That the Gemini 5 crew had a mission patch was their own doing.

On his Mercury flight, Cooper had been permitted to name his spacecraft, choosing to christen it "Faith 7." But by his next assignment, NASA had decided to do away with the names. Cooper though, still wanted to find some means of putting a personal touch on his and Conrad's mission, so he took inspiration from his experience in the Air Force.

"Several months before mission, I mentioned to Pete that I'd never been in a military organization that didn't have its own patch," Cooper recounted in "Leap of Faith," his 2000 memoirs. "We decided right then and there that we were at least going to have a patch for our flight."

And so they set about designing the first "Cooper patch," as a NASA memo nicknamed it and all the future mission patches to come. Cooper and Conrad picked the covered wagon to represent the pioneering nature of the flight, and came up with the slogan to inscribe across it.

And that is where the patch almost ran into trouble. What would happen if they had to come home early?

"If you don't make [it to] eight days, I don't want the press having a field day about the mission being a bust," Cooper recalled NASA Administrator James Webb responding just a day before the scheduled launch of Gemini 5.

So Cooper's and Conrad's patches quickly had a piece of canvas hand sewn over the slogan, in essence making it a real covered wagon.

Not a bust

Despite intermittent problems with the fuel cell and having to cancel performing some of the experiments, Gemini 5 was a success, setting a new mission duration record of 7 days, 22 hours and 55 minutes. It was the first time that the U.S. surpassed its space race rival, the Soviet Union, for the longest spaceflight.

Gemini 5 was Cooper's last launch, but Conrad went on to fly another Gemini flight before becoming the third man to walk on the moon in November 1969.

Apollo 12 lasted more than 10 days, but perhaps as a nod to the path set by his first flight, Conrad flew a Gemini 5 patch to the moon. That patch, with its "8 Days or Bust" slogan exposed, is now newly on public display in Seattle as part of The Museum of Flight's new exhibit dedicated to Gemini 5.

The month-long exhibition located in the museum's lobby, also includes a Gemini spacesuit outer layer (or oversuit), a pair of Gemini gloves and a one-fourth cutaway model of the two-man space capsule.

As for other artifacts from the 1965 record-setting mission, the spacecraft itself is displayed at Space Center Houston in Texas and both spacesuits are preserved in storage at the Smithsonian National Air and Space Museum's Steven F. Udvar-Hazy Center in Virginia.

Cooper and Conrad retained the "8 Days or Bust" patches off their suits. Although both men have since passed, their legacy lives on with every mission patch that launches to space.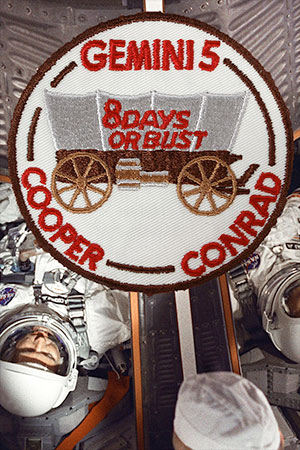 Astronauts Gordon Cooper (left) and Charles Conrad are seen in the Gemini 5 spacecraft just before launching on their "8 Days or Bust" mission in 1965. The crew was the first to design and wear a mission patch, as shown. (NASA/The Museum of Flight)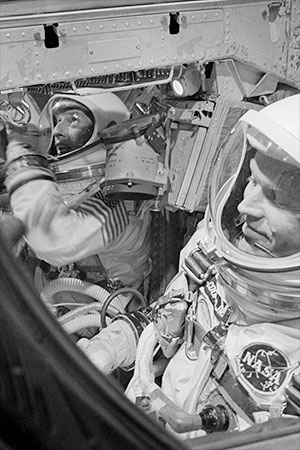 Astronauts Gordon Cooper (foreground) and Charles Conrad are pictured in the Gemini 5 spacecraft moments before the hatches were closed for launch on Aug. 21, 1965. (NASA)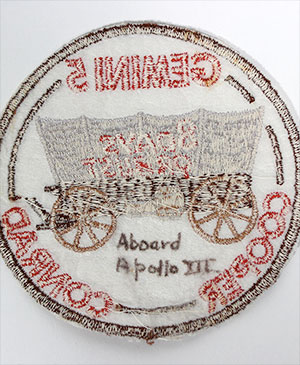 Reverse of Gemini 5 patch showing Charles Conrad's inscription noting it was flown on Apollo 12 to the moon. (Museum of Flight)