August 22, 2003
— "In my left hand, I have a little white pellet that's familiar to millions of Americans."

With those words, the United States' first astronaut and fifth moonwalker Alan Shepard wielded a makeshift golf club, made from a six-iron head attached to a sample collection tool handle. In his pressurized suit he could only manage a one-handed swing. But after a couple of tries, Shepard managed to connect with the ball, which went sailing away in the Moon's one-sixth gravity. While the world listened, Shepard exulted, "Miles and miles!"

Nearly 35 years later, Code 3 Collectibles has captured the excitement of Shepard's famous "moon shot" with the next release in their Smithsonian National Air and Space Museum Collection of hand-casted replicas.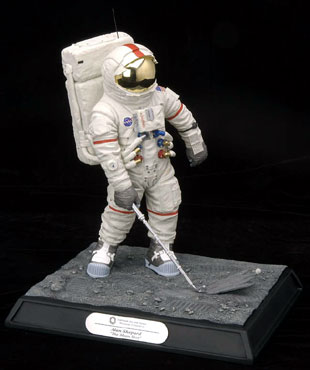 Standing 11 inches tall and limited to an edition of only 3,000, Code 3 Collectibles' Apollo 14 Commander recreates the exact moment when Shepard's make-shift club made contact with the golf ball he had secretly carried to the Moon. The hand-painted model includes Shepard's spacesuit emblems, including the Apollo 14 mission emblem, NASA "meatball", and red nametag, and captures the ball seconds into its trajectory, trailed by the lunar dust kicked up by the swing.

Available for pre-order for $132, "Moon Shot" is expected to ship in late November to Decemeber of this year.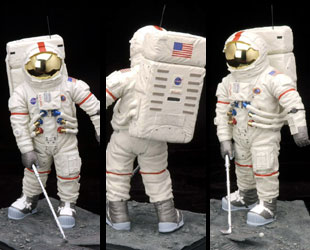 In addition to the announcement of the Shepard model, Code 3 Collectibles has also provided an early look at one of its future releases, still in development: the Apollo 11 Command Module "Columbia".

Depicted as the spacecraft appears today, on an angled display at the Smithsonian's National Air and Space Museum in Washington, DC, the model includes detailing of the crew compartment where Neil Armstrong, Buzz Aldrin and Michael Collins rode on their way to and from and the Moon.

Code 3 Collectibles has yet to set a release date for the Command Module replica.