August 17, 2018
— Do you hold the cards to win the space race?

That is the challenge laid out by "Space Heroes: Journey Into Space," a trading card game now being crowdfunded that blends the past, present and future of space exploration with the expansive opportunities offered by the game's format.

"Trading card games evolve over time with the release of themed decks and cards and always remain new and exciting — much in the same way as our exploration of space," said Richard Garner, owner of The Space Collective, an online space collectibles store, and "Space Heroes" creator. "Scientists are always discovering something new and exciting out there, so why not communicate these discoveries through a fun, informative and competitive game?"

"Space Heroes: Journey Into Space" sets up two players in a race — each match is called a "Space Race" — to earn 50 "Space Points." Space Points are earned by launching spacecraft and payloads on missions, which are decided by picking cards. Players also use cards to specify recovery zones (where the spacecraft will return to Earth) and to assemble spacesuits for their crew.

Additional points can be earned through the use of Mission Control cards, which give your spacecraft extra capabilities once in space. There are also "Bonus" and "Situation" cards that can enhance your hand or play havoc on your opponent's mission.

"Because this is a space race, you can also sabotage your opponent, slow them down or stop them completely," Garner explains on the Space Heroes' Kickstarter campaign page.

An example of a beneficial situation might be the discovery of a new galaxy — but you only earn points if you have already deployed the Hubble Space Telescope.

The choice of missions span the 60 years of real space exploration, from landing Apollo astronauts on the moon to launching crews to the International Space Station. There are also future-looking endeavors, including mining asteroids and settling new worlds.

"I enjoy a challenge, competing in a friendly manner against my friends and I love space. That is how 'Space Heroes' was born," Garner told collectSPACE.

Garner collaborated with noted space artists Ron Woods, Lucy West and Ryan Nagata to design the cards and game mat using historically-accurate and visually-appealing graphics. Some of the cards, randomly inserted in the packs and decks, include a collectible foil finish.

"Space Heroes: Journey Into Space" launched Friday (Aug. 16) on Kickstarter with a goal of raising £10,000, or about $13,000 (U.S.) by mid-September. Supporters can choose between starter packs of 60 cards or booster packs of 10 cards each.

A discounted £50 (about $65 U.S.) pledge level offers everything that two people need to start playing "Space Heroes," including two starter decks, one rule book and one playing mat. An optional foil card, exclusive to the Kickstarter campaign, is being offered for a pledge of £15 (about $20 U.S.) more.

Garner's campaign also appeals to groups, dealers and corporate sponsors with higher-value pledge levels that include being credited in the rule book and having a custom card included in the game that features the sponsor's logo or brand.

If the Kickstarter campaign is successful and production proceeds as planned, "Space Heroes: Journey Into Space" is expected to ship to backers in December.

To learn more or to pledge, see the Space Heroes: Journey Into Space campaign page on the Kickstarter website.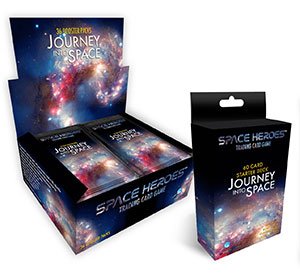 The new trading card game "Space Heroes: Journey Into Space" challenges two players to a space race. The game will launch if its Kickstarter campaign is a success. (The Space Collective)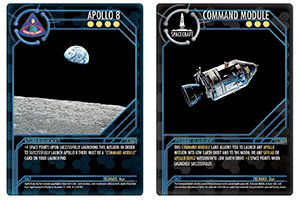 Example "Mission" and "Spacecraft" cards from the "Space Heroes: Journey Into Space" trading card game. (The Space Collective)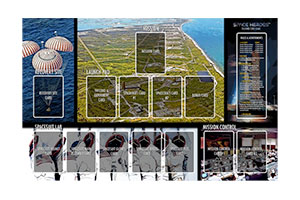 The playing mat for "Space Heroes: Journey Into Space" has places for mission, spacecraft, payload, bonus, spacesuit, mission control and recovery zone cards. (The Space Collective)