advertisements

Total view: A brief history of solar eclipses seen from space
August 16, 2017

— Don Pettit has never looked up to see a total solar eclipse. Twice, though, he has looked down.

As a past crew member on the International Space Station, Pettit is among the few astronauts and cosmonauts to have witnessed an eclipse from space. On Monday (Aug. 21), he will witness his first total solar eclipse from the ground.

"This is going to be a real pleasure, because I have seen two total solar eclipses from space and I haven't seen any from the Earth," Pettit said in an interview with collectSPACE. "This will be my first total solar eclipse seen from Earth."

Not many people in history can say that. In fact, less than 20 individuals out of the more than 550 who have launched to space since 1961 have been off the planet and in the right position to see the moon pass in front of the Sun. And whereas that sight usually inspires people to look up toward the sky, for Pettit and his fellow astronaut eclipse viewers, the real opportunity was to be able to look down.

"I like to focus on what is the unique aspect of being in orbit for a solar eclipse and it is not looking up at the Sun, it is looking down at the Earth and seeing this wide-field view of Earth impossible to see from any other viewpoint," Pettit explained. "Even those on board airplanes cannot see it all. From orbit, you can see structure on Earth for the length scale of half a continent and there is no other way you can get that perspective."

"You can read about all the shadow effects that the astronomers worked out over 200 years ago, the umbra and penumbra and all of this stuff," he continued. "And these guys never got to see it projected on Earth, but they were good enough with their math to be able to mathematically describe what the shadows were going to be like and then you could measure the progression of the shadow from a point on Earth. But nobody had ever seen it before in its entirety."

"The astronomers were never able to observe the moon's shadow from an orbital viewpoint, but they got it exactly right. It looks exactly like what they said it should look like," said Pettit.

Between the Earth, moon and Sun

The first astronauts to pass between Earth and the moon and Sun were NASA's Gemini 12 crew. On Nov. 12, 1966, as the path of totality fell over South America, Jim Lovell and Buzz Aldrin maneuvered their spacecraft so as to be able to catch the spectacle.

"Well, we hit the eclipse right on the money," reported Lovell to Mission Control, after photographing the view looking up at the Sun, "[but] we were unsuccessful at picking up — picking up a shadow [on the Earth], Houston. We couldn't pick it up by the time we got around to the eclipse."

It was not until 33 years later that humans first set sight on the moon's umbra on the planet below. The second to last crew of Russia's former space station Mir — cosmonauts Viktor Afanasyev and Sergei Avdeyev and French astronaut Jean-Pierre Haigneré — saw the shadow cast by the last total solar eclipse of the 20th century as it traced over Plymouth, England and headed toward northern France on Aug. 11, 1999.

According to Haigneré, who captured photos of the eclipse set against the clouds over the area, the shadow measured about 93 miles (150 kilometers) across.

The next total solar eclipse to be seen from orbit was on Dec. 4, 2002 and marked Pettit's first of two. Joined by his Expedition 6 crewmates Kenneth Bowersox and Nikolai Budarin on board the International Space Station, Pettit initially expected to be well positioned to see the Earth darken below.

"Using the state vector prediction software we have on the space station, we were going to fly really close to the shadow projected on Earth," Pettit recalled. "But two days before the eclipse, we did a re-boost and shifted the orbit of station enough so that the shadow was way on the edge of our horizon. We were lucky we were even going to be able to see the shadow."

"That kind of thing can happen, where other operational constraints of running the station might change your position in orbit, so that seeing that shadow might not be in the best of locations," he added.

Expedition 12 commander Bill McArthur and flight engineer Valery Tokarev were 230 miles (370 km) above the Earth, passing over the coast of Turkey above the Mediterranean Sea, when they caught sight of the total solar eclipse on March 29, 2006. Their view was much better than was seen by the Expedition 6 crew, flying almost directly over the moon's shadow.

Pettit's second chance at seeing a solar eclipse came on his second long duration stay on the station. On May 20, 2012, the Expedition 31 crew of Pettit, Joe Acaba, Oleg Kononenko, Gennady Padalka, Sergei Revin and André Kuipers witnessed an annular solar eclipse.

"It is amazing to see an eclipse from orbit," Pettit wrote in a letter to Earth at the time.

Spotting and blocking the sun

The most recent space crew to see a solar eclipse from orbit did so on March 20, 2015. In addition to photographing the shadow cast over the Earth, Expedition 43 flight engineer Samantha Cristoforetti captured the moon partially blocking out the light from the Sun.

"Orbital sunrise and the solar eclipse... could it go any better?" Cristoforetti wrote on Twitter, sharing the sight that she, Terry Virts and Anton Shkaplerov enjoyed on board the space station.

On Monday (Aug. 21), NASA astronauts Randy Bresnik, Jack Fischer and Peggy Whitson, Roscosmos cosmonauts Fyodor Yurchikhin and Sergey Ryazansky and European Space Agency (ESA) astronaut Paolo Nespoli will be the next to see a solar eclipse as it passes across the United States.

"It would be really neat to see it from the ground, but I think I will also cherish the memory of being able to see it here from orbit," said Bresnik in a NASA interview.

In addition to total solar eclipses, space travelers have also seen lunar eclipses — where the Earth casts a shadow on the moon — and even artificial eclipses. The Russian and American crews on the 1975 Apollo-Soyuz Test Project (ASTP) used the U.S. Apollo spacecraft to block the Sun so the cosmonauts on the Soyuz could photograph the solar corona.

The Apollo 11 crew of Neil Armstrong, Buzz Aldrin and Michael Collins was also able to photograph the solar corona as the moon blocked out the Sun during their trans-lunar coast and prior to lunar orbit insertion on July 19, 1969.

The Apollo 15 mission coincided with a lunar eclipse in 1971 (though the crew was unsuccessful in capturing clear photos of the rare occurrence). And the Apollo 12 crew of Pete Conrad, Alan Bean and Dick Gordon witnessed a solar eclipse of a different type, when the Earth blocked out the Sun as relative to their spacecraft as they returned from the moon on Nov. 24, 1969.

"The thing that I remember the most was when it was fully eclipsed, the rays that came out from behind the Earth were in all the spectrum colors," Bean said in an interview with collectSPACE. "And then we saw this bright spot moving across the Earth and we didn't know what it was, but we could see that it was moving rapidly across the planet."

"Later on, we learned it was the full moon behind us. We were seeing it reflected on the Earth," said Bean. "That was fun to experience."













Photographs credit: NASA / Roscosmos / ESA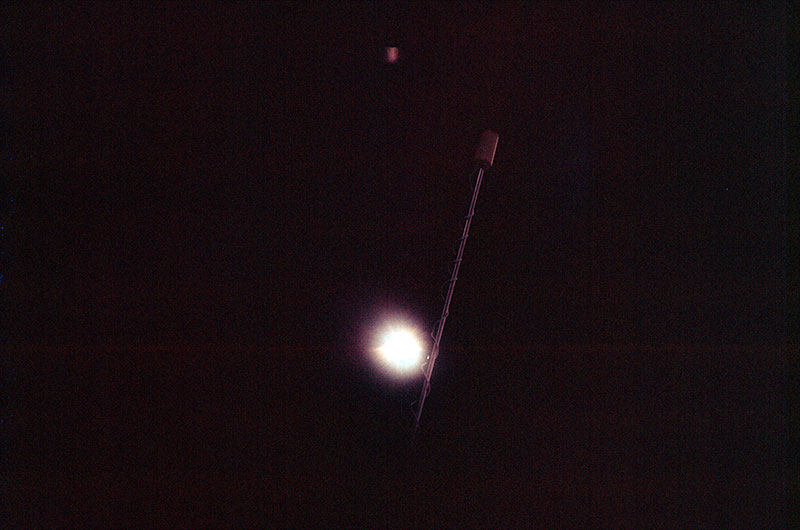 The first total solar eclipse seen from space, as photographed by Gemini 12 crewmates Jim Lovell and Buzz Aldrin on Nov. 12, 1966. The boom seen in the foreground is the antenna on an Agena target vehicle docked to the Gemini spacecraft.
NASA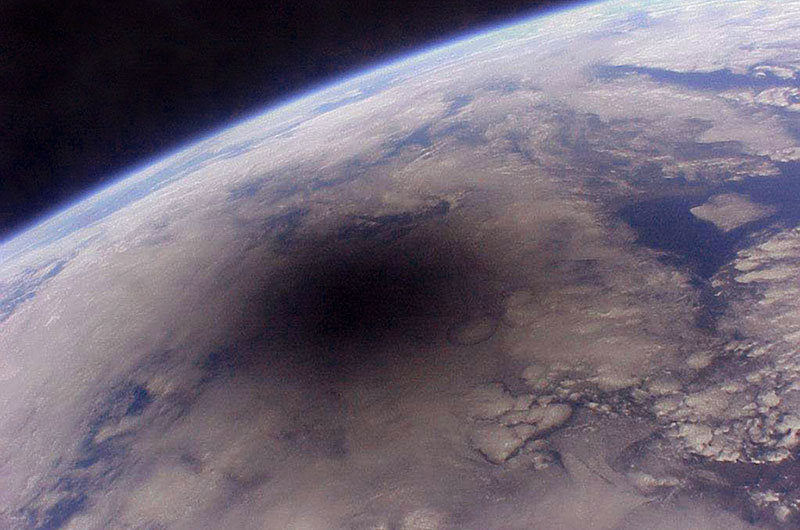 The first-ever astronaut's view of the moon's shadow cast on the Earth during a total solar eclipse on Aug. 11, 1999. The photo was taken by French space agency CNES astronaut Jean-Pierre Haigneré on board Russia's former space station Mir.
CNES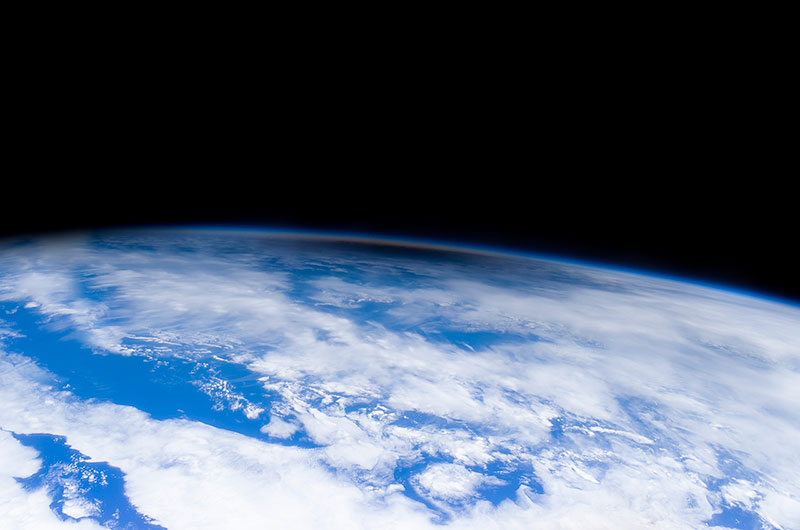 A re-boost of the International Space Station two days before the Dec. 4, 2002 total solar eclipse resulted in a distant view of the shadow on the Earth's horizon. This was NASA astronaut Don Pettit's first of two solar eclipses seen and photographed from space.
NASA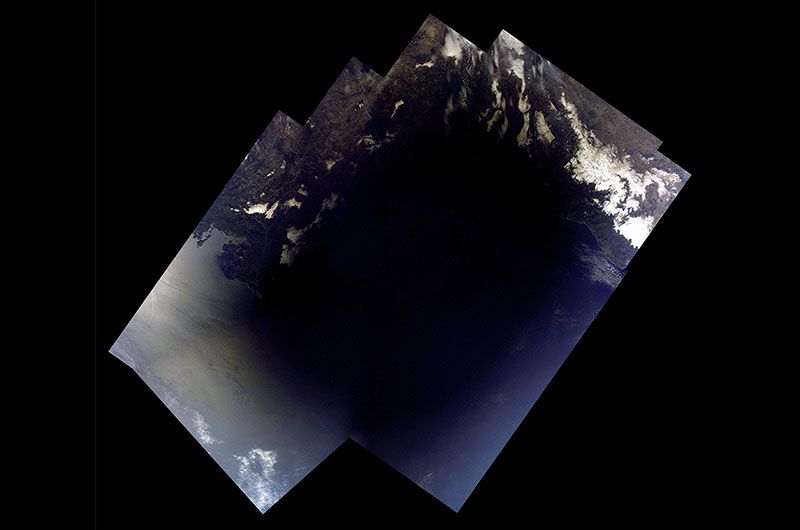 Composite image (mosaic) of the shadow cast by the March 29, 2006 total solar eclipse, as photographed by Expedition 12 commander Bill McArthur aboard the International Space Station.
NASA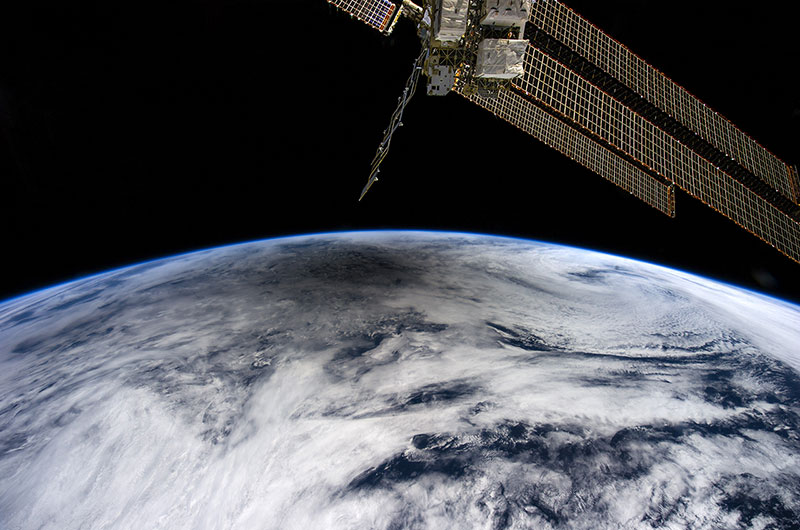 NASA astronaut Don Pettit photographed his second total solar eclipse from space as an Expedition 31 flight engineer on the International Space Station on May 20, 2012. The space station's solar array wings can be seen in the foreground.
NASA
Brief video compiled from photographs of the May 20, 2012 annular solar eclipse as seen from the International Space Station.
NASA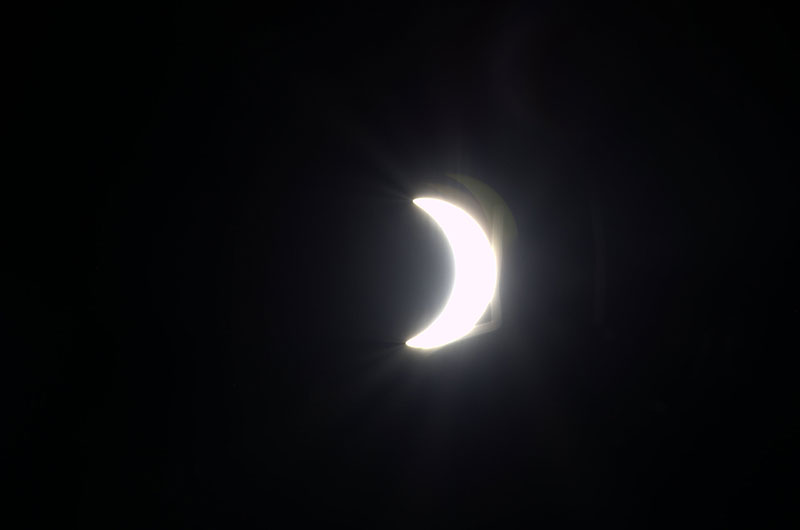 Expedition 43 flight engineer Samantha Cristoforetti took a series of photographs of the March 20, 2015 solar eclipse from the International Space Station. Cristoforetti wrote on Twitter, "Orbital sunrise and the #SolarEclipse... could it go any better?"
ESA/NASA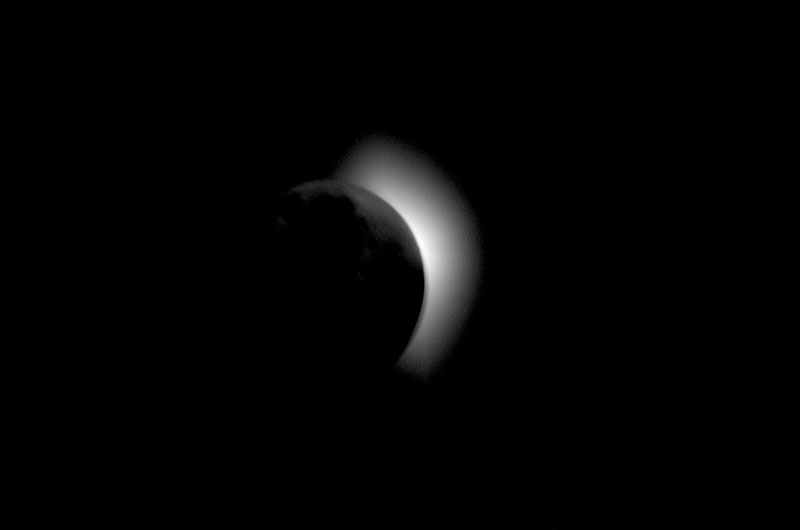 This photograph of the solar corona was taken by the Apollo 11 astronauts during trans-lunar coast and prior to lunar orbit insertion on July 19, 1969. The moon is the dark disc between the spacecraft and the Sun.
NASA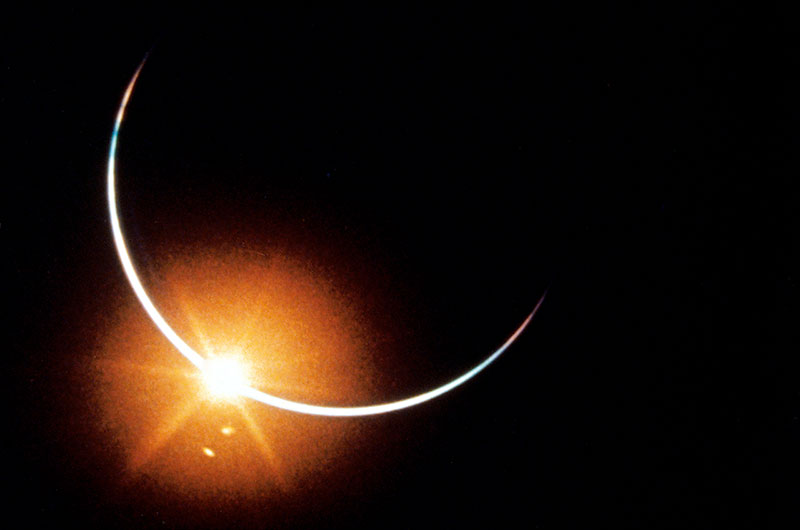 A total solar eclipse of a different type: this view was created when the Earth moved directly between the Sun and the Apollo 12 spacecraft on Nov. 24, 1969. The photograph was taken with a 16mm motion picture camera.
NASA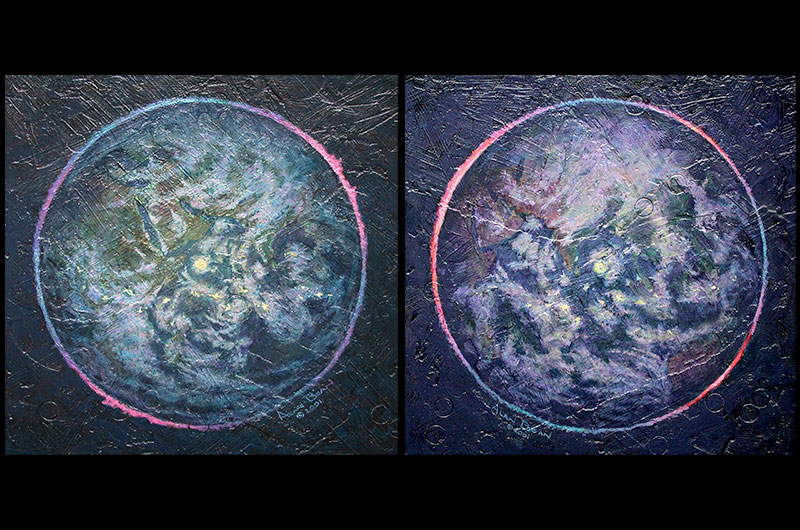 Alan Bean, who witnessed a solar eclipse aboard Apollo 12 and became a professional artist after walking on the moon, painted these two interpretations of "A Most Extraordinary Eclipse" — "Early Stages" (left) and "Late Stages" (right).
Alan Bean Gallery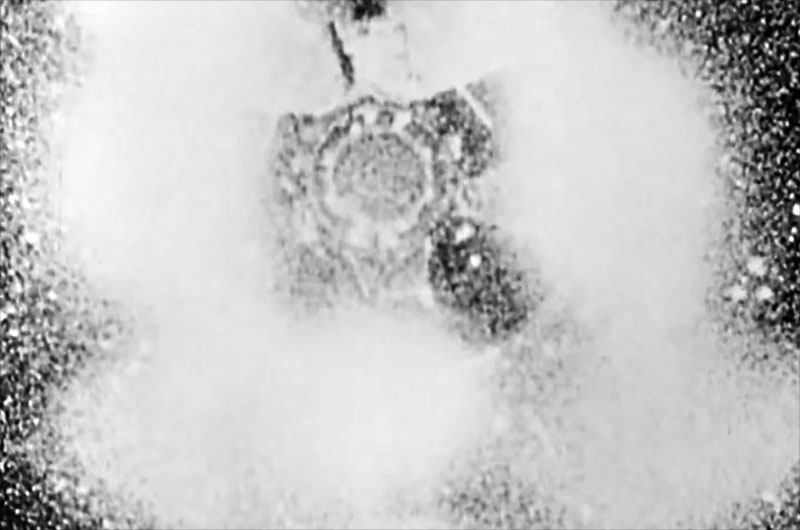 Still from a NASA promotional film describing the 1975 Apollo-Soyuz Test Project (ASTP) showing the Apollo command module being used to block the Sun so the cosmonauts aboard the Soyuz can photograph the solar corona.
NASA

© 2023 collectSPACE.com All rights reserved.