August 16, 2016
— The boarding ramp for Boeing's new commercial spacecraft is now in place — 16 stories above the ground.

The crew access arm was lifted by a crane and bolted onto the gantry tower at the Cape Canaveral Air Force Station's Launch Complex 41 (LC-41) in Florida on Monday morning (Aug. 15).

The 90,000-pound (40,800 kilogram) arm was mounted at the tower's 172-foot (52 m) level, where it will line up with the entry hatch to Boeing's CST-100 Starliner capsule atop a United Launch Alliance Atlas V rocket. As soon as 2018, astronauts launching to the International Space Station will walk the length of the 50-foot (15 m) crew access arm and enter the white room at its end to ingress the Starliner.

"The newest 'Last Place on Earth' for astronauts finds a new home at Atlas Launch Complex 41," Chris Ferguson, Boeing's CST-100 director of crew and mission operations and a former NASA astronaut, wrote on Twitter.


Five years ago on July 8, 2011, Ferguson used a similar arm to gain access to the space shuttle Atlantis, as he was on his way to commanding the final mission of the space shuttle program. After retiring the orbiters, NASA awarded $6.8 billion in contracts to Boeing and SpaceX to build and operate commercial spacecraft to bring astronauts to and from the space station.

"It's going to be so cool when our astronauts are walking out across this access arm to get on the spacecraft and go to the space station," Kathy Lueders, NASA's Commercial Crew Program manager, said.

United Launch Alliance (ULA) topped off the 200-foot-tall (61 m) LC-41 crew access tower in September 2015. Built in segments and stacked at the active Atlas V launch pad, the tower was designed specifically to cater to astronauts. It features wider walkways to accommodate crewmembers in bulky spacesuits, as well as easily-rounded corners and snag-free railings.

"You think about when we started building this 18 months ago," said Ferguson, "and now it is one of the most visible changes to the Cape's horizon since the 1960s."

The crew access arm and its "white room" — the latter, an enclosed area large enough for astronauts to adjust their suits before climbing aboard the capsule — were built at a construction yard and trucked to LC-41 on Thursday (Aug. 11). The two components were tested together before they were delivered to the pad for installation.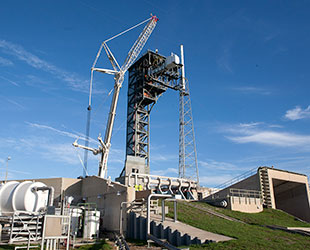 The LC-41 access arm will serve as the connection that astronauts will walk across prior to boarding Boeing's CST-100 Starliner when stacked atop a ULA Atlas V rocket.
(NASA/Kim Shiflett)
"[Mercury astronaut] John Glenn was the first to fly on an Atlas [rocket]. Now, our next leap into the future will be to have astronauts launch from here on Atlas V," Barb Egan, the commercial crew program manager for ULA, said.

The crew access arms used during the Apollo and space shuttle programs at NASA's Launch Complex 39A and B are now retired and on public display in Florida and Texas.

SpaceX, which leased Pad 39A from NASA, is building a new crew access arm for the astronauts who will board its Dragon spacecraft on top of Falcon 9 rockets.

Similarly, a new arm and white room will be used with the mobile tower supporting NASA's Orion crew capsule atop the Space Launch System heavy-lift rocket at Pad 39B.

NASA's first-ever white room, used for the Gemini program in the mid-1960s, is exhibited at the U.S. Air Force Space and Missile Museum at Cape Canaveral Air Force Station.