August 15, 2014
— Hello Kitty, Japan's famous feline toy, is now a cat-stronaut. Not only is the popular kitty orbiting the Earth inside a small satellite, but she is ready to beam messages from space for fans.

Images from Sanrio, the company responsible for the cute pop culture cat, show Hello Kitty in space clutching a toy while the Earth fills a small window in the background. The view of the planet below is real; Sanrio launched the Hello Kitty on the satellite Hodoyoshi 3 in June. A digital display positioned above the window will show greetings sent from Earth.

"Hello Kitty is standing by to deliver your messages from space!" reads a message on Sanrio's Hello Kitty website.

Sanrio posted a video of Hello Kitty in space to launch the message campaign. The mission is a part of Sanrio's 40th anniversary celebration for the toy this year.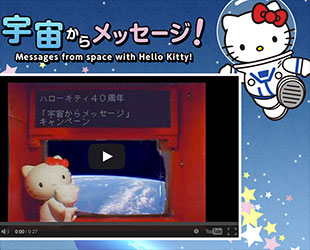 To celebrate the 40th anniversary of Hello Kitty, its most popular character, Sanrio is offering fans to send messages from space.
The company announced the Hello Kitty space mission on Tuesday (Aug. 12) and began accepting submissions for "thank you" messages to a person's family or friends to be presented by the high-flying Hello Kitty. The greetings can be up to 180 characters long and in Japanese or English, but only 10 submissions will make it to space. A selection committee will review the entrees and make a decision on which messages have the right stuff.

For the project, Sanrio sent a 1.6-inch-tall (4 centimeters) Hello Kitty onboard the Hodoyoshi 3, one of two satellites built by the nanosatellite center at the University of Tokyo. The figure is riding in a compartment about 28 inches tall (70 cm), and about 20 inches wide and deep, according to a statement released by Sanrio.

Hodoyoshi 3 launched from Russia on June 19 alongside 36 other satellites. The spacecraft's primary mission is to test space technology and snap high-resolution photos of the Earth from space.

According to Reuters, Hodoyoshi 3 is roughly the size of a trash can and is a part of a $40 million project by Japan's education and science ministry to promote an interest in science and engineering.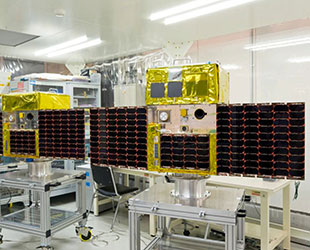 Hodoyoshi 3 (and Hodoyoshi 4) satellites.
(University of Tokyo)
Applications for Hello Kitty's space messages are being accepted through Aug. 25, and submissions can be sent in by people outside of Japan. The chosen messages will be transmitted from space between Aug. 26 and Sept. 8, and featured on the Hello Kitty 40th anniversary website.

A second round of messages, themed around the question "If you went to space?" will be open for submissions from Aug. 26 through Sept. 8.

Sanrio's Hello Kitty mission on Hodoyoshi 3 isn't the first time the mouthless cat has ventured into space.

In April 2004, NASA astronaut Mike Fincke launched with a Hello Kitty to the International Space Station as a favor for a friend. The toy cat remained on the orbiting outpost for more than a year, returning to Earth aboard the space shuttle Discovery in August 2005.

Space.com managing editor Tariq Malik contributed to this article.