First look: Lance Bass' space flight patch

August 16, 2002 — The Soyuz TMA-1 insignia depicts the spacecraft surrounded by stylized country flags of the mission's two official crew members: Sergei Zalyotin of Russia and Frank De Winne of Belgium.

A third flag, that of the U.S., represents proposed space tourist and pop singer Lance Bass.

The artwork for the patch was provided to collectSPACE exclusively from a source close to Bass.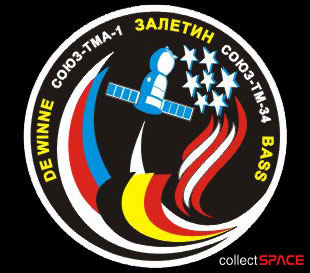 Bass, a member of the group N'Sync, has not officially been named to the crew. Bass had been preparing for the mission when on August 15, a missed payment deadline caused Russian officials to suspend his training.

Reports today indicate a new agreement will allow Bass to resume his activities, though contract negotiations are still on-going.

With or without Bass on-board, Soyuz TMA-1 is set to launch October 28, to replace Soyuz TM-34, currently docked with the International Space Station. "Taxi" flights are required every six months to maintain the Soyuz as the outpost's lifeboat.
back to News



© 2018 collectSPACE.com All rights reserved.
Questions? E-mail contact@collectspace.com