Aug. 13, 2017
— NASA's next-generation spacecraft have new cameos in Disney's re-launched Mission: SPACE ride in Florida, but the upgraded attraction jettisons a previous reference to the space agency itself.

NASA's James Webb Space Telescope and Orion capsule, slated to lift off in 2018 and 2019, respectively, make quick new appearances in Mission: SPACE, which re-opened on Sunday (Aug. 13) after undergoing its first major revision since premiering at the Walt Disney World Resort's Epcot theme park in August 2003. Designed around a centrifuge ride system to simulate a launch to Mars, Mission: SPACE now features a second, less-intense experience that takes guests on simulated flight into Earth orbit.

"Our partners at ILM [Industrial Light & Magic] have worked their magic on making the Mars mission look even more incredible, but wait to you see what we created with them for the whole new [Earth] mission," said veteran Walt Disney Imagineer Tom Fitzgerald at Disney's D23 Expo in July. "Guests are going to blast off for an orbital adventure around our planet [and] what is really great is that younger kids can join the adventure for the very first time."

Initially, Mission: SPACE offered riders one experience — "authentic NASA-style training on a thrilling ride to Mars." Using a centrifuge that spins and tilts to generate the G-forces associated with a spacecraft's launch and re-entry, "crews" of four riders were subjected to some of the same training sensations as real astronauts.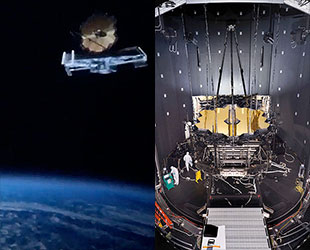 NASA's James Webb Space Telescope, now undergoing tests for a 2018 launch (right) can now be seen in Mission: SPACE, replacing the Hubble Space Telescope (at left).
(Attractions Magazine/NASA)
Because of the nature of the ride, Mission: SPACE was not designed for all guests. In addition to a height requirement, guests with heart and back problems were warned before boarding the attraction. After some riders required medical attention and two people died (as a result of pre-existing conditions), Disney introduced a milder version of the Mars mission in 2006, offering the same visuals but without the spinning centrifuge.

The new Earth, or Green, mission now replaces the toned down Mars (or "Orange") mission and offers an opportunity for younger guests to board the "X-2 Deep Space Shuttle" flight simulators using "X-2 booster" seats.

"You have been selected to train for a spectacular mission around the Earth," explains actress Gina Torres ("Firefly," "Westworld"), who has replaced Gary Sinese ("Apollo 13," "Mission to Mars") as the riders' guide (International Space Training Center [ISTC] capcom) in pre-show videos. "Your flight path will take you west, across North America, Asia, Europe and back home to Florida."

During the Earth mission, guests see views of the planet that are based on the real photography and videos taken by astronauts and cosmonauts on the International Space Station. Riders even fly by the space station, though unlike the original Mission: SPACE simulation, which featured a semi-accurate depiction of the orbiting laboratory as it was planned then, the outpost now differs significantly from the present station in appearance.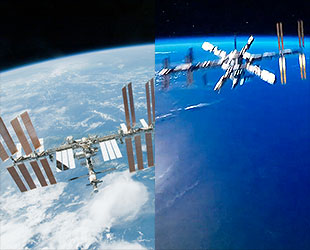 The revised Mission: SPACE now features a more complex outpost than the International Space Station.
(NASA/Attractions Magazine)
Though never explicitly stated, the Earth mission appears to launch and land from NASA's Kennedy Space Center in Florida, as evident by the distant sight of the iconic Vehicle Assembly Building (VAB) while touching down.

For the revised Mars mission, which retains the centrifuge experience, the riders' views have also been updated. On the original version of the ride, guests flew by the Hubble Space Telescope; now they see the James Webb Space Telescope (JWST), NASA's next-generation successor to Hubble. (Mission: SPACE depicts JWST in low Earth orbit; in reality it will be launched to the Earth-Sun L2 [Lagrange] point, about 930,000 miles [1,500,000 kilometers] beyond the planet.)

The ride's vision of the Red Planet has also changed to better match the color and detail seen by some of NASA's more recent Mars rovers and orbiters.

Both the Mars and Earth missions feature an introduction that includes one more look at a real NASA craft.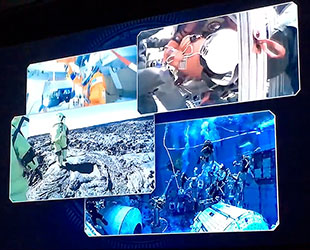 The new Mission: SPACE pre-show includes scenes of real NASA astronauts training for future flights on the Orion crew spacecraft beyond Earth, to the moon and Mars.
(Attractions Magazine)
"I know you are probably feeling a little nervous right now, but don't worry, every astronaut has felt that way at one time or another, even the heroes who went to the moon. But there is one thing they had that you don't have yet — training," says Torres, just prior to showing a brief montage of astronauts training in neutral buoyancy and at an analog Mars research station.

The videos also include two scenes of spacesuited NASA astronauts training inside a capsule. These are real views inside a mockup of the Orion spacecraft, now being built by Lockheed Martin to launch crews on flights beyond low Earth orbit beginning in 2019.

In the original Mission: SPACE pre-show, a different set of clips were accompanied by Sinese stating that "at NASA and ISTC facilities around the world, future astronauts are learning how to live and work in space." The revised video omits that line and Torres never makes mention of NASA.

Most of the rest of the Mission: SPACE pavilion, including its exhibit of a 35-foot-tall (11 meter) "gravity wheel" and a replica of an Apollo lunar rover, remain unchanged, though Disney has at least one additional experience planned for an area nearby.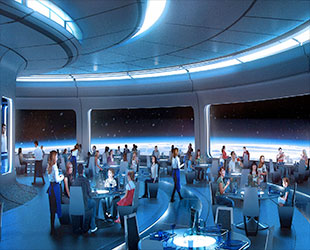 Artist's rendering of the space-themed table-service restaurant to be built adjacent to Mission: SPACE at Epcot.
(Disney)
"Adjacent to Mission: SPACE, will be a brand new, table service restaurant that will invite you to travel high above Earth, where you'll enjoy great meals and an even greater view," said Fitzgerald, referring to the simulated vistas that the new eatery will feature.

An opening date for the new space restaurant has not yet been announced.