advertisements

Space pioneer James Van Allen, 91, dies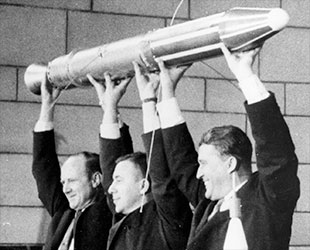 The three men responsible for the success of Explorer 1, the first U.S. Earth satellite. At center is Dr. James van Allen, who designed and built the instruments on board. To the left is Dr. William H. Pickering and to the right Dr. Wernher von Braun.
(NASA)
August 10, 2006
— Dr. James A. Van Allen, U.S. space pioneer died Wednesday morning (Aug. 9) of heart failure at University of Iowa Hospitals and Clinics. He was 91.

Van Allen's most widely known contribution was the 1958 discovery of radiation belts, now called Van Allen belts, encircling the Earth. He also is credited with discovery of a new moon of Saturn in 1979, as well as radiation belts around that planet.

"James Van Allen was one of the greatest and most accomplished American space scientists of our time and few researchers had such wide range of expertise in so many scientific disciplines," said NASA Administrator Michael Griffin. "NASA's path of space exploration is far more advanced today because of Dr. Van Allen's ground breaking work."

During his career, Van Allen led scientific investigations on 24 Earth satellites and planetary missions, beginning with the first successful American satellite, Explorer I, and continuing with Pioneer 10 and Pioneer 11. He also helped develop the plans for an International Geophysical Year.

Critical of manned space flight, Van Allen believed that space science could be done better and more cheaply with remote-controlled, robotic spacecraft. NASA's move toward more focused unmanned spacecraft during the 1990s came, at least in part, as a result of Van Allen's advocacy.

"Great discoveries are the hallmarks of exploration," said Lou Friedman, who worked with Van Allen on planetary missions in the mid-70s. "Jim Van Allen provided many such hallmarks — including the one that will forever bear his name around our planet. He was a great scientist, a great explorer and a great man: honored and honorable."

In recognition of his contribution to space research, Van Allen received 13 honorary doctorates, NASA's Medal of Exceptional Achievement, the Commander of the Order du Merite pour la Recherche et L'Invention and the Gold Medal of the Royal Astronomical Society.

In March 2006, the Smithsonian Institution honored Van Allen with the National Air and Space Museum Trophy for Lifetime Achievement. The museum preserves artifacts that came from Van Allen's efforts, ranging from samples of his Geiger counters to examples of Explorer satellites to an engineering model of the Pioneer 10 spacecraft.

In 1951, Van Allen became the head of the University of Iowa Department of Physics and Astronomy, a position he held until he retired from teaching in 1985. During his 34 years as a professor, he advised 34 doctoral students and 47 master's degree students, and yet he favored his interaction with undergraduates.

"I taught 'General Astronomy' for 17 years, and it was my favorite course. I spent one or two hours preparing for each lecture because I had a genuine enthusiasm for the course," said Van Allen in a 2004 interview. "Today, I run into people all the time who say, 'You don't remember me, but I took your course in 1985.' Many former students tell me how much they enjoyed the course."

Van Allen is survived by a wife, five children and seven grandchildren. Service arrangements are pending with Gay & Ciha Funeral and Cremation Service of Iowa City.

© 2022 collectSPACE.com All rights reserved.