August 8, 2008
— The countdown to the lighting of the cauldron and the fireworks that followed its ignition were not the only rocket-related allusions that led to the 2008 Beijing Summer Olympic Games. Space explorers from at least three nations took part in carrying the torch to the Beijing National Stadium in China while the son of a U.S. astronaut prepared to compete as one of the athletes.

The torch relay, which began in March in Greece, traveled longer than any previous torch — more than 85,000 miles (137,000 km), equivalent to more than three orbits around the Earth's equator, visiting 130 cities in 130 days.

At its third destination, St. Petersburg, Russia on April 5, among the torch's 80 runners was cosmonaut Valentina Tereshkova, the first woman to fly in space. Asked to compare her role as a torchbearer with her experience on Vostok 6, Tereshkova was quoted by the Beijing Olympic Organizing Committee as saying the two were equally exciting but then joked, "It'll be slightly more relaxing for me to be on earth."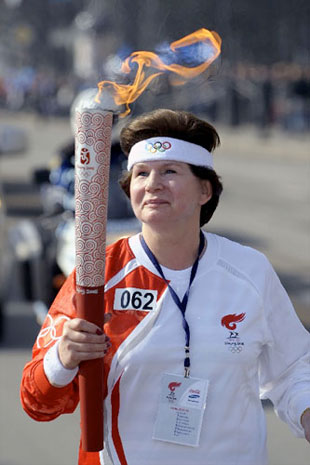 First woman in space Valentina Tereshkova runs with the torch through the streets of St. Petersburg, Russia on April 5.
(Xinhua)
Tereshkova wasn't the only record-setting space explorer to carry the torch. Two weeks after her run, Malaysia's first citizen in space, Sheikh Muszaphar Shukor paraded the flame along the top of Kuala Lumpur Tower on April 21. Unlike Tereshkova, whose space flight was in 1963, Sheikh Muszaphar's time with the torch occurred just six months after his return from spending a week aboard the International Space Station.

Reaching China in early May, the host nation brought the torch to Dongfeng "Space City", where among the 22 runners were many of the nation's space flight experts as well as the two-man crew of Shenzhou 6, China's second manned mission, and Wang Yongzhi, chief designer of their spacecraft.

Running the length of the moveable launch complex at Jiuquan Satellite Launch Center, taikonaut Fei Junlong said it was a great honor not just for him, "but also for the whole family of cosmonauts and China's space program technology." Fei's crewmate, Nie Haisheng, carrying the torch later that day, likened the occasion to celebrating a birthday as he did during his 2005 mission. "I am happy with this, even happier than my 41th birthday," said Nie.

China's first taikonaut, Yang Liwei, who made history on the Shenzhou 5 mission in 2003, was honored as the first torchbearer upon the flame's arrival in Beijing two days ago. "That the torch is finally in Beijing is a realization of a dream we've had for a hundred years," he said.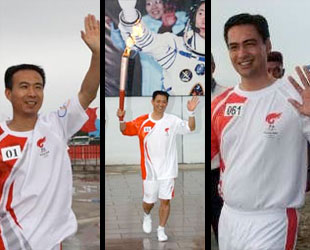 Shenzhou 6 crewmembers Fei Junlong (left) and Nie Haisheng (center), as well as first Malaysian in space Sheikh Muszaphar Shukor (right) pictured during the Olympic torch relay.
(Xinhua)
Though the U.S. did not choose to have one of its own space explorers take part in the torch procession when it visited San Francisco, a NASA astronaut's own journey was temporarily paused in May to allow for the Olympic flame to pass. A veteran of five space shuttle missions and an Olympic Team Coach for the Philippines during the 1988 Olympic Winter Games, Scott Parazynski was at Base Camp when Chinese climbers carried the torch to the summit of Mt. Everest on May 8.

The United States' Olympic Team also includes gymnast Justin Spring, son of former NASA astronaut Sherwood "Woody" Spring, who served as a mission specialist on STS-61B in 1985. The elder Spring reflected on his own role as an astronaut and his 24 year old son's selection in an interview with the Philadelphia Inquirer.

"It's just different prides," said Spring. "I have had my turn. Now it's his turn."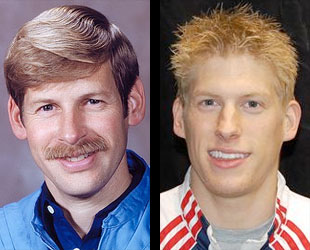 Father and son: Astronaut Woody Spring (left) and his Olympian son Justin Spring (right).
(NASA/U.S. Olympics Committee)
The 2008 Beijing Olympic Games' opening ceremonies was set to begin at 8:08 p.m. local China time on Aug. 8 (08/08/08 08:08). For U.S. viewers, NBC will broadcast the ceremony beginning at 7:30 p.m. Eastern time zone.