July 31, 2023
— As it turns out, the two Barbie dolls that recently went on display at the Smithsonian are not the first to have flown into space, contrary to how they are described in the exhibit.

The pair of "Space Discovery" dolls that debuted July 18 at the National Air and Space Museum's Steven F. Udvar-Hazy Center in Virginia were indeed launched into orbit in 2022, and were the first Barbie dolls that Mattel — the toy company behind the iconic fashion figure brand — arranged to fly. But another Barbie made the trip 32 years earlier aboard a still-classified space shuttle mission and today it sits in the home of its original owner.

"It was on a DOD [Department of Defense] flight, and that's why you might not have seen much on it," said Steve Denison in an interview with collectSPACE.

Denison was on assignment by Rockwell (today, part of the Boeing Company) as a space shuttle payload training engineer at NASA's Johnson Space Center in Houston when in 1989 he received what would become the first Barbie doll to fly into space as part of a "white elephant" holiday gift exchange. Subsequently, Denison and his fellow astronaut instructors got the idea to hide the Barbie as they set up the shuttle simulator ahead of each training run.

"We would take the Barbie and put her into a cabinet or whatever — just to have fun," he said.

The crew Denison was helping to train at the time — STS-38 commander Dick Covey, pilot Frank Culbertson and mission specialists Carl Meade, Bob Springer and Sam Gemar — spent hours at a time in the simulator, so finding Barbie offered a small break, as well as a source of levity. In fact, the crew took such a liking to the doll, that "when it came time to fly," said Denison, "they said 'Hey, we want to take her up as our mascot.'"

First, though, Barbie had to be dressed for the part. Although Mattel released its first in a series of spacesuited Barbie dolls in 1965, the one that Denison was gifted was not an "Astronaut Barbie." Instead, the wife of one of Denison's fellow crew instructors sewed an orange jumpsuit and styled the doll's hair for the flight.

Launched on Nov. 15, 1990, aboard the space shuttle Atlantis, Barbie and the STS-38 crew spent nearly five days in space (4 days, 21 hours, 54 minutes and 31 seconds, to be exact) on a mission for the Department of Defense. As a classified flight, not much is officially known about what the astronauts did while in orbit, however one thing the STS-38 crew did do was photograph Barbie floating in front of a window with the Earth below as her backdrop.

Later, the astronauts inscribed and autographed one of the photos for Denison, writing in jest that Barbie was still needed for their next simulator run (Barbie and Denison left NASA within months of the mission ending.)

Mattel did not know about Barbie being aboard STS-38 at the time, but learned of the doll's mission a couple of years later, when the company highlighted the flight in a newsletter for its employees. "Another impressive coup for a Barbie doll," the 1992 issue of Mattel Matters read, "the only question now is, what's left?"

As it happened, the same person who sewed Barbie's custom spacesuit went on to work for the National Archives, where in 1999 she helped arrange for the doll to be temporarily displayed at the Dwight D. Eisenhower Presidential Library and Museum in Kansas, in conjunction with an exhibit celebrating 40 years of Barbie.

Since then, the doll has remained at Denison's home, which may be why Mattel, NASA, the Smithsonian and just about everyone else forgot about Barbie's actual first spaceflight. Not that Denison has any hard feelings about the subject.

"There's no mal intent for anybody. I just thought people might enjoy finding out there's a different story," Denison told collectSPACE.

For its part, the Smithsonian is interested and plans to revise its current display, which labels the "Space Discovery" Barbie dolls as the "first two Barbie dolls to fly to space."

"We're always fascinated to learn new things about the richness of spaceflight in the decades that have come before," said Margaret Weitekamp, curator of the National Air and Space Museum's social and cultural history of spaceflight collection, "though it does not change the museum's interests in the first officially flown Barbie dolls to go to the International Space Station. I think that the distinction of those toys being used explicitly for an educational purpose to inspire the next generation in STEM [science, technology, engineering and mathematics] still stands.

"It's fascinating to learn that there was this earlier doll that carried such personal significance for the crew and I think it only highlights the ways that flown memorabilia illustrates how much for the astronauts and the ground crews those spacecraft were their workplaces and they personalized them the same way that you or I would personalize our office desk or a home space," Weitekamp said.

This article was updated on Aug. 1, 2023, to remove an errant mention of an IMAX camera being aboard STS-38.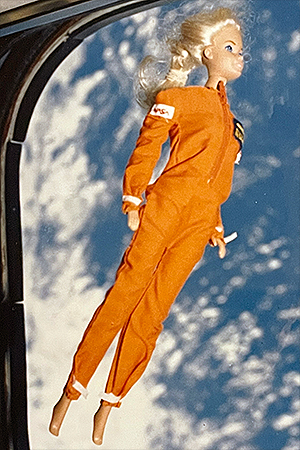 A Mattel Barbie doll outfitted in a custom-made suit floats in front of a window aboard space shuttle Atlantis during the STS-38 mission for the Department of Defense in 1990. (NASA/Steve Denison)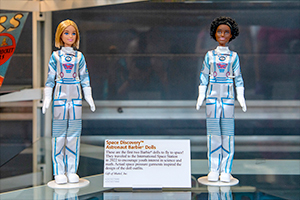 Billed incorrectly as the "first two Barbie dolls to fly to space," the "Space Discovery" figures that spent several months on board the International Space Station are seen on display the National Air and Space Museum's Steven F. Udvar-Hazy Center in Chantilly, Virginia. (Smithsonian)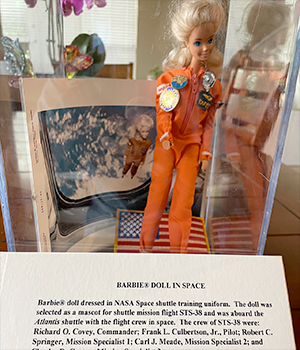 The first Barbie doll to fly in space as displayed in Steve Denison's home, together with the descriptive card from its 1999 exhibit at the Eisenhower Presidential Library in Kansas. (Steve Denison)