July 29, 2008
— Like any soon-to-be astronaut, Richard Garriott needed a patch to sew onto his spacesuit and to represent his mission. Unlike those who have launched before him however, Garriott had a unique source for his insignia's inspiration: his astronaut father.

"My inspiration really came from my father's first flight on Skylab," said Garriott of his father, Owen, who 35 years ago this week lifted off for a 59-day stay on-board the first U.S. space station. Like his father, Garriott is destined for an orbiting outpost, the International Space Station (ISS), but not as a NASA astronaut. A successful video game developer, he has paid to fly as a spaceflight participant aboard a Russian Soyuz currently scheduled to launch on October 12 of this year.

So when it came time to follow the tradition of designing a patch, Garriott saw similarities between his mission goals and those pioneered by his father, as was represented by the Skylab II crew emblem.
"The reason I thought that [the Skylab II emblem] was a particularly suitable patch to use as a kind of a basis for mine was that it began with an image of Leonardo da Vinci's 'Vitruvian Man'," Garriott told collectSPACE.com, referring to the renaissance artist's 15th century drawing depicting the proportion of a man. "That was selected for the Skylab patch for a number of reasons, most notably because part of what they worked on on Skylab was the study of human physiology."

"Furthermore, I actually designed this patch in cahoots with my mother, who is a professional artist," continued Garriott. Unbeknownst to Owen until he arrived on orbit, an alternate version of the Skylab II patch also flew, this one listing the names of the crewmen's wives -- including Helen-Mary, Richard's mother -- and altering da Vinci's "Vitruvian Man" to appear as a similarly-styled woman.

Whether in the original male or female form, da Vinci's art is well known for its blending of science and art, a feature that underscored Garriott's interest in its use.

"I got my science and technology background from my father, my artistic inclinations from my mother and if you think of the quintessential high tech art, I would say that computer games fills that niche pretty darn well and so I really owe my career to both of my parents."

"Plus there is even another little echo," revealed Garriott. "Leonardo was not only a great artist but he was also a great scientist. So my parents, inspired by that, after they had invested in my first company Origin and after we sold it, they had public stock [and took] some of that money... and they went back to their hometown of Enid, Oklahoma where they built Leonardo's Discovery Warehouse, which is a children's hands-on science and art facility. The main logo for [that center] is this same image of Leonardo's."

"So, this patch has a great deal of personal family history imbued in it for me."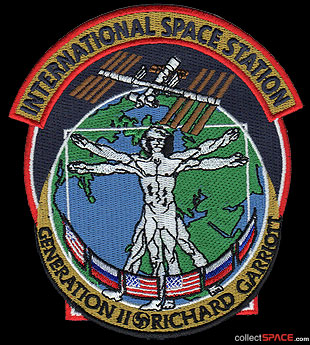 The similarities between Garriott's patch and his father's do not end with da Vinci's drawing. Both share a planetary background.

"Skylab II included the Earth and in his case, the Sun, behind this image because they were both doing earth sciences as well as solar research. While I am doing a bunch of earth sciences, unfortunately I don't get a chance to do much solar research on the current ISS as it wasn't designed for that purpose," described Garriott.

"In my case, I also included the six flags for the nationalities of the six crew members I'll fly on-board the ISS with."

Garriott, whose name adorns the base of the patch, will launch with NASA astronaut Mike Fincke and Russian cosmonaut Yuri Lonchakov. Once at the station, he will meet U.S. flight engineer Greg Chamitoff, Russian flight engineer Oleg Kononenko and commander Sergei Volkov.

"'Generation II' [at the bottom of the patch] is, of course, fairly obvious. It is reflecting that I am the first second generation American. I'll be flying with the first second generation Russian, Sergei Volkov, and we'll return from space together."

Rounding out the symbolism on his patch is a small logo dividing Garriott's name from "Generation II".

"And this small symbol that you see between the two is something called a triscalion. It's like a little yin and yang symbol but with three parts. It is one of the principle symbols of my latest game, 'Tabula Rasa'," he described. "And as Tabula Rasa has been a big part of my life here in preparation for this flight, as it's a science fiction game about traveling through space, and I'm about to take my journey into space it seemed like an appropriate piece to include in this patch."

Garriott will wear his patch on his Sokol pressure suit for his launch and landing, alongside a Soyuz TMA-13 crew patch that has yet to be designed. He will also carry with him patches made from the winning design of a student competition organized by the Challenger Center for Space Education.