July 25, 2014
– The Hubble Space Telescope is an iconic spacecraft responsible for almost a quarter of a century of astronomical discoveries and stunning stellar images.

As such, it is due time for it to be immortalized as a Lego model.

At least that is the idea of Gabriel Russo, a Lego fan and admirer of the orbiting observatory, who designed a Lego brick version of the space telescope and uploaded it to the Danish toy company's social website, "LEGO Ideas." And judging by the number of supporters Russo's Hubble has recruited to date — just over 6,300 at press time — he is far from the only person who thinks it is a good idea.

"A Lego model of this amazing piece of space engineering would come as a perfect homage to its 25th anniversary in 2015," Russo wrote as a part of his model's description on the website.

Fans can vote for Russo's Hubble at ideas.lego.com.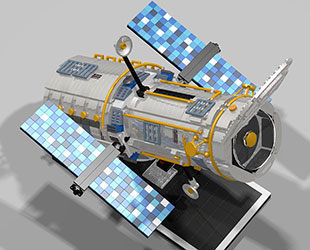 "If you are wondering how I made it round," Russo writes, "well... let's say it took a lot of 'technic' parts and a lot of creativity. Can't really say more than that."
(GRusso/LEGO Ideas)
LEGO Ideas, which was previously known as CUUSOO, invites Lego fans to share their proposals for new brick-built models. Other fans and the public can then cast their votes on the website for their favorite ideas. The concepts that successfully attract 10,000 supporters are considered by the toy company for commercial distribution.

To date, the website has resulted in eight new LEGO kits being sold, including models of Japan's Hayabusa asteroid sample return probe and NASA's Curiosity Mars rover.

Russo's Hubble Space Telescope is currently featured on LEGO Ideas' front page as one of the most popular ideas on the site. It's competing for supporters alongside a Lego version of Disney-Pixar's WALL-E robot and a pirate ship from the 1985 movie "The Goonies."

"Although not the first space telescope, Hubble is one of the largest and most versatile, and is well known as both a vital research tool and a public relations boon," Russo wrote, sharing why he thinks the observatory is worthy of a Lego treatment.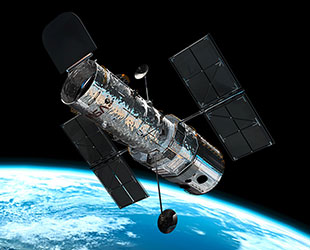 Illustration showing NASA's and ESA's Hubble Space Telescope in its high orbit, 375 miles (600 kilometers) above Earth.
(ESA)
The Hubble Space Telescope was launched aboard space shuttle Discovery's STS-31 mission on April 24, 1990 and released into orbit a day later. For more than 24 years, the spacecraft has served as an invaluable astronomy tool for scientists and captured the public's fascination through the images it has returned, the discoveries it has helped make and the astronaut-led missions it has taken to repair and upgrade its instruments.

It is that last point that resulted in Russo redesigning his model after it was submitted. Five shuttle missions visited the Hubble Space Telescope to service and upgrade its instruments and, after seeing his recreation, fans wanted to re-stage those spacewalks using Lego minifigures.

"Since I first posted this project, many people pointed out their disappointment because the set was too big to have minifigures," Russo wrote in May. "So I finally decided to go back to the design table and figure a frame that would make the telescope small enough to have minifigures."

The new version is 35 to 40 percent smaller than Russo's original replica, reducing the number of Lego parts needed to build the Hubble but remarkably increasing the level of detail to be faithful to the bus-sized space telescope.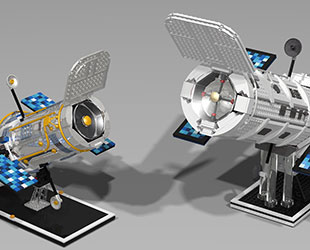 Russo's revised LEGO Hubble (left) is minifigure-scale and is 35 to 40 percent smaller than his original.
(GRusso/LEGO Ideas)
"Thanks to the movie 'Gravity,' I was able to take a closer look to the actual design of the telescope," Russo wrote. "Therefore, you will notice that the level of detail is much higher and accurate."

The model has more than nine months to recruit the 3,700 or so votes it still needs, but thanks to its place on LEGO Ideas' front page and recent attention by the press, it may not need it. In just the time it took to write this article, the model picked up another 100 votes.

Should it reach the required 10,000 supporters and LEGO chooses it for production, it will be the first detailed model of the Hubble Space Telescope offered by the company. LEGO earlier included a smaller, more basic version of the telescope with a space shuttle Discovery model that was released in 2003.

LEGO also launched a custom-built model of the Hubble Space Telescope aboard the real space shuttle Endeavour in 2011 as part of an educational partnership with NASA.

For more information or to vote for Gabriel Russo's Hubble Space Telescope model, see the LEGO Ideas website.