advertisements

Soyuz TMA-17M launches three-man crew for space station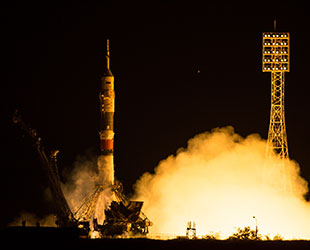 Soyuz TMA-17M launches for the International Space Station from the Baikonur Cosmodrome on July 22.
(NASA/Aubrey Gemignani)
July 22, 2015
— A veteran cosmonaut and two first-time astronauts launched to the International Space Station on Wednesday (July 22), two months later than had originally been planned.

Roscosmos cosmonaut Oleg Kononenko, NASA astronaut Kjell Lindgren and Japan Aerospace Exploration Agency (JAXA) astronaut Kimiya Yui lifted off at 5:02 p.m. EDT (2102 GMT; 3:02 a.m. local time) onboard Russia's Soyuz TMA-17M spacecraft from the Baikonur Cosmodrome in Kazakhstan.

Following a four-orbit rendezvous plan, the trio were set to arrive at the space station six hours later at about 10:46 p.m. EDT (0246 GMT) for a docking with the Rassvet mini research module. Once on board the outpost, Kononenko, Lindgren and Yui will join the ISS Expedition 44 crew of Gennady Padalka, Scott Kelly and Mikhail Kornienko for a planned five month stay.
---
Update
: Soyuz TMA-17M docked to the station's Rassvet module on Wednesday at 10:45 p.m. EDT (0245 GMT).
---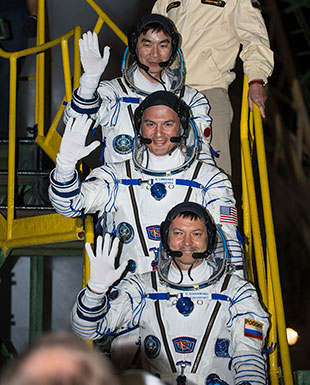 The Soyuz TMA-17M crew, Kimiya Yui (at top), Kjell Lindgren, and Oleg Kononenko wave before boarding their rocket for launch at the Baikonur Cosmodrome on July 22.
(NASA /Aubrey Gemignani)
The Soyuz TMA-17M crewmates had been scheduled to launch on May 26 until the investigation into the loss of a Russian cargo freighter in late April postponed their flight. Roscosmos safely launched another Progress vehicle to the space station earlier this month.

The delay resulted in the TMA-17M launch coinciding with the 40th anniversary of the Apollo-Soyuz Test Project, the first joint space mission between the United States and Russia in July 1975.

"Forty years ago, two crews from two great countries met in space for the first time," Lindgren remarked in a pre-flight briefing. "It marked the beginning, the stepping stone of our cooperation and future. I am very proud to be part of this legacy of the Apollo-Soyuz mission."

Lindgren and his two crewmates will be aboard the station through December. During their time on orbit, they will help perform hundreds of science experiments and oversee the arrival and departure of several visiting uncrewed cargo vehicles, including Japan's H-II Transfer Vehicle (HTV) 5 in August.

Lindgren will also assist with the robotic relocation of a docking port, Pressurized Mating Adapter 3, from Node 3 "Tranquility" to Node 2 "Harmony." The move will support future U.S. commercial crewed vehicles flying astronauts to and from the station.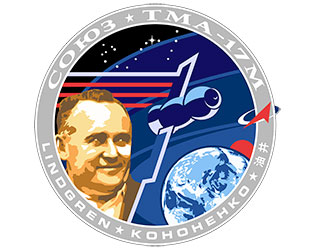 The Soyuz TMA-17M mission patch was inspired by the patch for NASA's Apollo 17 moon landing.
(Roscosmos/spacepatches.nl)
Soyuz TMA-17M is Lindgren's first spaceflight. Chosen as an astronaut in 2009, he earlier served as a NASA flight surgeon supporting space shuttle and station crews.

Like Lindgren, Yui is also on his first mission. Chosen by JAXA in 2009, his spaceflight training included working as an aquanaut aboard the Aquarius underwater laboratory as a NEEMO 16 crew member in 2012.

Kononenko has already logged more than a year in space on his two previous flights. A mechanical engineer who was named a cosmonaut in 2006, he was a member of the Expedition 17 crew in 2008 and Expeditions 30/31 in 2012. On his second flight, he served as the commander of the space station.

Soyuz TMA-17M is the 126th flight of a Soyuz since 1967 and the 43rd to launch to the International Space Station since 2000.

© 2022 collectSPACE.com All rights reserved.


Feedback: Messages





Soyuz TMA-17M launches to ISS
Video credit: NASA


Click here to enlarge and view video in new window.