July 20, 2017
— A cloth bag used to protect the first-ever moon rocks collected by an astronaut on the lunar surface 48 years ago Thursday (Jul 20) has made history again — this time by selling at auction for more than any other U.S. space program artifact to date.

The sale fell short, however, of commanding the most ever paid for a space artifact overall, closing at a lower hammer price than its pre-auction estimate of $2 to $4 million.

The moon dust-stained "lunar sample return" pouch, which Apollo 11 commander Neil Armstrong used to store a small "contingency" cache of material from Tranquility Base, sold for $1,812,500 at Sotheby's New York on Thursday (July 20), the 48th anniversary of the Apollo 11 first moon landing. The bag's sale was part of Sotheby's first auction to focus on artifacts from NASA's space missions.

"Here it is, to my right, up front, at $1.5 million," announced auctioneer Joe Dunning, before striking down the hammer, completing the sale to an unidentified bidder on the phone. (The $1.8 million includes Sotheby's buyer's premium.)

The bag, and the lunar sample it once held, is testament to NASA's planning if something were to have gone wrong on the Apollo 11 mission requiring a quick departure after the moon landing. Following his "small step," Armstrong took a few more steps to scoop up a contingency sample of rocks and soil so if the moonwalk had to be ended unexpectedly, the mission would still come back with a lunar sample.

Of course as history records, there was no emergency and the contingency sample became just a small bit of the 47.5 pounds (21.5 kg) of rock and soil that Armstrong and Buzz Aldrin gathered during their two and a half hour exploration of the lunar surface. When they lifted off as scheduled and reunited with their crewmate Michael Collins on board the Apollo 11 command module, Columbia, Armstrong invited Collins to look inside the "decontamination bag" to see the contingency lunar sample bag inside.

"If you want to have a look at what the moon looks like, you can open that up," said Armstrong to Collins, referring to the same bag that sold at Sotheby's, now 48 years later.

Once back on Earth, everything — the command module, the moon rock collection bags and even the astronauts — entered quarantine to protect against the chance of "moon germs." The lunar samples were transferred to a specially-prepared laboratory at Johnson Space Center in Houston, where most are still held today (the crew was cleared after 18 days to return to their homes).

At some point, the no-longer-needed decontamination bag ended up with the artifacts held by a co-founder of a space museum in Kansas (when and how that happened is not clear). In the intervening years, an inventory error merged the Apollo 11 bag with another similar bag flown on Apollo 17, such that the provenance of the Apollo 11 bag became muddled.

In 2006, the same curator was convicted of stealing and selling space artifacts from the museum, which resulted in part in his forfeiting his collection — including what is now known to be the Apollo 11 contingency lunar sample return bag — to underwrite paying restitution. The U.S. Marshals Service consigned the items, including the moon rock bag, to a Texas auction house, describing it simply as flown.

After failing to attract a single bid three times when offered at $42,500, the bag finally sold on Feb. 17, 2015, for $995 to Nancy Lee Carlson, an attorney from Inverness, Illinois. Six months later, Carlson sent the bag to NASA in Houston to be tested for the presence of moon dust.

NASA found traces of the lunar material and was able to identify the bag as having flown on Apollo 11, but it could not find record of ever having released it from its property. So instead of returning it to Carlson, as she requested, the space agency sought to compensate her for her expenses and retain the bag. Carlson rejected that offer.

The dispute became the subject of court cases in Kansas and Texas. In late 2016, a District Court in Kansas ordered that the lunar sample bag belonged to Carlson, citing that the government had not provided sufficient justification to overturn the U.S. Marshals' sale. A Texas judge followed suit, instructing NASA to turn over the Apollo 11 moon rock bag to Carlson.

Carlson subsequently consigned the bag to Sotheby's.

Sotheby's first entered the space memorabilia market with a pair of high profile Russian artifact auctions in 1993 and 1996. Its now U.S. record-setting sale of the Apollo 11 bag fell short of its 2011 auction of a Soviet Vostok 3KA space capsule for $2.9 million.

Previously, the most paid for a U.S. space artifact was the $1.625 million for a Bulova chronograph worn by Apollo 15 astronaut David Scott on the moon in 1971. The 2015 sale was held by RR Auction of Boston.

After the lunar sample return bag, the next highest amount commanded by the 173 lots Sotheby's auctioned Thursday was $275,000 for the flown flight plan used by the crew on the 1970 Apollo 13 mission.

An original Chesley Bonestell illustration sold for $125,000. The artwork of a stone architecture on Mars appeared in a 1960 book authored by rocket pioneer Wernher von Braun.

Overall, Sotheby's sale totaled $3.8 million, with more than 87 percent of the lots sold — 64 percent above their high estimates.

"The tremendous excitement around Sotheby's first space-themed sale in nearly twenty years translated into a great result," said Cassandra Hatton, vice president and senior specialist for Sotheby's books and manuscript department, in a statement. "The $1.8 million achieved for the Apollo 11 lunar sample bag and strong prices for objects related to other missions were driven by over 500 participants from dozens of countries."

According to Sotheby's, Carlson planned to share part of the sale proceeds with a number of charities, including the Immune Deficiency Foundation and Bay Cliff Health Camp Children's Therapy and Wellness Center in Michigan. She is also planning to fund a scholarship for students studying speech pathology at Northern Michigan University.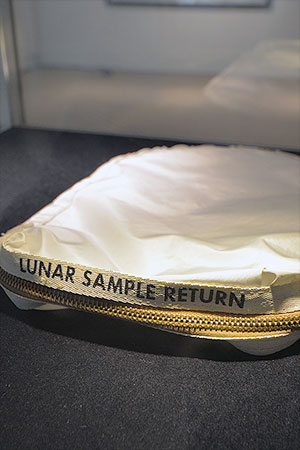 The lunar sample return bag used to hold the first moon rocks and soil collected by Apollo 11 astronaut Neil Armstrong sold for $1.8 million at Sotheby's in New York on July 20, 2017. (collectSPACE)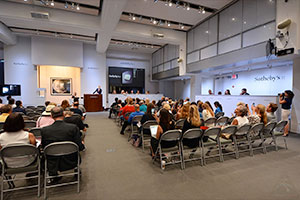 Sotheby's auctioneer Joe Dunning leads the bidding on the Apollo 11 lunar sample return bag at the firm's gallery in New York. (cS)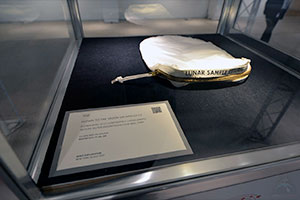 The Apollo 11 lunar sample return bag, as seen prior to its sale for $1.8 million at Sotheby's in New York. (collectSPACE)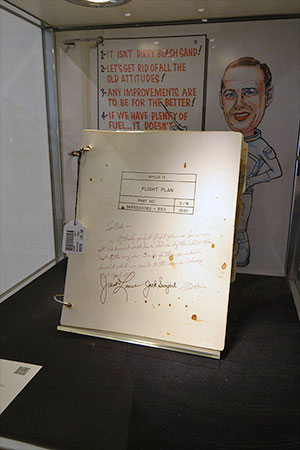 The Apollo 13 flown flight plan, with original caricatures and crew notations, sold for $275,000 at Sotheby's. (collectSPACE)