July 20, 2017
— Forty-eight years ago, flight controllers in NASA's Houston Mission Control helped to guide Apollo 11 astronauts Neil Armstrong and Buzz Aldrin to the first ever landing on the moon.

Just moments after Armstrong radioed to Earth the "Eagle has landed," Mission Control replied. "We copy you on the ground. You got a bunch of guys about to turn blue. (We're breathing again.)"

Now, almost half a century later, some of those same guys are hoping you will help Mission Control raise some green.

"With your help, we can make this room look just the way it did in July 1969, as we guided Armstrong and Aldrin to the moon's surface," says flight director Gene Kranz, who led Mission Control for the Apollo 11 landing, in a video posted on the Kickstarter website. "Join us now in saving Mission Control, so we can celebrate a great leap for mankind and inspire the imaginations of future generations."


On Thursday (July 20), Space Center Houston, the official visitor center for NASA's Johnson Space Center, kicked off a crowdfunding campaign to continue the restoration of the Apollo-era Historic Mission Control. The goal is to raise at least $250,000 from supporters.

"This will help preserve a vital part of our country's history," Kranz states.

Dollar for dollar

A National Historic Landmark, NASA's Apollo-era Mission Control is comprised of five areas on the third floor of the Christopher C. Kraft, Jr. Mission Control Center at Johnson Space Center. The most iconic of these areas, the Mission Operations Control Room, or MOCR, is already the focus of a $3.1 million restoration effort, underwritten by the city of Webster, Texas.

"Webster has made a lead gift that covers the core cost of the restoration, but there are other facets of the project we want to do," said William Harris, the president and CEO of Space Center Houston, in an interview with collectSPACE. "That is why we established a larger goal."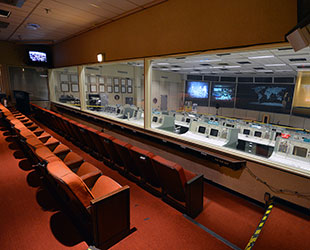 The view of the Apollo-era Mission Operations Control Room from the same viewing gallery used by dignitaries and astronaut family members during the Apollo missions.
(collectSPACE)
In addition to the MOCR, with its rows of control consoles and large screens at the front of the room, there are also the summary display projection room, known affectionately as the "batcave"; the simulation control room; the recovery control room, used to coordinate support after splashdown; and the visitors viewing area, where family members and VIPs observed the missions as they were underway.

To bring those other rooms back to the condition they were when Apollo 11 launched for the moon, and to set aside funds for their continued upkeep, Space Center Houston is seeking to raise an additional $1.9 million, for a total of $5 million. To that end, Webster is providing $400,000 more in matching funds.

For every dollar that is given on Kickstarter, the "Webster Challenge" will contribute a dollar (up to $400,000).

"This will let people do something tangible to conserve this National Historic Landmark," stated Harris. "At least in our region, there is such excitement around the MOCR and a feeling that 'we've got to get behind it, we've got to support this.' I am hoping that the same sentiment is shared across the nation and the world."

Houston, we have some perks

To help encourage donations, Space Center Houston has pulled together some unique perks that will only be offered through Kickstarter.

For a pledge of $55 or more, backers will receive a NASA decal, updates about the restoration and an embroidered patch designed by an artist best known for coming up with the look of another set of control consoles — on board the Starship Enterprise.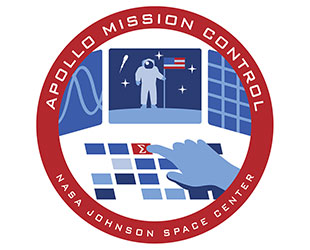 Graphic artist Michael Okuda's design for a patch representing the Apollo-era Historic Mission Control.
(Space Center Houston)
"We wanted to give people something that represents the U.S. space program and Johnson Space Center. So, we had Michael Okuda of Star Trek fame, but also well known for his NASA mission patches, come forward and design a special patch for us," Harris said. "It's absolutely beautiful."

Okuda's commemorative patch design represents not only the physical hardware that played a key role in the Apollo program, but also the team of flight controllers.

"I wanted to design something that was strongly evocative of the mission patch ethos, the mission patch being such a part of the NASA culture," said Okuda in an interview with collectSPACE. "It came down to three elements — the big screens, the control consoles, and literally the touch of the flight controllers, who are the heart of Mission Control."

"I think the Apollo-era Mission Operations Control Room is one of the most important historical sites in 20th century American history," Okuda said. "It is the place where these amazing people faced astonishing challenges to literally send people where none had gone before. It is the symbol of what a great nation can do when we really try, when we commit to work together to challenge the impossible."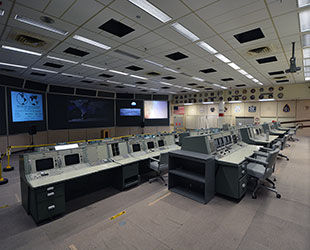 NASA's Apollo-era Mission Operations Control Room (MOCR) as it looks today, awaiting its restoration.
(collectSPACE)
In addition to Okuda's patch, other rewards include paper and metal model kits of the Apollo-era Saturn V rocket and spacecraft; digital downloads of the documentary "Mission Control: The Unsung Heroes of Apollo"; signed copies of "Artemis," the upcoming novel by Andy Weir, the author of "The Martian"; and poster prints signed by Kranz and other members of Apollo Mission Control.

For its high level donors, Space Center Houston is offering experiences, including a chance to attend the premiere of "Destination Moon," the Smithsonian's upcoming traveling exhibit of the Apollo 11 command module, Columbia.

Supporters can also meet Kranz and see where their funds are going.

"For people who really stretch and support us in the high end, we're offering a behind the scenes tour of the Mission Operations Control Room guided by Gene Kranz," Harris said.

'A very special place'

Nearly 900,000 people see the historic Mission Control per year on tours operated by Space Center Houston.

"It is the most popular stop along the tour. There is always a very emotional response when people see it," described Harris.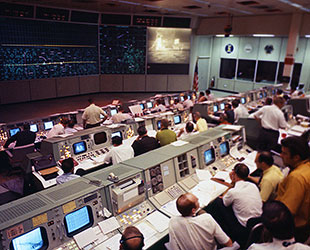 NASA's Mission Operations Control Room as seen during the 1969 Apollo 11 first moon landing mission.
(NASA)
Aimed at being completed in time for the 50th anniversary of the Apollo 11 mission in 2019, the project will not only preserve the MOCR and its surrounding rooms for future generations, but also bring them back to life, in such a way that they look as if it is 1969 and the flight controllers have just stepped away from their consoles.

The desire is to give visitors a better understanding of the technology and dedication that it took to send astronauts to the moon.

"This is a very special place," says Kranz. "I'm passionate about the importance of restoring and preserving this room to its authentic Apollo-era configuration."

"It is a national monument and it deserves to be shown in the best possible light," Kranz said.

For more information or to pledge, see the Restore Historic Mission Control campaign on Kickstarter.