advertisements

Project Orion to follow Apollo to the Moon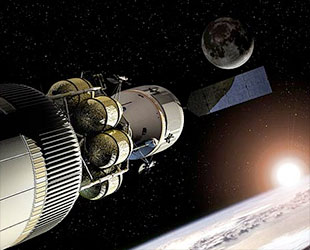 NASA's concept for a crew exploration vehicle — expected to be called Orion — docked to a lunar lander and Ares rocket stage as it departs Earth for the moon.
(NASA)
July 20, 2006
— Thirty-seven years ago today, Project Apollo put the first humans on the surface of the Moon. The next time the U.S. launches its astronauts to Earth's natural satellite, they will do so as part of Project Orion, collectSPACE.com has learned.

NASA intends to use the moniker Orion as both the title for its next generation manned craft, the Crew Exploration Vehicle (CEV), and as the project name. This approach is modeled after the 1960's program when Apollo Command Modules launched astronauts under Project Apollo.

Under Project Orion, NASA would launch crews of four astronauts aboard Orion Capsules, first to Earth orbit and the international space station and then later to the Moon.

Two teams, one led by Lockheed Martin and the other a joint effort by Northrop Grumman and The Boeing Co., are currently competing to build the CEV. NASA is expected to select the winner in September.

In June, NASA announced that its crew launch vehicle, which would lift the CEV into space, would be named Ares I, with Ares V reserved for a larger booster to haul cargo or a future moon lander.

At the time of that announcement, NASA's Associate Administrator for Exploration Scott Horowitz said that the reason he wasn't also releasing the name of the CEV at the same time had to do with the legal process related to federal trademarks.

"We have to make sure we aren't infringing on any copyrights or anything," Horowitz said, describing how Ares was selected. "You have to go through that whole process and that just takes time."

At the same June 30th press conference, Constellation Program Director Jeff Hanley said that the name for the CEV was close to being finalized.

"We are trading three or four names at this point. There is a running, leading candidate that of course, I can't talk about yet because we have to go through a process to have it vetted and approved. Hopefully, I'd like to think that in a month we'd be able to role that out," said Hanley.

NASA spokesperson Dolores Beasley told collectSPACE today that NASA did not have a name for the CEV at this time.

Yet a publicly-accessible federal trademark search shows that NASA was granted the use of Orion on July 14, 2006 for use with "command modules" and "crew capsules", as well as crew and cargo launch vehicles.

Sources close to the agency confirmed to collectSPACE that the name Orion was in the final stages of approval.

Earlier documents obtained in January by collectSPACE used the names Antares and Artemis as 'notional' titles for the CEV. Orion will soon officially replace those other names for internal and external use, though when NASA will announce Orion is not yet known.

In addition to its association with Greek Mythology, which includes tales of Apollo and Artemis, Orion is also one of the most recognizable constellations in the night sky, that of the embattled hunter. Project Orion was also the title given to a 1960s project to design a nuclear pulse rocket.

© 2022 collectSPACE.com All rights reserved.