July 19, 2020
— The launch of a new interplanetary probe carries with it the "Hope" of a young nation that is poised to make history while studying the global atmosphere of Mars.

The United Arab Emirates' (UAE) "Hope" ("Al-Amal" in Arabic) spacecraft lifted off on a Mitsubishi Heavy Industries' H-IIA rocket from the Tanegashima Space Center in Japan on Saturday (July 19). If all proceeds to plan, the robotic probe will enter Mars orbit in early February 2021, coinciding with the 50th anniversary celebration of the UAE becoming an independent country.

The 5:58 p.m. EDT launch (2158 GMT or 6:58 a.m. local time on July 20) marked the beginning of the $200 million Emirates Mars Mission, the UAE's first space project to reach beyond Earth orbit and first Arab-led mission to another planet. If Hope succeeds, the UAE will become the fifth, or possibly sixth, government to place a vehicle into Mars orbit, depending on when China's soon-to-be-launched Tianwen-1 mission also arrives at the Red Planet.

To date, only the United States, Russia, the European Space Agency and India have operated robotic probes in orbit about Mars.

"This mission places UAE as one of the world leaders in space exploration, which will be a wonderful inspiration to the young men and women of the UAE when considering their roles in the future. It should provide a major incentive for young Arab scientists to embark on a career in space engineering," said UAE Minister of State Zaki Nusseibeh during an online discussion hosted by the Office of Public & Cultural Diplomacy in Abu Dhabi.

The path to Mars

The Hope spacecraft entered Earth orbit 11 minutes and 21 seconds after launch. Still attached to the H-IIA's second stage, the probe coasted for 45 minutes before the stage reignited for 4 minute and 54 seconds to accelerate Hope away from the planet.

Separating from the rocket stage 57 minutes after leaving the ground, Hope began its 200-day cruise that will span the 306.6 million miles (493.5 million kilometers) between Earth and Mars. The small spacecraft — measuring just 25 feet wide (8 meters) when its two solar arrays are deployed and 10 feet tall (3 m) — made contact with mission managers in Dubai (as relayed through NASA's Deep Space Network tracking station in Madrid, Spain) about 15 minutes later.

After system checks, the next major milestone for Hope will be the first in a series of thruster firings to refine its trajectory.

"Soon after commissioning, there's a series of course corrections that need to be made in order to hit the target that's required to get into Mars orbit. It's a very small target. It's equivalent to an archer hitting a 2 millimeter [0.08 inch] target 1 km (0.6 miles) away, so this is not for the faint of heart," said Pete Withnell, program manager at the Laboratory for Atmospheric and Space Physics at the University of Colorado, Boulder, where Hope was built. "It takes a series of course correction maneuvers to hit that target."

"The next six months will be largely ensuring that we know exactly where the spacecraft is, how it is moving through space and how we are in terms of targeting that specific bullseye in making all the corrections needed along the way," Withnell said in a pre-launch press conference.

Into the atmosphere

Arriving at Mars, the Hope probe will expend nearly half its fuel firing its thrusters to slow its approach to be captured by the planet's gravity. About six weeks after entering an initial orbit, during which its systems and instruments will be checked out, the spacecraft will transition to its science orbit, circling Mars once every 55 hours while following an elliptical path between 12,430 and 26,700 miles (20,000 and 43,000 km) above the surface.

Hope is equipped with infrared and ultraviolet spectrometers, as well as a multi-wavelength camera to collect data about the global Martian atmosphere over the course of one Martian year.

"We focus on three primary objectives ... to characterize the weather system of Mars throughout an entire year, and, more importantly, fill in the gap of the day-to-night transitions within the weather of Mars," said Sarah Amiri, deputy project manager for the mission. "We also look at how far out hydrogen and oxygen extend into space. That provides a better understanding on atmospheric escape."

"So if there is a dust storm on Mars [or] changes in temperature, how does that impact rates of atmospheric escape and, particularly, the escape of hydrogen and oxygen in the outer atmosphere," she said.

The bottom to top approach is novel to Hope's mission, according to Amiri.

"Prior missions, their orbits were mostly locked at a local time, so they captured an understanding of the lower atmosphere of Mars at a particular time of the mission, [while] other missions, perhaps, looked also at atmosphere escape. This mission provides us a full understanding of the atmosphere throughout a day, so it covers all regions at all local times and that's a comprehensive understanding that fills in the gap of changes through time through different seasons of Mars throughout an entire year," Amiri said.

A new 'Hope'

In addition to advancing science, the UAE is also leveraging the Mars mission to establish its position in the Arab world as a "beacon of progress."

First announced in July 2014, the Emirates Mars Mission has the goal of inspiring Arab youth to become involved in science and technology fields.

"The message here is that if the UAE is able to reach Mars in less than 60 years [as a country], then you can do much more, given your history, given how this region used to be a generator of knowledge [and] how scientists in this region came up with new knowledge," Omran Sharaf, project director for the Emirates Mars Mission, said. "The objective was to use this mission to cause a disruptive change in the mindset of the youth to create a research and development culture to support the creation of an innovative, creative and competitive knowledge-based economy."

"Since the mission was announced, we saw students shifting majors, going from international relations and finance into the sciences. We saw universities that didn't have any science programs actually start science problems. The mindset of the youth has changed, the mindset of different sectors has changed and we've seen that impact," he said.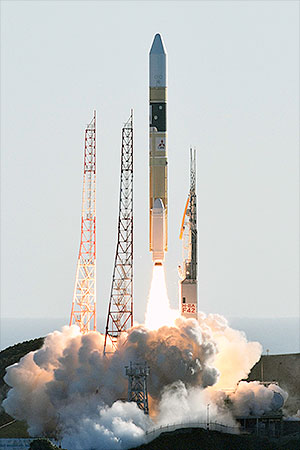 A Mitsubishi Heavy Industries' H-IIA rocket lifts off with the United Arab Emirates' (UAE) Hope probe from the Tanegashima Space Center in Japan on Saturday, July 19, 2020. The spacecraft will enter Mars orbit to study the atmosphere in February 2021. (MHI)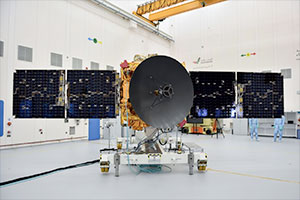 United Arab Emirates' "Hope" probe with its solar arrays extended during final checks prior to its launch to Mars. (MBRSC)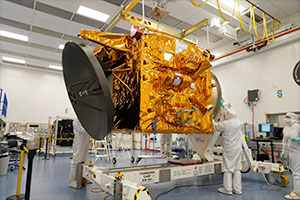 United Arab Emirates' "Hope" probe during final checks prior to its launch to Mars. (Emirates Mars Mission)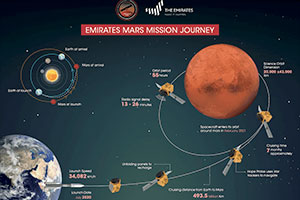 Emirates Mars Mission journey infographic. (UAE Space Agency)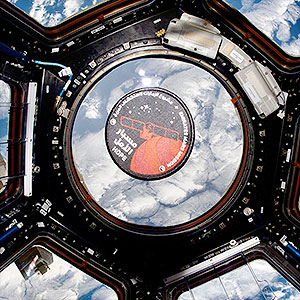 Emirates Mars Mission "Hope" mission patch floating in the Cupola aboard the International Space Station. The patch was flown by Hazzaa AlMansoori, the first UAE astronaut, during his September 2019 mission to the orbiting laboratory. (MBRSC)