July 16, 2010
— The four surviving American astronauts and Soviet-era cosmonauts who flew the first international space mission, the July 1975 Apollo-Soyuz Test Project (ASTP), reunited on Thursday to celebrate the flight's 35th anniversary and introduce a commemorative edition of the watch they wore in space.

Thomas Stafford and Vance Brand, who with the late Donald "Deke" Slayton formed the American ASTP crew, met with their Russian counterparts, Alexei Leonov and Valery Kubasov at the Omega Watches Boutique in New York City.

All but Leonov, who had fallen ill earlier in the day, took part in an evening panel discussion at the watchmaker's flagship store coinciding with the date of the mission's two launches.

Two crews, one mission

Separated by half a world and seven-and-a-half hours, the Soviet Soyuz and U.S. Saturn IB rockets lifted off on July 15, 1975 from the Baikonur Cosmodrome in Kazakhstan and Kennedy Space Center in Florida, respectively. Two days later, the two capsules rendezvoused and connected with the help of a specially-designed docking adapter that launched with the U.S. spacecraft.

"We got up there and I flew in and we did the docking, and we were soft-docked and captured," recalled Stafford, the U.S. commander for the ASTP mission, in an interview with collectSPACE. "I spoke to him in Russian and so did Vance, and Valery and Alexei spoke to us in English, and then we moved into the hard dock and we were locked together. Alexei said, 'We have capture.'"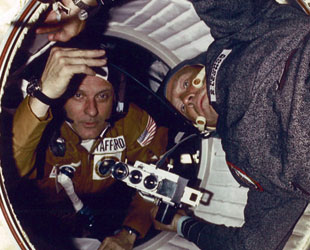 Thomas Stafford (left) greets Alexei Leonov after hatches were opened between the Apollo and Soyuz spacecraft.
(NASA)
Three hours after docking at 3:17 p.m. EDT on July 17, the hatches were opened and Stafford and Leonov greeted each other.

"The best part of our joint flight was the occasion when we opened the hatch and I saw the face of Tom Stafford," described Leonov, who in addition to serving as the Soviet commander for the ASTP mission was the first to conduct a spacewalk 10 years earlier. "I said, 'Hello Tom! Hello Deke!' and at this moment we shook hands."

Up to then, the U.S. and Soviet Union were competitors in a space race that began two decades earlier. The next two days of joint crew operations were the pinnacle of four years of planning and cooperation between the two Cold War adversaries.

"It was shown as a symbol to the rest of the world that two great superpowers with different languages, different units of measurement, and certainly different political systems could have a common goal they could work together to achieve. It was really the highpoint of the opening of the Iron Curtain and a great goodwill in the middle of the Cold War," remarked Stafford.

Building off their cooperative success

"Apollo-Soyuz started a big thing," remarked Brand, who served as Apollo command module pilot. "It has evolved into other cooperative programs: Mir and the International Space Station (ISS). The International Space Station has something like 15 countries involved. There is a lot of cooperation that I think was never expected back in the 1970s and it has been a very good thing."

"Thirty-five years later, there are so many areas where we have good cooperation," Leonov agreed.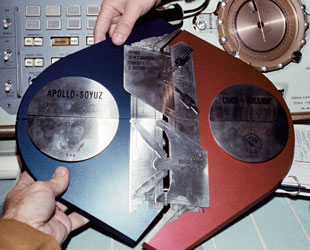 The ASTP commemorative plaque is assembled on orbit.
(NASA)
During their two days together in orbit, the astronauts and cosmonauts exchanged ceremonial gifts — including U.S., Soviet and United Nations flags, commemorative plaques, medallions, certificates and tree seeds — and conducted joint science experiments. The three Americans and two Russians visited each other's spacecraft, shared meals and conversed in each other's language.

They also spent time observing their respective nations from space.

"Valery and I had a telecast over the Soviet Union, which was a little bit larger than what Russia is now. It was a huge country — still is — and to get across it, it was nine or 10 timezones, at least," described Brand. "I remember looking down at that terrain and Valery and I were describing it to people. We were describing the mountains, the deserts, the fields, the cities and that was an example of something that was a lot of fun to do."

The crew members today see their mission and the way they conducted themselves aboard as having provided the groundwork for the joint projects that followed in the three decades since.

"The basis, the premise of how we operate [the ISS] was all based on Apollo-Soyuz, or Soyuz-Apollo as they say in Russia," said Stafford.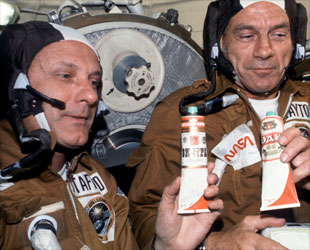 Astronauts Stafford and Slayton toast 'vodka' — actually borcht soup labeled as vodka — aboard Apollo-Soyuz.
(NASA)
"I think that crews now in orbit on the International Space Station use the lessons from the Soyuz-Apollo mission for how to fly in space together with other countries like the United States, Russia and European countries," added Kubasov, who later flew another international mission with the first Hungarian in space.

Indeed, the Russian commander of the next Soyuz to fly to the International Space Station in October recalled the ASTP mission during an interview earlier this week.

"When the Soyuz-Apollo flight happened, I was a student and I could only dream of becoming a cosmonaut at that time. But then I got to know and became acquaintances with all of the Soviet cosmonauts who participated in the program. I became friends with all of them. And of course, I got to meet Tom Stafford and Vance Brand — Deke Slayton was not alive by then — and so I got interested in the program. It was very exciting," said Alexander Kaleri.

"At that time, it was very hard if not impossible to imagine that it would all lead up to this," added Kaleri, who on prior missions has worked with international crews aboard Mir and the ISS.

"I think we are all happy that our mission 35 years ago inspired people to become astronauts back then and they are now flying in space," remarked Brand.

"After our flight, the Soviet government said that the flight of Soyuz-Apollo was conducted 'perfectly.' It was the first time [to be called perfect], by the way," said Leonov.

"This program was an example of very good cooperation between our scientists, different specialists and the crew. It was very nice to be perfect the first time," he said.

Commemorating their time together

The astronauts and cosmonauts had a chance to reflect and celebrate their anniversary together courtesy of Swiss watchmaker Omega, whose Speedmaster Professional chronograph was worn by both the American and Soviet crew members during the mission.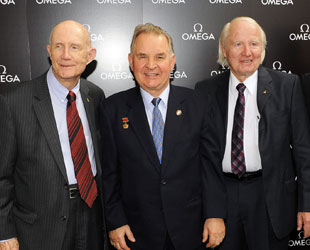 Stafford, Kubasov and Brand pose at the Omega Boutique in New York on the 35th anniversary of their mission.
(Omega)
"Thirty five years ago, on the Soyuz-Apollo mission we had Omega watches. Russian cosmonauts took these Omega watches for the first time," explained Kubasov.

"The Soviet crew noticed that all of our crews had Omega [watches] and we explained how they had been through very, very rigorous tests and had been there for Gemini and all through Apollo, Skylab and now we were wearing them for Apollo-Soyuz. They were a standard issue to all the American astronauts," said Stafford. "They decided — so that we could be synchronized together — that we would all wear Omegas."

"After that, we flew more Omega watches with Russian crews in space. But during Soyuz-Apollo mission, Omega watch helped us to dock our spacecraft in space and to do our program in space successfully," added Kubasov.

To celebrate the mission, Omega has introduced this year a limited-to-1,975-pieces, 35th anniversary Apollo-Soyuz Test Project Speedmaster Professional. In addition to featuring the mission's insignia etched on its case back, the watch has a dial crafted from a meteorite.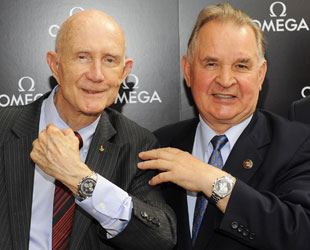 Stafford and Kubasov display Omega's 35th Anniversary Apollo Soyuz Test Project Speedmaster Professional.
(Omega)
On Thursday, the two Americans and two Russian crew members signed and then donated ten of the watches to the Omega Boutique in New York.

As for their own space-flown Omegas, the U.S. crew's timepieces now belong to the Smithsonian. Leonov flew three Omegas on the mission, one each set to "American time, Moscow time and flight time." Kubasov flew two of the chronographs.

"I took on this flight two Omega watches, one on my hand [wrist] and one in my spacecraft. After our landing and return on the Earth, I give one of the Omega watches to my son and one I give in Russian space museum. My son uses that Omega watch even now, after 35 years," said Kubasov.