July 14, 2012
— Nearly 40 years after the launch of the first international space mission, a crew of three veteran space travelers from three different countries embarked on Saturday (July 14) for the International Space Station.

Russian cosmonaut Yuri Malenchenko, US astronaut Suni Williams and Japan's Akihiko Hoshide lifted off on board Russia's Soyuz TMA-05M at 10:40 p.m. EDT (0240 GMT) from the Baikonur Cosmodrome in Kazakhstan.

At the launch site, it was 8:40 a.m. on Sunday (July 15), coinciding with the 37th anniversary of the Apollo-Soyuz Test Project (ASTP). The 1975 mission brought together American and Soviet spacecraft for an "orbital handshake" between the early Space Race competitors.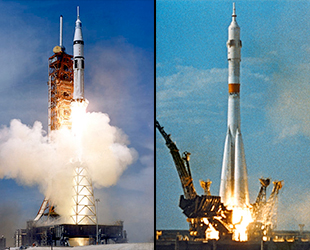 The U.S. (left) and Soviet launches that began the Apollo-Soyuz Test Project (ASTP) on July 15, 1975.
(NASA)
The ASTP mission — which included Soviet cosmonauts Alexei Leonov and Valery Kubasov and Americans Tom Stafford, Deke Slayton and Vance Brand — set the stage for later partnerships between the Russian and U.S. space programs. The foundation laid by that historic 9-day flight ultimately led to the development of the ISS with Europe, Japan and Canada.

"We are really honored to be launching on the same day that Apollo-Soyuz launched and docking on the same day that they docked," Williams said on Friday during a pre-flight press conference. "I think that was the start of our international friendship and working together in the space program and we've come a long way."

"So we're very thankful for those who came before us and who laid this path that we are going to follow," she added.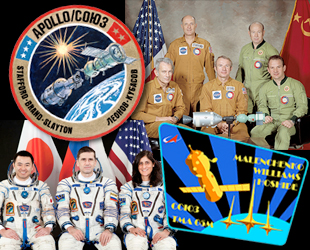 The Apollo-Soyuz Test Project and Soyuz TMA-05M crew portraits and mission insignias, separated in history by 37 years.
(NASA)
With the end of the space shuttle program in 2011, NASA is relying on the Soyuz to fly its astronauts to and from the space station until such time U.S. commercial launch services become available. But Americans, along with the station's other international partners' crew members, have been launching on the Russian craft to the ISS since the orbiting laboratory's first expedition crew in 2000.

"The most important thing is that we are working together as a team, not just the team on orbit but the team on the ground as well," Hoshide told reporters. "So it is a big, big team that we're working together."

Teams in space

Malenchenko, Williams and Hoshide are set to dock their Soyuz with the space station's Russian Rassvet module at 12:52 a.m. EDT (0452 GMT) on Tuesday (July 17). On board the space station, they will be met by commander Gennady Padalka and flight engineers Joseph Acaba and Sergei Revin.

Together the six astronauts and cosmonauts will comprise the station's 32nd expedition crew.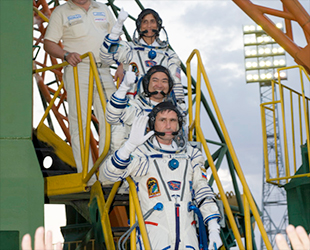 The Soyuz TMA-05M crew, from top Sunita Williams, Aki Hoshide and Yuri Malenchenko, wave before boarding their Soyuz.
(NASA)
This is Malenchenko's fifth spaceflight, and Williams' and Hoshide's second time in space. Both Malenchenko and Williams have lived on board the space station before.

For Malenchenko, this is his third long duration expedition on the ISS. It's only the second stay for Williams, but she set the world record during her first mission for the longest spaceflight by a female space traveler at 195 days.

This flight, which will extend into ISS Expedition 33 under Williams' command, is scheduled for 150 days, landing on Earth on November 12.

"We are going to be pretty busy," Williams said, listing off the visiting vehicles and activities scheduled during their stay. Japan's third H-II Transfer Vehicle (HTV) "Kounotori 3" will come and go, Europe's third Automated Transfer Vehicle (ATV-3) "Edoardo Amaldi" will separate from the station, and Russian Progress resupply vehicles will test new rendezvous procedures.

The first commercial resupply mission for NASA by Space Exploration Technologies' (SpaceX's) Dragon spacecraft is also targeted to launch during the crew's five months on the station.

Two spacewalks, one each supporting the U.S. operating segment (USOS) and Russian sections of the station, are planned as well.

"I promise we will not be bored," said Williams, who will be the second woman to command the ISS when Expedition 33 begins in September.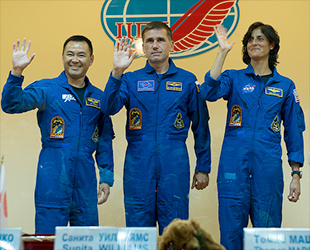 Soyuz TMA-05M crew, (from left) Aki Hoshide, Yuri Malenchenko and Suni Williams seen at a pre-flight press conference.
(NASA)
In their free time remaining, Williams said her crewmates were looking forward to another international team activity scheduled to begin soon on the ground.

"Hopefully, we will be getting a little bit of coverage of the Olympics," she said, referring to the games in London set to begin July 27. "I think the International Space Station and Olympics are very similar in that they bring together countries from all over the world. They work together, they compete and they bring out the best in each other."

15 nations, one space station

Like the Apollo-Soyuz Test Project 37 years ago, the ISS was created by linking together vehicles built by different countries using common docking adaptors.

It took more than 200 astronauts from 12 countries more than a dozen years to complete assembly of the ISS in 2011. Fifteen nations came together on the project, which is the largest international engineering accomplishment in history.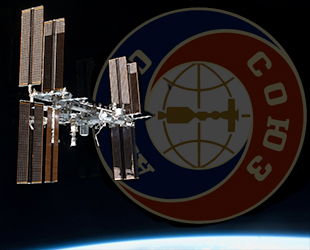 The International Space Station (ISS) follows the path laid in orbit 37 years ago by the Apollo-Soyuz Test Project (ASTP).
(NASA)
Like ASTP, which docked a Soviet Soyuz capsule with an American Apollo command module, the ISS has Russian and U.S. segments, the latter also including European and Japanese laboratories.

But unlike the 1975 mission, which at its end separated to return to its two nation's programs, the station operates as one organization.

"From a crew perspective, the way the station is operated, it is one vehicle," Expedition 31 flight engineer Don Pettit told collectSPACE on July 12, less than two weeks after his return to Earth. "From a practical point of view it is one vehicle. The air we breath in the [U.S. operating] segment is the same air that they breath in the Russian segment."

"Engineering strategy is different between the segments because they were engineered by different countries," he added. "The wonderful thing is that they all fit together and it all operates together. The crew works as a single crew when we're on space station."