advertisements

US Mint to show unseen gold space coins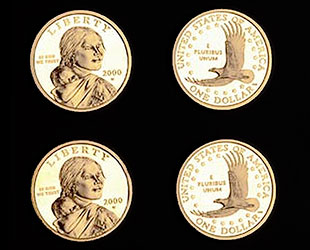 The United States Mint will display for the first time 12 gold proof Sacagawea Golden Dollars that flew on space shuttle Columbia in July 1999.
(U.S. Mint)
July 14, 2007
— Six months before the U.S. Mint issued the first Sacagawea dollar coins on January 27, 2000, 12 specially-minted 22k gold Sacagaweas made a launch of a very different type. The dozen dollars were carried in to orbit aboard the space shuttle Columbia to commemorate the flight of Eileen Collins, the first female U.S. astronaut to command a spaceflight.

The 12 well-traveled coins — 1.8 million miles over the course of 80 orbits in 4 days, 22 hours and 50 minutes — were chosen as the best strikes from a set of 39 dollars struck at the Mint's West Point, New York facility in June 1999. The remaining 27 coins were destroyed.

Originally, the Mint had planned to exhibit the gold coins at museums to promote the release of the Sacagawea dollar and potentially the sale of similar gold versions to the public. The gold coins' creation however, hadn't been to regulation, and the marketing program was canceled.

Instead, the 12 space flown coins were moved to the Fort Knox Bullion Depository in 2001, where they have been in storage since.

That is, until August 10, 2007, when the U.S. Mint plans to publicly display the dozen doubloons for the first time. The 12 gold versions of the circulating golden dollars will be unveiled at the American Numismatic Association's (AMA) World's Fair of Money in Milwaukee, the largest coin show in the nation.

The Mint's Director Ed Moy will preside over a ceremony at the Midwest Airlines Convention Center, where he will make remarks and sign commemorative cards inside the Mint's booth (#1201).

Unlike the 12 gold coins, which were minted from .9167 (half-ounce) fine gold, the Sacagawea circulating dollars are only golden-color. The issued coins are comprised of a three-layer clad construction: pure copper sandwiched between and bonded to outer layers of manganese brass.

All the coins bear the three-quarter profile of Sacagawea, the Shoshone Indian who assisted the historic Lewis and Clark expedition. Between 1804 and 1806, she guided the adventurers from the Northern Great Plains to the Pacific Ocean and back.

The 12 coins that flew in space were on STS-93, the 94th shuttle mission, the 26th flight of Columbia and the 21st shuttle night launch from Kennedy Space Center, Florida. In addition to marking the first mission commanded by a woman (Collins), the flight deployed the third of NASA's four "Great Observatories", the Chandra X-Ray telescope. STS-93 flew for five days between July 23 and 27, 1999.

© 2022 collectSPACE.com All rights reserved.