advertisements

Full Coverage: NASA honoring astronauts, others with moon rocks
---
Ambassadors of Exploration Photo Gallery
Gene CernanMay 12, 2005
Pensacola, Florida

Thomas StaffordJuly 12, 2005
Weatherford, Oklahoma

John YoungJuly 20, 2005
Houston, Texas

Walt CunninghamOctober 7, 2005
Dallas, Texas

Wally SchirraNovember 16, 2005
San Diego, California

Richard GordonNovember 19, 2005
Seattle, Washington

Vance BrandJanuary 21, 2006
Longmont, Colorado

Ed MitchellFebruary 5, 2006
West Palm Beach, Florida

Stuart RoosaFebruary 9, 2006
Titusville, Florida

Michael CollinsFebruary 9, 2006
Garden City, New York

John GlennFebruary 20, 2006
Columbus, Ohio

Deke SlaytonFebruary 22, 2006
Sparta, Wisconsin

Walter CronkiteFebruary 28, 2006
Austin, Texas

Buzz AldrinMarch 25, 2006
Los Angeles, California

Charlie DukeMay 8, 2006
St. Petersburg, Florida

Frank BormanMay 8, 2006
Tucson, Arizona

Christopher KraftSeptember 30, 2006
Blacksburg, Virginia

James McDivittOctober 6, 2006
Ann Arbor, Michigan

Virgil "Gus" GrissomSeptember 28, 2007
Orlando, Florida

Roger ChaffeeOctober 6, 2007
West Lafayette, Indiana

Donn EiseleOctober 23, 2007
Fort Lauderdale, Florida

Jack SwigertMay 23, 2008
Denver, Colorado

Thomas MattinglyMarch 26, 2009
Auburn, Alabama

James LovellApril 3, 2009
Lexington Park, Maryland

John F. KennedyJuly 20, 2009
Washington, DC

Al WordenJuly 30, 2009
Kennedy Space Center, Florida

Fred HaiseDecember 2, 2009
Biloxi, Mississippi

Alan ShepardApril 28, 2011
Annapolis, Maryland

Edward WhiteJune 3, 2015
West Point, New York
---
Astronauts, Cronkite to receive moon rocks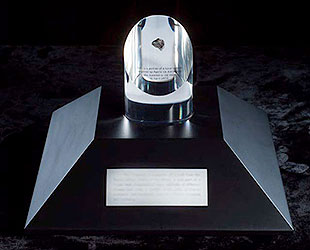 NASA's Ambassador of Exploration awardees will be presented a moon rock to be displayed at a museum or educational institution of their choosing.
(NASA)
July 16, 2004
— In order to recognize the sacrifices and dedication of the Mercury, Gemini and Apollo astronauts, each will be presented a moon rock as part of a special ceremony honoring the 35th anniversary of Apollo 11 on Tuesday night at the National Air and Space Museum in Washington, DC.

The moon rocks to be awarded are each part of sample returned by the Apollo 17 mission from the Taurus Littrow Valley. Each will be encased in an acrylic sphere and attached to a plaque bearing images of a Saturn V rocket launch, an astronaut (John Young) jumping on the Moon, the planet Mars and the International Space Station.

The lunar samples will remain the property of NASA, but the astronauts and their surviving families, in coordination with NASA, will select a museum or other educational institution where their awards will be publicly displayed in their name to help inspire a new generation of explorers.

The award celebrates the "realization of a vision" for exploration first articulated by President John F. Kennedy in May 1961, when NASA's fledgling human space flight program had little more than 15 minutes of space flight experience. In addition to the moon rocks, each of the 34 astronauts (nine now deceased) will be named by NASA as "Ambassadors of Exploration".

Among the honorees will also be Walter Cronkite, the only non-astronaut selected as an Ambassador of Exploration. Millions experienced the early years of space exploration through the Cronkite's news reports. During the Apollo 11 mission, Cronkite was on the air for 27 of the 30 hours it took for Neil Armstrong and Buzz Aldrin to complete their work on the lunar surface.

As Ambassadors of Exploration, the recipients will help NASA communicate the benefits and excitement of space exploration and "why the continuing investment in our future is vital to the security and vitality of America."

© 2023 collectSPACE.com All rights reserved.


Feedback: Messages

Quick Look
Where NASA's Ambassador of Exploration moon rock awards are on display
| | | |
| --- | --- | --- |
| | | U.S. Naval Academy MuseumAnnapolis, MD (4.28.11) |
| | | Walt Disney World Resort: EpcotOrlando, FL (9.28.07) |
| | | John Glenn Institute of Public Service and Public PolicyColumbus, OH (2.20.06) |
| | | Denver Museum of Nature and Science Denver, CO (11.10.07) |
| | | San Diego Aerospace MuseumSan Diego, CA (11.16.05) |
| | | |
| | | Museum of Natural ScienceHouston, TX (7.20.05) |
| | | University of Michigan College of EngineeringAnn Arbor, MI (10.06.06) |
| | | West Point Museum, United States Military AcademyWest Point, NY (6.03.15) |
| | | The Museum of FlightSeattle, WA (11.18.06) |
| | | Pima Air and Space MuseumTucson, AZ (5.08.06) |
| | | Patuxent River Naval Air MuseumLexington Park, MD (4.03.09) |
| | | Stafford Air and Space MuseumWeatherford, OK (7.12.05) |
| | | Cincinnati Museum CenterCincinnati, OH (4.18.06) |
| | | Science MuseumLondon, England (TBA) |
| | | National Museum of Naval AviationPensacola, FL (5.12.05) |
| | | Cradle of Aviation MuseumGarden City, NY (2.09.06) |
| | | The Museum of FlightSeattle, WA (11.19.05) |
| | | California Science CenterLos Angeles, CA (3.25.06) |
| | | Neil Armstrong Hall of Engineering, Purdue UniversityWest Lafayette, IN (10.06.07) |
| | | Broward Public LibraryFt. Lauderdale, FL (10.23.07) |
| | | Frontiers of Flight MuseumDallas, TX (10.7.05) |
| | | |
| | | |
| | | |
| | | Gorenflo Elementary SchoolBiloxi, MS (12.02.09) |
| | | Wings Over the Rockies Air & Space MuseumDenver, CO (5.23.08) |
| | | U.S. Astronaut Hall of FameTitusville, FL (2.09.06) |
| | | South Florida Science MuseumWest Palm Beach, FL (2.05.06) |
| | | The Bishop Museum of Science and NatureBradenton, FL (8.04.21) |
| | | Apollo/Saturn V CenterKennedy Space Center, FL (7.30.09) |
| | | Auburn UniversityAuburn, AL (3.26.09) |
| | | Admiral Farragut AcademySt. Petersburg, FL (5.08.06) |
| | | |
| | | |
| | | Deke Slayton Memorial Space & Bike MuseumSparta, WI (2.22.06) |
| | | Museum & Cultural CenterLongmont, CO (1.21.06) |
| | | Center for American HistoryAustin, TX (2.28.06) |
| | | Virginia Tech University College of EngineeringBlacksburg, VA (9.30.06) |
| | | Central Catholic High SchoolToledo, OH (12.6.07) |
| | | Fondren Library, Rice UniversityHouston, TX (7.20.09) |