July 10, 2020
— Steve Jurvetson had a space problem.

A venture capitalist who was an early investor in SpaceX and the Earth imaging company Planet, Jurvetson recently finished converting the California office of his new venture fund to showcase his space artifact collection. At Future Ventures, the walls and floor are lined with rocket engines, spacecraft equipment and items that flew with the Apollo astronauts to the surface of the moon.

But after placing the pieces in his new, self-described space museum, Jurvetson found that he did have enough, well, space to fit it all.

"And I refuse to put anything in storage," he said. "These artifacts need to be seen and their stories heard."

Enter Lot 2194, an Apollo command module fuel cell, in the Science, Technology and Space Memorabilia sale now underway at RR Auction. Standing 3.5 feet tall (1 meter) and weighing 200 pounds (90 kilograms), the ground simulator for the Apollo spacecraft electrical system was just a tad too big to find a place at Jurvetson's firm. RR Auction, however, was exactly the right fit for finding the fuel cell a new home.

"I have participated in RR's auctions more than any other. Personally, I think they have the best online auction format," Jurvetson said. "They manage to curate a great set of items and, in many cases, the stories that make them heroic."

Of the 300 space memorabilia lots now open for bid, several were consigned by Jurvetson, including four items that were used on the surface of the moon during the third, fourth and fifth Apollo lunar landing missions in the early 1970s.

"It blows my mind that you can own a tool the astronauts used during the moon landings... on the moon!" Jurvetson exclaimed.

Space segment

"The current auction is a great representation of the type of items we sell in our regular space sales," said Bobby Livingston, vice president of RR Auction. "We've got this incredible command module fuel cell that's gigantic — it comes from a private collection in California."

"We also have Edgar Mitchell's flown Apollo 14 spoon, which is a really cool item, and Charlie Duke's lunar surface core tube tap used on Apollo 16. One of my favorite items in the auction is the Lunar Landing Training Vehicle [LLTV] rocket engine. One of our consultants was able to match it as being on the last LLTV to fly," said Livingston. "So just all kinds of great things from the Apollo missions."

For Boston-based RR Auction, selling historic space artifacts is nothing new. The firm, which began doing business selling autographs in 1976, organized the first of its now bi-annual, dedicated space memorabilia sales in 2011. Since then, the relics of humanity's pursuit of the cosmos has become a significant segment of its business.

"Holding two specialty space auctions a year — and we have the one this month that is half a space auction — it's about 20% of our total business," Livingston said. "We have only ever offered one item that sold for more than a million dollars and that was Apollo 15 astronaut Dave Scott's Bulova watch worn on the moon. And then there have been plenty of six figure items — flown and NASA artifacts, so it's a big part of our business."

"Overall, we're doing 24 auctions a year and space has proven to be our strongest category," he said.

In search of space stories

RR Auction sources the artifacts and memorabilia that it sells from astronauts and from private collectors like Jurvetson. Regardless of the source, though, before RR takes on an item for sale, it seeks the proof that the artifact is as described.

"The major issue with selling space space memorabilia is did it really fly? Are you able to double and triple authenticate a flown item?" Livingston said. "We do that through provenance. We do that through photo matching. We do that with serial numbers. We have consultants and experts that we rely on to make sure we get it right."

RR Auction applies the same due diligence to each item's legal title.

"Chain of custody is extremely important, and whether it was deaccessioned from NASA or it comes from an astronaut's collection, it is an important question that has to be answered before we will take consignment," said Livingston. "We will always cooperate with NASA if the agency has questions. Most of the time things are fine and good to go. Occasionally they get challenged and we deal with it."

It is the same provenance, the same chain of custody and the history behind the artifact that is why collectors buy from RR Auction said Jurvetson.

"I have some deep connection to the Apollo flown artifacts and the stories behind them. This was one of the greatest undertakings in engineering and exploration of the frontiers of the unknown," he said. "I am always delighted to find a lost story or connection to space history, like when I discovered that my Apollo Guidance Computer came from LM-2, the Lunar Module that is now in the Smithsonian. An artifact without a story is like a shard from a symphony."

"The type of people who are buying these things grew up being inspired by the space program and then went on to be engineers themselves, or who work in the computer industry, at internet companies or in other high tech fields," said Livingston. "They dreamt of going to the moon and now they can own a piece of hardware or a part of a spacesuit, reminding them of that dream from their youth."

Bidding in the Science, Technology and Space Memorabilia sale runs through July 16, the 51st anniversary of the launch of the first moon landing mission. For more information about the sale or to learn how to consign, see RR Auction's website.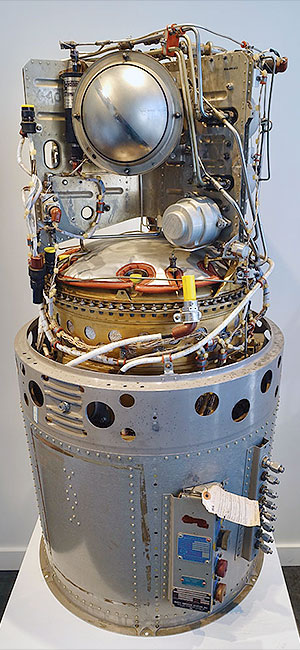 An Apollo command module fuel cell that 50 years ago was part of a ground simulator is now a featured lot in RR Auction's July 16, 2020 Science, Technology & Space Memorabilia sale. (RR Auction)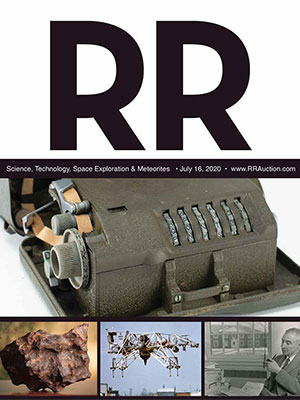 RR Auction's July 2020 Science, Technology & Space Memorabilia sale includes 300 lots dedicated to space exploration. (RR Auction)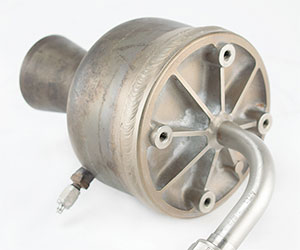 The rocket engine from NASA's last Lunar Landing Test Vehicle (LLTV) to fly in support of the Apollo program is now up for bid as part of RR Auction's Science, Tech & Space sale. (RR Auction)