advertisements

Challenger debris auction repeats history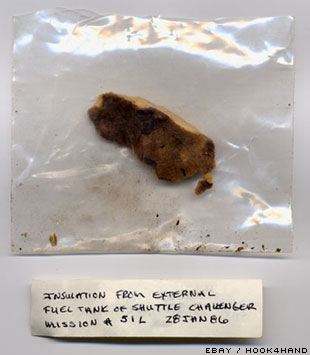 According to eBay seller 'hook4hand,' this is a recovered piece of space shuttle Challenger's external tank foam.
(eBay)
UPDATE
10:23 p.m. ET, July 6, 2001 — The seller has responded with the following:

"I am really sorry and am writing this email to all of you who responded to my fake eBay auction item. This auction was a joke. The item wasn't authentic, I just listed it as a dare and was going to cancel the auction after a couple of days anyway. I didn't realize that would taken so seriously or that it was in such poor taste. I'm sorry to anyone who was interested in purchasing this item. I would like to extend and apology to all those offended or hurt by my action."

If the listing was a hoax, the seller may still be prosecuted for fraud. As of Friday morning (July 6), after the auction was cancelled, NASA said its investigation was ongoing.


---
UPDATE
2:11 a.m. ET, July 6, 2001 — The auction was canceled by the seller at 11:54 p.m. ET Thursday, a little over a day after it was first posted to eBay.

Prior to it being pulled, collectSPACE received an e-mail from the seller regarding the item's history:

"My father was friends with a man from the navy who was assigned to be on the recovery crew for the shuttle. My father was in Florida, 3 days after the explosion and was a collector of rare music memorablila and he traded a rare item for this piece of the challenger. When the explosion occured, all branches of the military were assigned to shuttle recovery. I have the millitary information and name of the man who found and traded the item, however I did not include it in the auction to protect his privacy, I also did not want to get him in trouble."

collectSPACE also spoke with Sam Maxey, the Assistant Inspector General at NASA Headquarters, confirming the space agency would investigate the sale.


---
July 5, 2001
— Like many, eBay seller 'hook4hand' chose to mark Independence Day (July 4) by remembering his United States history. His decision however, to sell debris from the space shuttle Challenger may soon serve to limit his personal freedom.

The seller, identified only by his username on the website, described his sale lot as offering "a genuine piece of the Challenger Shuttle collected from Cape Canaveral, FL. by a member of the recovery crew serving there at the time."

His description and photograph further identified the item as a 2 by 3/4 inch fragment of insulation recovered from the orange colored external tank.

"This is an extrememly rare piece of American history from a tragic event that shocked the nation," hook4hand wrote.

The fragment's rarity may be traced to federal law, which prohibits the possession of debris from the space shuttle Challenger wreckage. Violation is subject to a maximum $10,000 fine, 10 years in prison or a combination of both.

The auction, which began Wednesday on (July 4) at 5:26 p.m. ET, comes almost one year after another eBay user was tried for a similar sale.

Charles Starowesky of Somerset, Ohio, posted a 6 by 6 by 2.5 inch thermal tile to the online auction site on Oct. 28, 1999. He explained he had "pulled [the fragment] from the water of the Atlantic Ocean" as a member of the first U.S. Coast Guard recovery team to respond to the scene.

After a NASA Office of Inspector General investigation, Starowesky pled guilty to violating Title 18, Section 641 of the U.S. Code, Theft of Government Property. On August 23, 2000, he was sentenced to two years probation.

Soon after hook4hand's lot was posted, an unidentified but concerned collector alerted the space agency.

"I have contacted the NASA Inspector General's office," read a post to an online discussion group, "and have left a message on two machines regarding the item, which will undoubtably become an investigation."

At the time of publication, the auction remained scheduled to end July 14, with no bids yet for the minimum $1,000 stipulated by the seller. Attempts to reach hook4hand for comment were unsuccessful.

© 2023 collectSPACE.com All rights reserved.