July 1, 2015
– The Houston airport where astronauts have departed on training flights for more than 50 years is now host to the United States' newest commercial spaceport.

The Houston Airport System (HAS) on Tuesday (June 30) was granted a launch site license from the FAA (Federal Aviation Administration) establishing Ellington Airport near the NASA Johnson Space Center as the tenth commercial spaceport in the country.

"Houston has a rich history in space operations. We have a first-class airport system that already connects Houston to the rest of the globe. We want to make sure that airport system is part of connecting Houston to space," Houston Mayor Annise Parker said at a press conference Tuesday.

The spaceport announcement came nearly two years after the Houston City Council first supported the project. The FAA license paves the way for Ellington to potentially host a number of commercial space operations, from launching micro-satellites to spacecraft manufacturing.

Launches from the new Houston Spaceport will be limited to vehicles that take off and land like an aircraft.

"Not all launches into space need to be vertical launches," explained the mayor. "We can do horizontal launches and, over time, that's exactly what we expect to have happen."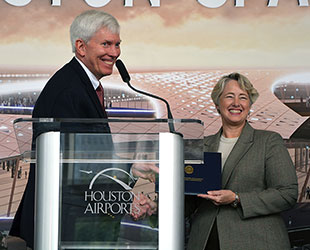 George Nield, FAA associate administrator for commercial space transportation, presents Houston's Mayor Annise Parker with the launch license establishing Houston Spaceport.
(collectSPACE)
Sierra Nevada Corporation, with its vertically-launched but horizontally-landed Dream Chaser space plane, earlier this year signed an agreement with HAS to use the spaceport as a landing site. The company has proposed the Dream Chaser to NASA to deliver cargo to and from International Space Station under a commercial services contract.

Similarly, Intuitive Systems, which is developing a vehicle capable of landing scientific and engineering samples from the space station, announced Tuesday its desire to be an anchor tenet at Ellington.

Other horizontally-launched (and landed) vehicles are now being developed to support flying space tourists, including Virgin Galactic's SpaceShipTwo and XCOR's Lynx.

"I am absolutely convinced that in just the next few years, we are going to see multiple companies offering suborbital human spaceflights on a regular, frequent basis," George Nield, FAA associate administrator for commercial space transportation, said. "It won't be long before we are seeing several sub-orbital flights per week, and eventually, one or more launches per day."

Nield and Parker were joined at the press conference by Johnson Space Center director and former astronaut Ellen Ochoa in noting how NASA's proximity bolstered the case for the Houston Spaceport. Ellington Airport hosts today a fleet of about 25 NASA aircraft — including T-38 astronaut training jets, several hangars and office space.

"It is certainly appropriate that the place known as 'Space City' is taking the next step forward in the progression of aerospace activities," Ochoa commented. "It is natural the city embraces the opportunities that are opening up for the commercialization of space by taking advantage of the expertise within NASA and the aerospace community that supports us here."


"We're currently discussing a partnership that will use our safety knowledge and we're working with the spaceport on activities like a technology collaboration center," she said.

The space agency's involvement is one of the three main reasons why Parker said the Houston Spaceport is primed to compete for commercial space business.

"We have three things that no other spaceport in America has," the mayor stated. "We have a existing airport [and] we have existing space-oriented infrastructure around the private infrastructure. And we have a history in space, like no place else in America has."

"We think we can be highly competitive with the others — spaceports that have been created from nothing with large subsidies from their states," she concluded. "We're going to start at a much higher level and we believe we can gain ground quickly going forward."