June 30, 2016
— When NASA's Juno spacecraft begins orbiting Jupiter on Monday (July 4), scientists are hoping that its arrival will result in a new understanding of how the giant gas planet formed and evolved.

They also hope it will inspire some really great music.

The space agency on Thursday (June 30) revealed a new collaboration with Apple, Inc. that is engaging musicians to record new songs evoking the spirit of the Juno mission.

"Part of the core DNA of Apple is blending science, arts [and] technology, and whether you are making an iPhone or you are making a space probe, that is true," said Robert Kondrk, the vice president for Apple's content and media apps, during a press conference at NASA's Jet Propulsion Laboratory in Pasadena, California on Thursday. "We have some capabilities through some of our media properties to be able to reach out to the artistic community, which we've done, to find like-minded musicians who were interested in space, interested in blending their art with technology, with the goal of making science more accessible and relatable to everyone."

"To that end, we're very happy to present to you that there is music available that has been inspired by this mission," said Kondrk.


Eight tracks varying in style and genre have been recorded to date by performers including country music singer Brad Paisley and the alternative rock band Weezer.

"When Apple and NASA asked us to be involved with Juno's historic landing [sic] on July 4th, this song seemed like the perfect fit," Rivers Cuomo, Weezer's lead vocalist, wrote on the band's website about their single, "I Love the USA."

Nine Inch Nails' Trent Reznor and composer Atticus Ross recorded "Juno," a nine-minute cinematic soundscape that serves as the soundtrack to the project's original short film, "Visions of Harmony." Reznor and Ross previously created the Academy Award-winning score for Sony Pictures' 2010 movie "The Social Network."

Other contributors to Apple's "Destination: Jupiter" include British songwriter Corinne Bailey Rae, My Morning Jacket frontman Jim James, singer Quin, rapper GZA the Genius, and the Mexican rock band Zoé.

The tracks are available through Apple Music and iTunes for $1.29 each, with the exception of Reznor's and Ross' "Juno" and Quin's "LightSpeed," which are 99 cents each. The agreement between NASA and Apple is such that the space agency neither incurs expenses or reaps funds from the project.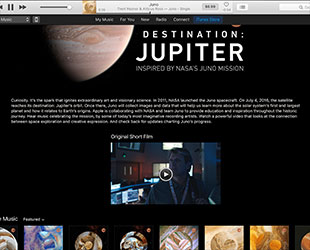 "Destination: Jupiter, Inspired by NASA's Juno Mission," available through Apple Music and iTunes, offers artist's singles and a short film related to NASA's mission to the giant planet.
(Apple iTunes)
"We are also working on an interactive guide... that in the fall will be available in digital form for [educators] to use, distributed via our Apple University product," Kondrk said. "And in fact there will be a little bit more that is going to be done with Bill Nye in Apple University, so you will see that in the fall."

The relationship between the Juno mission and music was natural, according to principal investigator Scott Bolton.

"Juno represents what you can create when you mix a lot of different people together — some more scientific, some more artistic, some more creative, some more analytical — and we can use that as example of how humanity can do even more."

Beyond the symbolic though, music is also integral to Juno itself in how it will communicate its status as it enters polar orbit around Jupiter.

"The whole spacecraft is set up to send out tones during this critical maneuver when we go into orbit," said Bolton. "What they really are is musical notes that based on what musical note is sent [tells us] how something is doing. Is it working well or is it not?"

"It is kind of interesting that it all comes down to musical notes, basically," Bolton said.