June 30, 2006
— After months of unofficial, internal use, NASA formally announced names for its next generation of launch vehicles intended to take humans to the Moon, on to Mars and beyond.

Project Ares (pronounced air-eez or ah-rays) includes the agency's crew launch vehicle, now referred to as Ares I, and the cargo launch vehicle, which will be called Ares V.

According to Scott Horowitz, associate administrator for Exploration Systems Mission Directorate, the name Ares was borrowed from the Romans' title for the planet Mars and not the constellation or Greek deity.

"We named the vehicle for the Roman use of the word, which is for Mars," Horowitz told reporters at Kennedy Space Center. "We didn't name it after a god of war, that is not our intent."

"A-R-I-E-S is the constellation Aries," explained Horowitz. "A-R-E-S is the Roman name, the synonym for Mars."

The "I" and "V" designations are a direct reference to the space agency's history.

"The one and five refer back to the heritage we have in the Saturn V program and the Saturn I's that were the first vehicles to launch humans on their way on exploration," said Horowitz.

The Saturn rockets were flown in the late 1960s and early 1970s during the Apollo Program. The Saturn V launched 10 crews, 9 of which went to the Moon. The booster also lifted the Skylab space station to orbit.

The Saturn I family of rockets carried the first Apollo crew to Earth orbit and launched all three Skylab expeditions.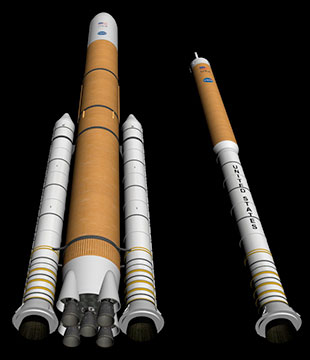 An engineering concept shows NASA's new heavy lift and crew launch vehicles.
(NASA)
The applications for Ares I and Ares V will be similar but not identical to their namesakes.

Ares I uses a single five-segment solid rocket booster, a derivative of the space shuttle's solid rocket booster, for its first stage. A J-2X engine, based on the model that was used for Saturn's second stage will power the crew launch vehicle's second stage. The Ares I will lift more than 55,000 pounds to low Earth orbit, including the crew exploration vehicle, the capsule in which the crew rides.

Ares V, a heavy lift launch vehicle, will use five RS-68 engines (the same engine as is used by Boeing's Delta 4) mounted below a larger version of the shuttle's external tank and two five-segment solid propellant boosters for its first stage. The upper stage will use the same engine as the Ares I. The Ares V will lift more than 286,000 pounds to low Earth orbit and stand approximately 360 feet tall. It will be used to launch supplies and components to orbit needed by crewed missions to the Moon and later, Mars.

The use of past-programs' flown hardware is intended to limit the time needed for design and testing.

"We've already fired a five-segment rocket motor back in 2003. We're using engines that have already been flown; even though the J-2X is now in development, it's based on a heritage system that's flown. The tanks are going to be built very similarly to the ones we use on shuttle," said Horowitz. "So we're basically starting with a huge amount of heritage, and now we are basically taking advantage of the best of what we have to offer."

"You don't have to do as much component testing as if you were designing the components from scratch. We're still looking at what is the proper amount of integrated systems testing," explained Horowitz.

The heritage gives us higher confidence that when we get in to testing, there is less of a chance that we will be surprised," Jeff Hanley, Constellation Program manager, told reporters. For example, picking the Apollo shape for the capsule gives us higher confidence that there is nothing aerodynamically about how the capsule will fly through the atmosphere during reentry that we're going to get surprised by."

Neither was the name Ares a total surprise.

In January of this year, collectSPACE first reported the use of Ares and other monikers for the launch vehicles and their payloads in documents published internally at NASA's Johnson Space Center. At the time, the names were labeled as "notional".

"Some people had picked up on [Ares], but we hadn't decided that was the name back then," Horowitz told to collectSPACE.

"There were hundreds of names [rejected], so I couldn't even possibly go through all the names. You know, all the constellations in the sky, all the Greek and Roman gods, all their children, the cousins, it went on and on and on," joked Horowitz.

"I just asked Jeff Hanley and [Exploration Launch Office manager] Steve Cook and all the people working on the program to look at a list of all these names and suggest a name to me that they would like to have represent their program and project. So they came to me with the name Ares and I approved it."

"We [then had] a legal process we [had] to go through," described Horowitz. "We have to make sure we aren't infringing on any copyrights or anything. In fact, we've already filed a federal intent to use trademark on the Ares name for this rocket. So you have to go through that whole process and that just takes time."

That same process held up naming the crew exploration vehicle. According to Hanley, that title would be released soon.

"We are trading three or four names at this point. There is a running, leading candidate that of course, I can't talk about yet because we have to go through a process to have it vetted and approved. Hopefully, I'd like to think that in a month we'd be able to role that out," said Hanley.

If the same NASA documents that mentioned Ares months ago can offer any hint, then the CEV may soon be known as Antares.

Even if true however, the astronauts who fly atop Ares in Antares may assign names of their own, as had been the practice during Apollo (e.g. Apollo 11's Command Module Columbia).

Shared Horowitz, "If the crews decide they would like to name their capsules, I have no objection to them doing that. That's fine if they want to personalize their mission on their vehicle."

Horowitz likes however, the names chosen so far.

"I had seen [the name Ares used] in a lot of contexts over the years," said Horowitz. "If you go back and read the original book "The Case for Mars," the shuttle derived launch vehicle in that book used Ares because it meant Mars."

"In fact, it's used as an acronym for a winged vehicle that Langley designed to be a Mars glider, so Ares gets used a lot when people are talking about Mars-type missions. I have seen it a lot over the years."

"So when I saw it, it seemed like an obvious choice to me. Its simple, its easy to pronounce, its easy to spell. I like simple," concluded Horowitz.