June 27, 2018
— NASA will need an additional year and more than $800 million to finally deploy its next great orbiting observatory, space agency officials announced on Wednesday (June 27).

The James Webb Space Telescope (JWST), which had been tentatively slated to launch in May 2020, will now wait until at least March 30, 2021, and will exceed its congressionally-mandated cost cap of $8 billion, after a NASA review board found an array of concerns.

"Webb is vital to the next generation of research beyond NASA's Hubble Space Telescope. It's going to do amazing things — things we've never been able to do before — as we peer into other galaxies and see light from the very dawn of time," said NASA Administrator Jim Bridenstine in a message to his workforce. "Despite major challenges, the board and NASA unanimously agree that Webb will achieve mission success with the implementation of the board's recommendations, many of which already are underway."

The review board found that technical issues, including some caused by human error, impacted NASA's and prime contractor Northrop Grumman's ability to meet the telescope's development schedule.

In May, for example, program officials reported finding "screws and washers" that had fallen off the Webb's sunshield cover after the completion of acoustic testing at a Northrop Grumman facility in California. The unexpected issue caused a delay of about six months as engineers worked to assess the situation and retrieve the hardware that had come loose inside the spacecraft.

Among the review board's 30 recommendations for NASA was the addition of "sunshield hardware and simulation elements" to aid in identifying and correcting problems like the liberated screws. The review board also found that Northrop Grumman should improve its training and personnel certification to avoid human mistakes as it worked forward on integrating the Webb's components for launch.

"It was our assessment that there was still too much optimism built into the schedule," said Tom Young, the chair of the review board, citing another key issue in a call with reporters. "We implemented in our view a more realistic assessment as to the time it would take."

In response, NASA has said it has accepted and will implement all of the review board's recommendations. It also acknowledged that the new schedule will result in additional costs.

The telescope's new total lifecycle cost, to support the revised 2021 launch, is estimated at $9.66 billion, with a development cost estimate of $8.8 billion. NASA will need an additional $837 million to be appropriated by Congress in future year budgets.

"Webb is a top priority mission that has great national importance for the agency and it will move forward," said Bridenstine.

Part of the reason for the Webb's astronomical price tag is its unique design and capabilities. Unlike the Hubble, which orbits Earth, the Webb will orbit the Sun at a point in deep space where it can get cold enough to detect the infrared signatures of the most ancient galaxies and other distant targets.

Before it can begin making observations, though, the Webb needs to be folded to fit inside a 16-foot-wide (5-meter) fairing of an Arianespace Ariane V rocket. After leaving the planet from Kourou, French Guiana, the observatory will go through an intricate and technically-challenging series of deployments, one of the most critical parts of the telescope's journey to its final orbit, about one million miles (1.6 million kilometers) from Earth.

When completely unfurled, the Webb's primary mirror will span more than 21 feet (6.5 meters) and its sunshield will be about the size of a tennis court.

Because of the Webb's size and complexity, the process of integrating and testing its parts is more complicated than that of an average NASA science mission. Once the spacecraft element has completed its battery of tests, it will be integrated with the telescope and science instrument element, which passed its trials in 2017. The fully-assembled observatory then will undergo a series of environmental tests and a final deployment test before it is shipped to the launch site.

"The more we learn more about our universe, the more we realize that Webb is critical to answering questions we didn't even know how to ask when the spacecraft was first designed," said Thomas Zurbuchen, associate administrator of NASA's science directorate. "Webb is poised to answer those questions, and is worth the wait."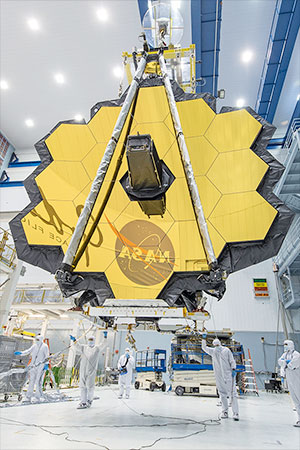 The primary mirror of the James Webb Space Telescope as seen deployed at NASA's Goddard Space Flight Center in Maryland in August 2017. (NASA/Desiree Stover)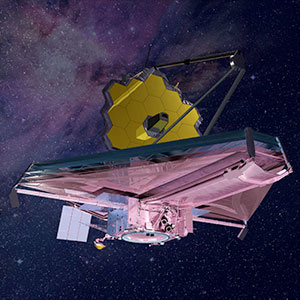 Artist's rendition of the James Webb Space Telescope deployed in deep space, about one million miles from Earth. (NASA)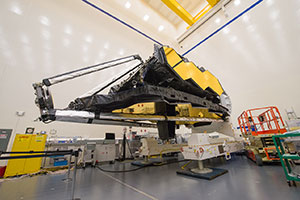 James Webb Space Telescope inside Northrop Grumman facilities in Redondo Beach, California in 2018. (Northrop Grumman)