advertisements

John Yardley, lead Mercury engineer, dies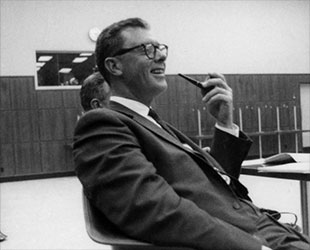 John Yardley, as seen at a Gemini mission review meeting in 1965. Yardley died on Tuesday, June 26, 2001 at age 76.
(NASA)
June 27, 2001
— John F. Yardley, a McDonnell Douglas executive and NASA associate administrator, died June 26 due to complications from cancer. He was 76.

"He was one of the real pioneers of the space program," said former astronaut and U.S. Senator John Glenn in an interview with the Associated Press.

"No one was more dedicated to the space program and the progression of the space program, working in his key spot there in industry to make sure that everything came off properly, with the emphasis on safety," said Glenn.

Yardley, who joined McDonnell as a stress analyst in 1946, may be best remembered by history for his role designing the Mercury spacecraft.

"He was the lead engineer at McDonnell out there on the Mercury when the first seven of us were coming in there and doing experiments," Glenn recalled.

"In those days, we were constantly making choices and people's lives and the programs depended on them," said Chris Kraft, who served as a NASA Flight Director on the Mercury and Gemini programs and later went on to serve as director of NASA's Johnson Space Center.

"Yardley was always willing to come up with the next idea to overcome whatever problem we were having. You knew you would get not just the right answer from him, but the best answer. He was one of two outstanding program managers in the early days of human space flight and one of my greatest associates," reflected Kraft.

Yardley's work led to the successful sub-orbital flight of Alan Shepard in May 1961. He then served as the launch operations manager at Cape Canaveral.

"John Yardley was one of the best engineers around and a great manager to work for," Guenter Wendt, Pad Leader during the Mercury, Gemini and Apollo programs, said in an interview. "He always challenged you to get it right. If not he sent you back to the books."

"I remember one time when I went to his office with some problems regarding a metal bracket," recalled Wendt. "He told me to either put the stress analysis figures up on his blackboard or come back when I had them. I never went to him unprepared again. He was great man and a great friend that I will miss very much."

In the years after Mercury, Yardley served as technical director for the Gemini spacecraft, vice president for the Skylab program and vice president and general manager of the space shuttle program.

In 1974, Yardley departed McDonnell Douglas to become NASA associate administrator for space flight (later space transportation systems) at the agency's headquarters.

"John Yardley was as responsible as any individual for getting the space shuttle program off the ground. He made STS-1 happen," said NASA Administrator Daniel S. Goldin in a statement issued by the space agency.

"His experience and leadership through NASA's early human space flight efforts paved the way for his great contributions to the space shuttle program. Two decades later, John's legacy lives on with each successful space shuttle mission," said Goldin.

"We have lost one of the true giants of [the U.S.] space program," said astronaut John Young, associate director of the Johnson Space Center. "A leader in the design and development of the early Mercury and Gemini spacecraft as well as today's space shuttle system, John Yardley made significant contributions to the program every step of the way."

"His vision, talent and dedication helped ensure that our spacecraft would be safe and that our missions would be successful," Young said.

Yardley returned to the private sector in 1981, rejoining the McDonnell Douglas Astronautics Company as president. In 1988, he became senior vice president of the McDonnell Douglas Corporation, a position he held until his retirement in 1989.

Yardley is survived by a wife, a son, four daughters, nine grandchildren and a great-granddaughter. Funeral services will be held on Friday in Ballwin, Missouri.

Memorial donations can be made to the American Cancer Society in St. Louis, Missouri.

© 2023 collectSPACE.com All rights reserved.