June 23, 2018
– Apollo 11 astronaut Buzz Aldrin has filed a lawsuit against two of his children, his former manager and family foundation, alleging fraud and seeking to regain control over his estate, including his space memorabilia and artifacts, as well as "all elements of the Buzz Aldrin brand."

Aldrin, 88, filed the lawsuit on June 7 in the 18th Circuit Court of Brevard County, Florida, to demand the removal of his son, Andrew, from serving as the trustee of his estate and power of attorney. Further, Aldrin wants his son, his daughter, Jan, and long-time personal manager (and "Mission Control Director") Christina Korp to cease representing his interests, including the Buzz Aldrin Space Foundation, also known as the ShareSpace Foundation, and Florida Institute of Technology's Aldrin Space Institute in Melbourne.

Aldrin alleges that his son and former manager misused his personal credit cards and social media accounts for their personal gain. He also claims that his son, his daughter and manager forbid him from marrying, having undermined his "personal romantic relationships." The lawsuit states that they have slandered him for years by stating he has dementia and Alzheimer's.

"We are deeply disappointed and saddened by the unjustified lawsuit that has been brought against us individually and against the Foundation that we have built together as a family to carry on Dad's legacy for generations to come," Andrew and Jan Aldrin said in a statement provided to collectSPACE on Saturday (Jun. 23). "When we established the current structure several years ago, it was done so at Buzz's request and with his full support."

"We love and respect our father very much and remain hopeful that we can rise above this situation and recover the strong relationship that built this foundation in the first place," the two siblings said.

Aldrin has a third child, James Michael, who was not named in the lawsuit.

The ShareSpace Foundation, which in its current iteration was founded in 2014 as a non-profit dedicated to inspiring children's passions for science, technology, engineering, arts and math, provides interactive tools to educators across the United States. On the website for Buzz Aldrin Ventures, a limited liability company (LLC) registered in May in Santa Monica, California, Aldrin is described as no longer being an officer or a member of the ShareSpace (a.k.a. Buzz Aldrin Space) Foundation's board.

In his lawsuit, Aldrin claims that the Foundation was using his finances to fund "future educational endeavors," whereas his goal is to "fund current educational endeavors."

The lawsuit came to light soon after Aldrin's Twitter account, @TheRealBuzz, became active again after a month-long hiatus. One of the first tweets posted by the account on June 18 declared that Korp "was terminated and does not represent Buzz Aldrin in any capacity."

The Buzz Aldrin Space Foundation contested the tweet in a statement provided to the website NASAWatch.com, clarifying that Korp was continuing in her roles as a board member of the family foundation and ShareSpace Foundation.

"We are not sure who is responsible for the tweet regarding Christina, but we are confident Buzz did not write this," a spokesman for the family foundation said. "It appears, as many have speculated online, that management of the Twitter account @TheRealBuzz has indeed been reassigned without proper verification."

Paperwork filed in support of Buzz Aldrin Ventures and accounts associated with Aldrin's Twitter account point to Lisa La Bonte and former ShareSpace Foundation executive director Linn LeBlanc as being associated with Aldrin's renewed online presence. An April 17 cease and desist letter included with Aldrin's lawsuit further identifies La Bonte as Aldrin's representative.

With regards to his space artifacts and memorabilia, Aldrin told collectSPACE in 2013 that he had "no intention of selling any more of the historical Apollo 11 items" for the remainder of his life and that he intended "to pass a portion of these items on to my children and to loan the most important items for permanent display in suitable museums."

Aldrin, together with the late Neil Armstrong, became the first humans to land on the moon on July 20, 1969. In the cease and desist letter included with the lawsuit, Aldrin's attorney, Robert Tourtelout, cited the upcoming 50th anniversary of the Apollo 11 mission, demanding Korp cease all plans for galas or celebrations that involve Aldrin individually or are associated with his brand.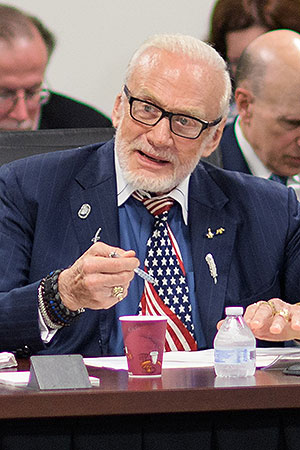 Buzz Aldrin participates in the National Space Council's Users' Advisory Group meeting on June 19, 2018 at NASA Headquarters in Washington, DC. (NASA/Joel Kowsky)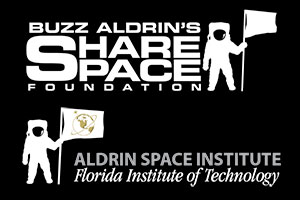 Logos for the Buzz Aldrin ShareSpace Foundation and the Aldrin Space Institute at the Florida Institute of Technology. (Buzz Aldrin Space Foundation)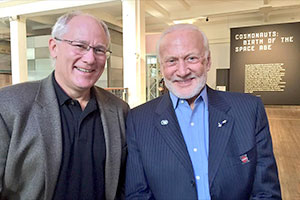 Buzz Aldrin, at right, with his son Andrew Aldrin as seen together at the Science Museum London in 2015. (Buzz Aldrin via Twitter)