June 19, 2018
– Long before Sally Ride left her stamp on space history, the famed astronaut discovered a passion for collecting space stamps.

Ride, who became the first American woman to fly in space 35 years ago Monday (June 18), was honored last month with a U.S. postage stamp of her own. Though she did not live long enough to see it — Ride died at the age of 61 in 2012 — her partner Tam O'Shaughnessy said Ride would have been "thrilled beyond belief."

"Sally collected stamps most of her life," said O'Shaughnessy at the United States Postal Service's dedication ceremony for the Sally Ride Forever stamp held at the University of California San Diego in La Jolla on May 23.

During a nine-month family tour of Europe in 1960, Ride, then 9 years old, and her younger sister were each encouraged to begin a stamp collection as a means of entertainment during the road trip.

"Everywhere that they traveled in Europe, [Sally's sister] Bear collected the animal stamps and Sally collected Olympic stamps," O'Shaughnessy shared. "After that, Sally just really got into it and continued to collect stamps the rest of her life."

In the late 1960s, Ride expanded her philatelic interests beyond the games.

"When Sally was 17 or 18, she started also collecting space exploration stamps," said O'Shaughnessy.

Just before she helped introduce the new U.S. Sally Ride stamp, O'Shaughnessy provided a rare look at part of Ride's personal stamp collection during an interview with Linn's Stamp News at which collectSPACE was also present. O'Shaughnessy shared one of seven albums that Ride filled with Olympic and space stamps.

"Typical Sally, she didn't put her name in it," noted O'Shaughnessy as she opened the album.

On each page, Ride had inserted between half a dozen to a dozen of the colorful commemoratives. A nationally-ranked tennis player in her youth, Ride clearly took as much interest in the sports-themed stamps as she did the space-topical issues that would foreshadow her future career.

Flipping through the album, O'Shaughnessy noticed a block of four bright red U.S. airmail stamps issued in 1962. The stamps depicted famed aviator Amelia Earhart.

"Sally loved Amelia Earhart," she said. "Amelia Earhart was one of her — as Billy Jean [King] would say — 'she-ros.'"

After turning a few more pages, O'Shaughnessy came across the 1969 "A Man on the Moon" stamp issued in celebration of the first Apollo moon landing.

"In July 1969, when Neil Armstrong and Buzz [Aldrin] were up there, hovering over the moon, and then Neil took those '[small steps]', Sally stayed up late. She had a [tennis] match the next morning, but she just had to watch," O'Shaughnessy said. "So she started having a passion for space even then."

Commenting on the nearly 50-year-old stamp, which shows a spacesuited Apollo astronaut descending down the ladder of the lunar module to the moon's surface, O'Shaughnessy said Ride considered Armstrong to be among her favorite people.

"I think she kind of felt like she could relate to him because he was an introvert, a very quiet and private [person]," said O'Shaughnessy.

Other space-themed stamps in the Ride's album commemorated the Apollo-Soyuz Test Project, the first joint mission between the United States and Russia in 1975; the first launch of NASA's space shuttle program in 1981; and the on-going robotic exploration of our solar system.

A 10-kopeck commemorative issued by Russia in 1963 celebrated the launch of the world's first woman in space, cosmonaut Valentina Tereshkova.

"She became sort of friends with Valentina," O'Shaughnessy recalled. "They had a good bit in common."

And then there was the page with a pair of stamps from the Republic of Mali and one from the Republic of Guinea depicting a certain young female astronaut.

"This one is very cool," said O'Shaughnessy, pointing to an orange-hued example from Mali showing a photo of Ride climbing aboard a NASA supersonic training jet. "She loved flying T-38s, so I am sure that gave a little extra joy to that stamp."

Opposite the Mali issue, which also included a second stamp depicting her launch on space shuttle Challenger, a Guinea stamp featured a drawing of Ride labeled in French, "First U.S. Woman in Space, 1983."

"After her first flight, a few countries issued stamps with her picture on it and she [added them to her collection]," O'Shaughnessy said.

Although O'Shaughnessy did not recall Ride mentioning the stamp collection while in public, it was something she would privately return to periodically.

"In our house in La Jolla that we lived in for about 25 years, in the living room on a wooden bookshelf, she had her seven stamp albums," described O'Shaughnessy. "She would pull them out and look through them."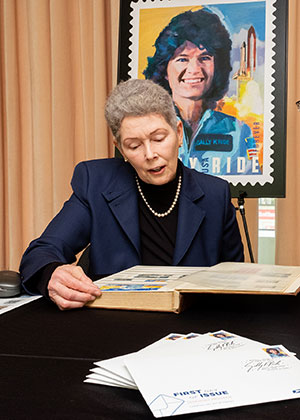 Tam O'Shaughnessy, Sally Ride's life partner, looks through the late astronaut's postage stamp collection. Behind her is an enlargement of the 2018 Sally Ride Forever U.S. stamp. (USPS/Daniel Afzal)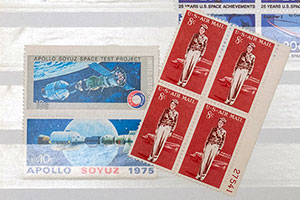 Among Sally Ride's collection were these 1962 U.S. airmail stamps honoring aviator Amelia Earhart. (USPS/Daniel Afzal)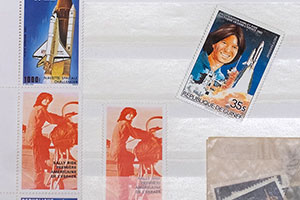 Sally Ride collected stamps honoring her own first launch as issued by the republics of Mali and Guinea in 1983. (USPS/Daniel Afzal)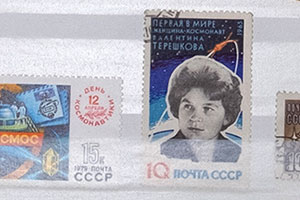 The first American woman in space collected stamps honoring the world's first woman in space long before Sally Ride met Valentina Tereshkova. (USPS/Daniel Afzal)