June 18, 2019
— NASA's last remaining, flight-configured example of the rocket that launched the first Apollo astronauts into space is back on public view, having undergone an almost year-long, extensive restoration.

Construction walls spanning the length of the Rocket Garden at Kennedy Space Center Visitor Complex in Florida were recently taken down, revealing the mostly-original, historic Saturn IB booster on display. The forerunner to the Saturn V that launched astronauts to the moon, the Saturn IB was first used by NASA's Apollo 7 crew in October 1968.

"We actually finished a little bit early," said Jennifer Mayo, senior manager of exhibits and artifacts for Kennedy Space Center Visitor Complex, in an interview with collectSPACE. "Our original planned finish date was going be in early July."

Work to restore the Saturn IB (pronounced "one-B") began in July 2018. The Space Coast's salt-rich atmosphere and 40 years lying on its side had taken a toll on the rocket, which once stood on a launch pad ready to fly a planned, but never-needed rescue mission to the United States' first space station, Skylab.

"This project was really unique. It was kind of like restoring an old house where you didn't really know everything about it going in," said Mayo. "Different stages of the rocket had different challenges."

One major concern was the rocket's "spider beam," an octagonal framework that holds the first stage propellant tanks together.

"That was really heavily deteriorated," Mayo explained. "The spider beam was so corroded that we had to entirely replace it."

Other areas of the rocket had fallen victim to intrusions.

"In areas where water had pooled, there was, obviously, corrosion, so there was a lot of patchwork that had to be done," said Mayo. "Wildlife had also infiltrated, so we had to make sure that we sealed up those areas."

Surprisingly though, not every part of the Saturn IB needed extensive work, said Mayo.

"The J-2 engine [on the second stage] that was entombed inside of the rocket was in remarkably good condition. I mean, it was really in beautiful condition," she told collectSPACE. "And the engine cowl covers that were from Rocketdyne looked like they had just been put on last week."

"The areas that were more tightly sealed were pristine. It was a surprise to see just how well some areas were preserved," said Mayo.

Over the course of the past year, the Saturn IB was completely disassembled so that "every nook and cranny" could be inspected and repaired as needed. Some of the work was done on site behind the construction walls, while the more extensive restoration required moving the stages to a dedicated work yard.

When all the pieces were back in place and fit together, the attention was turned to making sure that the rocket could remain on display for many years to come.

"Obviously, we know our [outdoor] environment isn't changing," said Mayo. "So we sealed the inside of the rocket to ensure that water and wildlife cannot get back in. And any areas that had dissimilar metals — because that can create reactions that lead to more deterioration — all of those areas were corrected."

"As for the paint on the outside, we took it down to its original material, because it did have a couple of layers of paint on it from [earlier touchups in the] years that have gone by. So, we took that off and put a really heavy duty paint system on the outside," she explained.

The visitor complex has now instituted an annual maintenance plan for the Saturn IB, so it can address any new instances of corrosion before it becomes a problem.

Mayo said the restoration has made it possible for the rocket to continue inspiring visitors for years to come.

"I believe that with our actions, we have added several decades onto the life of this rocket," she said. "Children of this generation, they're going be able to see this rocket in a much more magnified light and it's going to be lionized more, it's going to have more grandeur."

"It's going to have the prestige that it deserves," said Mayo, "and we're going to be able to tell the story of the rocket a lot better."

NASA contracted Conservation Solutions of Maryland and Guard-Lee and Ivey's Construction of Florida to carry out the restoration. The work was underwritten entirely by the proceeds from admission and concession sales at Kennedy Space Center Visitor Complex. The cost for the restoration has not been made public.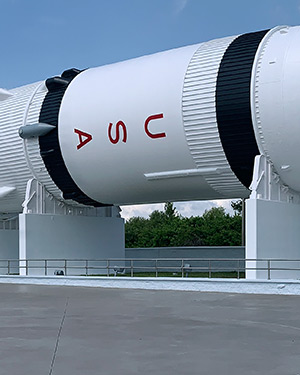 Kennedy Space Center Visitor Complex has returned to full view its Saturn IB rocket after an almost year-long restoration. (KSCVC)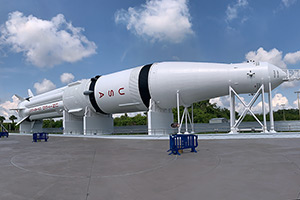 The Saturn IB (SA-209) at Kennedy Space Center Visitor Complex is the last of its type remaining in flight configuration. (KSCVC)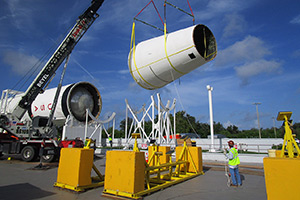 During its restoration, the Saturn IB rocket was fully disassembled so each component could be inspected and repaired. (KSCVC)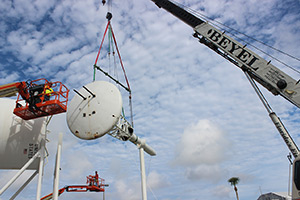 The command module and launch escape system from the Saturn IB rocket at Kennedy Space Center Visitor Complex was restored off site before being returned to the Rocket Garden. (KSCVC)