June 16, 2021
— Three astronauts have lifted off on China's first crewed mission in five years to help assemble and be the first to take up residency on the nation's new space station.

Veteran Chinese astronauts Nie Haisheng and Liu Boming, together with first-time flier Tang Hongbo, launched aboard China's Shenzhou 12 spacecraft on Wednesday (June 16). The three crewmates flew atop a Long March 2F rocket at 9:22 p.m EDT (0122 GMT or 9:22 a.m. Beijing Time on June 17) from the Jiuquan Satellite Launch Center in northwest China.

Nie, Liu and Tang are set to rendezvous and dock with the Tianhe core module of the Tiangong space station within six hours of their launch. They are scheduled to spend three months aboard the orbiting outpost, setting a new duration record for a Chinese space mission. (The previous longest mission, Shenzhou 11, lasted 32 days in 2016.)

Update: The Shenzhou 12 spacecraft docked with the Tianhe core module at 3:54 a.m. EDT (0754 GMT or 3:54 p.m. Beijing Time) on Thursday (June 17). The crew entered the space station for the first time at 6:48 a.m. EDT (1048 GMT).

"Our upcoming mission will take longer than before," said Nie at a pre-launch press conference on Tuesday, according to the Xinhua state-run news agency. "We will not only make the core module a 'space home,' but also carry out a series of key technology verifications. There will be more arduous tasks and more challenges."

Heavenly Palace

China launched the Tianhe ("Harmony of the Heavens") module into orbit in April, beginning a series of 11 planned missions to establish and utilize its first multi-module space station by the end of 2022. When complete, the T-shaped Tiangong ("Heavenly Palace") complex will also have two science modules, Wentian ("Quest for the Heavens") and Mengtian ("Dreaming of the Heavens"), extending from the sides of Tianhe.

In May, China sent the uncrewed Tianzhou-2 cargo spacecraft to dock with Tianhe and stock supplies, equipment and propellant for the Shenzhou 12 mission.

Nie, Liu and Tang will spend their three months aboard the Tianhe module testing its life support systems and its robotic arm, as well as carrying out international science experiments and technology demonstrations. The crew will also conduct outreach activities aimed at engaging the Chinese public.

Two spacewalks are also planned to install a panoramic camera, connect exterior pumps and assemble a toolbox. The two outings will be the first extravehicular activities to be performed by Chinese astronauts since Liu and his Shenzhou 7 crewmate Zhai Zhigang achieved the country's first spacewalk in September 2008.

"Compared with the Shenzhou 7 mission, extravehicular operations on this coming mission will be much longer and more sophisticated, and I believe that there will be difficulties," said Liu. "We've received comprehensive, systematic and stringent training, including how to respond to emergencies and malfunctions."

Inside the space station, the three Shenzhou 12 crewmates will have their choice from more than 120 different kinds of food, which can be rehydrated or warmed using a heating device. The astronauts will also have access to a treadmill and stationary bicycle to keep fit and can stay in touch with the ground using two-way video calls and email.

Three, two, one

The Shenzhou 12 mission is China's seventh human spaceflight since 2003.

Nie, 56, is the most experienced on the crew, making his third launch into orbit. He previously flew as flight engineer on Shenzhou 6 in 2005 and commanded Shenzhou 10, the final mission to China's first prototype space lab, Tiangong 1.

Liu, 54, is on his second mission. In addition to performing China's first spacewalk, Liu's previous Shenzhou 7 flight was China's first to fly with three astronauts.

Tang, 45, was selected with China's second group of astronauts. He is the nation's 12th person to fly into space.

"This will be my first mission, so I do feel the pressure," said Tang. "But I'm convinced that will translate into motivation and our confidence is a guarantee of success."

"We are honored to take the lead in a series of crewed missions for space station construction," Nie said, "and we have many expectations."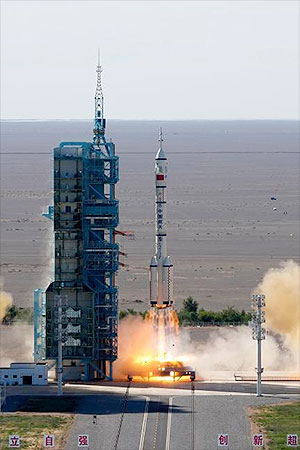 A Long March 2F rocket lifts off with the Shenzhou 12 spacecraft and astronauts Nie Haisheng, Liu Boming and Tang Hongbo from the Jiuquan Satellite Launch Center on June 16, 2021. The crew will be the first to outfit and occupy China's space station. (Xinhua)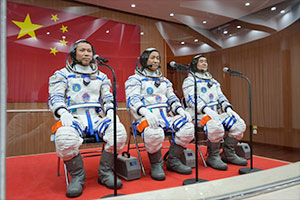 China's Shenzhou 12 crew at their pre-launch send-off ceremony. From left: Tang Hongbo, Nie Haisheng and Liu Boming. (Xinhua)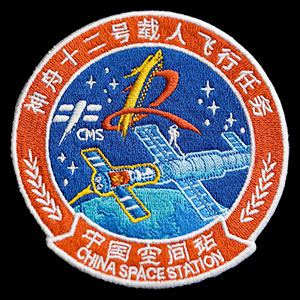 China's Shenzhou 12 crew mission patch. (China Manned Space)