advertisements

Air Force's secret X-37B space plane lands after 15 months circling Earth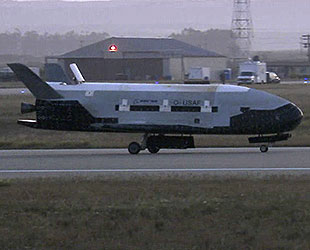 Video still showing the US Air Force's second X-37B Orbital Test Vehicle (OTV) landing in California, June 16, 2012.
(U.S. Air Force)
June 16, 2012
— A secret unmanned space plane landed in California on Saturday (June 16), after circling the Earth for one year and 104 days on a clandestine mission.

The United States Air Force's Orbital Test Vehicle (OTV), also known as the X-37B, touched down at 8:48 a.m. EDT (1248 GMT) at Vandenberg Air Force Base, approximately 150 miles (241 kilometers) northwest of Los Angeles. It rolled to a halt on a 3-mile (5-kilometer) concrete runway.

"Team Vandenberg has put in over a year's worth of hard work in preparation for this landing and today we were able to see the fruits of our labor," said Col. Nina Armagno, commander of the 30th Space Wing. "I am so proud of our team for coming together to execute this landing operation safely and successfully."

The 29 foot long (9 meter) mini space shuttle, with its 15 foot (4.5 meter) wingspan, was the second OTV sent into space as part of the military experimental program.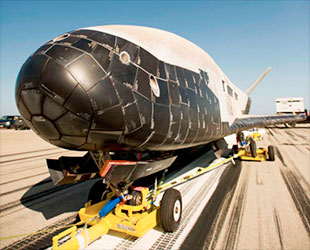 The X-37B OTV, seen here after landing on June 16, 2012, uses toughened uni-piece fibrous insulation impregnated silica tiles, which are more durable than space shuttle tiles.
(Boeing)
The reusable X-37B, which was built for the Air Force by the Boeing Company's Phantom Works division, had been rated for 270 days in space but it exceeded that on this mission by nearly 200 days. The OTV was launched atop a United Launch Alliance (ULA) Atlas V rocket from Cape Canaveral Air Force Station, Fla., on March 5, 2011.

"Although I can't talk about mission specifics, suffice it to say this mission has been a spectacular success," said General William Shelton, commander of Air Force Space Command, in a recent speech.

The OTV is equipped with a payload bay that is about the size of a pickup truck's bed. The vehicle is powered by a deployable solar array.

The Air Force did not say what, if anything, was carried in the cargo bay or what the spacecraft did while in orbit. Amateur satellite watchers, who tracked the OTV while it was in space, said that the vehicle remained steady in its orbit throughout most its 470 days. It flew over the same swath of the Earth every two days, suggesting perhaps a reconnaissance mission.

The second OTV circled the Earth about 7,000 times. The space plane surpassed on its one mission the time spent in space and distance traveled by any of NASA's retired — and four times as large — shuttles, over the course of their entire flying career. Discovery, the fleet's leader, had logged just over a year and 5,800 orbits when it landed for its 39th and the final time.

"With the retirement of the space shuttle fleet, the X-37B [Orbital Test Vehicle] program brings a singular capability to space technology development," program manager Lt. Col. Tom McIntyre said. "The return capability allows the Air Force to test new technologies without the same risk commitment faced by other programs. We're proud of the entire team's successful efforts to bring this mission to an outstanding conclusion."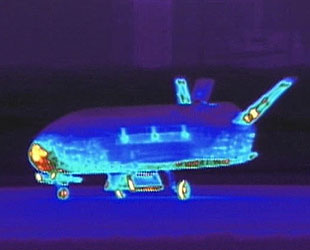 Video still showing infrared view of the Air Force's X-37B Orbital Test Vehicle-2 (OTV-2) as it lands, June 16, 2012.
(U.S. Air Force)
The first OTV, which flew from April 22 to Dec. 3, 2010 for a maiden mission lasting 224 days, was observed flying in several different orbits, most of which had a ground track that repeated every two to four days. It was the first U.S. unmanned vehicle to return from space and land safely on its own.

The original X-37B space plane, now refurbished, is slated to launch on its second spaceflight — the OTV program's third mission — this October.

The X-37 began as a NASA research project. Lacking the funding to move the program forward, the civilian space agency transferred the robotic mini-shuttle to the Defense Advanced Research Agency (DARPA) in 2004. The U.S. Air Force took over responsibility for the project in 2006.

© 2023 collectSPACE.com All rights reserved.


Feedback: Messages






USAF X-37B OTV-2 lands
Video credit: U.S. Air Force


Click here to enlarge and view video in a new, pop-up window.