June 14, 2021
— NASA's Space Launch System is now lifting off from the cereal aisle in grocery stores.

The Artemis program rocket, which the U.S. space agency is assembling to send astronauts back to the lunar surface, is now sharing space with orange stars and blue moons on the front of boxes of Lucky Charms.

"Limited-Edition Galactic Lucky Charms are racing into space with NASA's Artemis I for an out-of-this-world adventure!" the cereal's Twitter account announced.

"We hear the Space Launch System (SLS) and Orion spacecraft can be found in all sorts of places..." NASA replied.

Announced in April and now on store shelves in the U.S. and Canada, Galactic Lucky Charms adds three new marshmallow charms to the cereal's iconic assortment of hearts, stars and horseshoes, clovers and blue moons, unicorns, rainbows and tasty red balloons.

"Check out space-travelling rockets and magic cloning planets!" General Mills promotes on the Lucky Charms website. "Hurry! This galactically delicious cereal is only on Earth for a limited time."

The SLS rocket appears on boxes of Galactic Lucky Charms in the upper right corner, with a promo for "more info on the back." On some versions of the boxes, the reverse features "fun facts," including how many blue moon charms stacked atop each other would reach the moon (more than 30 billion), and a graphic of NASA's Orion spacecraft.

The box also encourages children to learn more about NASA's efforts to return to the moon.

"For more out of this world fun and to learn about NASA's Artemis lunar explorer program, visit www.nasa.gov/artemiskids," the limited edition box reads.

The back can also be cut from the box to form a star projector (with the help of a flashlight). The Lucky Charms' website offers additional family activities, including a galactic do-it-yourself diorama, a recipe for Galactic Lucky Charms donuts and an origami rocket "inspired by NASA's Space Launch System."

Other specially-marked versions of the Galactic Lucky Charms boxes offer a free solar eclipse viewer or the chance to win a trip a Space Camp.

Two lucky fans of Lucky Charms will win a trip to Huntsville, Alabama to attend the Space Camp Family Astronaut Training Camp, including airfare, accommodations, rental car and $500 in spending cash. One winner will be selected from Publix grocery store customers and the other will be chosen from participants nationwide.

All entrants also have a chance at winning Galactic Lucky Charms swag, including a sweatshirt, a crossbody bag and a set of three Lucky Charms Galactic patches.

(No box? No problem. To enter without purchasing, use the free code "LUCKY28" on the Lucky in Space website. The promotion, which runs through Sept. 30, is only open to residents of the United States who are at least 21 years old. See the website for full terms and conditions.)

The Lucky Charms promotion is the latest way that NASA's Artemis program has sought to reach and engage children and adults in the space agency's upcoming return to the moon. Earlier, NASA worked with Peanuts to offer Artemis- and Snoopy-themed McDonalds Happy Meal toys, put the SLS on a special edition Etch-A-Sketch to celebrate the classic toy's 60th anniversary and partnered with LEGO to offers sets inspired by the Artemis rocket and its related architecture.

"So NASA Artemis, we hear you'll be joining Lucky in space soon! You're not after his Lucky Charms, we hope," the Lucky Charms Twitter account asked.

"We couldn't catch him if we tried! We're actually off to the moon again to prepare for long-term space exploration," replied NASA.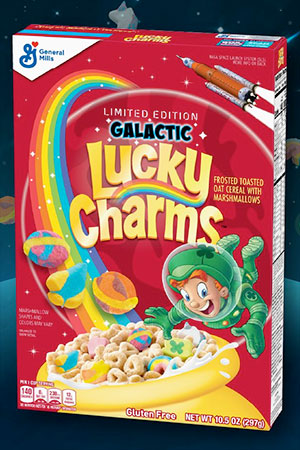 General Mills' limited edition Galactic Lucky Charms helps promote NASA's Artemis return to the moon with its box art. (Lucky Charms)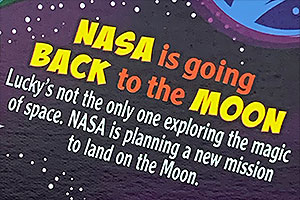 Boxes of Galactic Lucky Charms features fun facts about NASA's Artemis program and Space Launch System (SLS). (collectSPACE)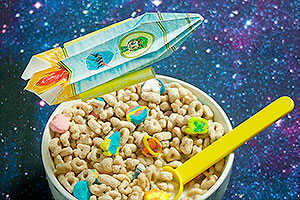 Lucky Charms' website has family activities, including an origami rocket inspired by NASA's Space Launch System. (Lucky Charms)