June 13, 2015
— Some two dozen astronauts are landing under Seattle's Space Needle and if you can snap a selfie with one or more of them, you could win your own ticket to fly.

The Museum of Flight on Friday (June 12) launched its "Astronauts on the Town" public art program by beginning to place 25 six-foot-tall spacesuit-clad statues around the "Jet City."

"Prepare for an astronaut invasion!" the museum declared on its art project's website. "You may have started to see fiberglass giants emerging from the museum's shadows. As part of our 50th anniversary celebration, the museum is launching... 'Astronauts on the Town.'"

Similar to other art installations that have featured painted cows, sports team mascots and even space shuttles, The Museum of Flight's "Astronauts on the Town" showcases suited statues decorated by local artists and presented in locations and businesses in the surrounding area.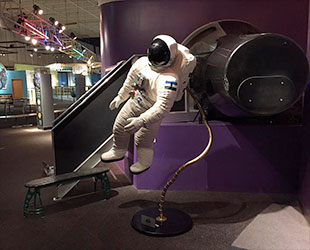 The Museum of Flight installed "Extravehicular Activity" by artist Matthew Dockrey at the Pacific Science Center in Seattle.
(MOF)
"Keep your eyes peeled for the astronauts at EMP, Ray's Boathouse, the Pacific Science Center, Salty's and many more locations!" the museum advised.

Not all the astronauts are immediately recognizable as the spacemen they all started off as. Among the customized statues are a tuxedo-sporting astronaut (complete with top hat); a hairy "SpaceSquatch" in a lumberjack shirt; and a fishy "Basstronaut" (of no relation to the singer and once-space-tourist-hopeful Lance Bass).

The inspiration for the statues' theming came from the air and space museum's "Now everyone can be an astronaut" campaign launched in 2012. Its spacesuit-wearing mascot has appeared in short videos, advertisements and at local events in and around Seattle.

"Astronauts on the Town" builds upon the campaign, while helping to promote the museum's upcoming celebration of its founding in 1965 – the same year that an astronaut first donned a pressurized suit to walk in space. The statues will remain on exhibit for the next three and a half months, after which they will move back to the museum for its 50th birthday party planned for Sept. 19.

In the interim, the statues will be put up for auction, with bidding to begin on Aug. 1.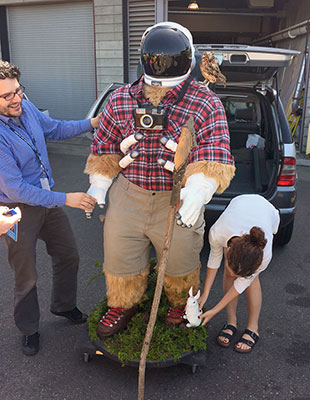 "SpaceSquatch" by artists David Newman and Ruth Cielo will go on display at Pyramid Alehouse in Seattle.
(The Museum of Flight)
For now though, the museum is inviting the public to find and photograph the astronauts and then share their shots on Instagram with the hashtag #AstronautsontheTown.

"Post a photo of yourself with your favorite astronaut and be entered for your chance to win two roundtrip tickets on Alaska Airlines," the museum announced on Friday.

Everyone who shares their statue selfies are also eligible to get an "Astronauts on the Town" t-shirt at The Museum of Flight's 50th anniversary celebration this fall.

For more details, see the Astronauts on the Town website.