June 12, 2009
— Among the seven astronauts launching on space shuttle Endeavour on Saturday, four are making their first flight, an achievement in any astronaut's career. One of the four however, will also be setting a benchmark as the 500th person in history to fly into space.
---
Update, July 15:
After five scrubs, Endeavour launched the 500th person into space.
---
Endeavour's pilot Doug Hurley, mission specialists Chris Cassidy and Tom Marshburn, together with arriving space station flight engineer Tim Kopra, all had a chance at the title, even though they may not have known about it until recently.
"We are so kind of bogged down in the training and the mission, and I know that sounds cliché, but I didn't even know that was the case until the press conference," said Cassidy, just a few hours after the May 28 media event where collectSPACE alerted the crew to the record they'd be setting.
Determining who of the four would be the 500th, or even that he was aboard the STS-127 mission at all, involved defining the boundary between Earth and space, and who among Endeavour's crew would cross that boundary first.
"There's probably a protocol for stuff like [this]," explained Endeavour's commander Mark Polansky, "and if that's it, well, there you go."
Rules for the record
Even before Yuri Gagarin became the first person to enter space in 1961, the governing body for world flight records, the Fédération Aéronautique Internationale (FAI), defined the demarkation altitude at 62 miles (100 km). Other lines separating the sky from space have existed, ranging from 50 to over 70 miles high, but the FAI definition, based on where aeronautics becomes astronautics, has been used as the ruler by which all past flights have been measured.
In the 48 years that have followed up until STS-127, 498 men and women (447 men and 51 women) have crossed the 62 mile mark, earning their space explorer wings. All but eight launched on American or Russian government owned spacecraft, although in total they have come from 36 nations. Five first flew on short sub-orbital hops, which is why the 500th person in space is not also the 500th in orbit.
Like on all space shuttle missions with seven astronauts, Endeavour's crew is divided for launch with four on the upper flight deck and three seated on the middeck. Of the four STS-127 rookies, Hurley and Cassidy are strapped in above, with Marshburn and Kopra below.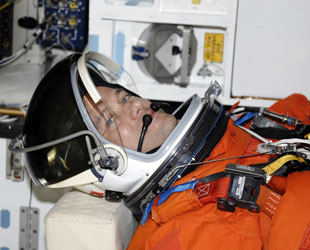 STS-127 mission specialist Tom Marshburn is shown strapped aboard Endeavour's middeck during a launch rehearsal (NASA)
Their position at launch however, is less important for the record as where they will be when they cross the 62 mile mark. Marshburn had given some thought to that question as part of a light hearted rivalry with Cassidy. Chosen by NASA to be astronauts together in 2004, Marshburn joked with Cassidy as to who was going to beat who into space.
"I think my seat might be a few feet ahead of his but then you roll upside down, which might put me even more in the lead, but it is kind of hard to say," shared Marshburn.
A similar rationale was put forth by members of the 2008 STS-122 crew when determining that astronaut Stan Love would be the
300th American
to fly in space. Like Kopra and Marshburn, Love rode to space onboard the middeck.
Given the flight profile of the shuttle, which rolls twice on its way to orbit, others on the STS-127 crew believed the 500th would be Cassidy, who is seated behind Hurley on the flight deck. Rather than leave the title open to debate, the seven astronauts met and voted on who would be Mr. 500.
"We decided between the crew that it would be Chris [Cassidy]," Hurley shared with collectSPACE. "Officially, it is Chris, which I think is awesome."
A number to build upon
"I'm honored to have a position, whether it is 499, 500 or 501," explained Cassidy. "If it just so happens to be 500, that's great and it is exciting regardless."
Cassidy, who is the second Navy SEAL-turned-astronaut, will perform three of the STS-127 mission's five planned spacewalks to complete the installation of the Japanese Kibo laboratory, move spare equipment, replace some of the International Space Station's solar power-fed batteries and finish configuring equipment delivered by prior crews.
Using Cassidy's position aboard Endeavour as the model for determining some of the earlier records, cosmonaut Gennady Strekalov became the 100th into space onboard Soyuz T-3 in 1980; NASA Administrator nominee Charlie Bolden was no. 200, narrowly beating now-Senator (then Representative) Bill Nelson, Franklin Chang-Diaz and Bob Cenker; no. 300 was either Jim Newman or Dan Bursch, both seated on STS-51 on the aft flight deck like Cassidy (with fellow first time flier Carl Walz on the middeck); and the 400th was Paul Richards, who in 2001 was seated on STS-102 behind another first timer, James "Vegas" Kelly.
For STS-127 pilot Hurley, the importance of these records wasn't so much in the title as it was in what it represents.
"I think we are still just in the beginning stages," he said. "We have done so much over the last several years putting the space station together and obviously we're still working on it, so in that regard, we're just learning how to live in space."
"Right now we are just in the early stages of space flight and the future holds a lot, especially with the follow-on vehicles and the plans to go to Moon and Mars," Hurley continued. "We want to get to a point where everybody is going."