June 10, 2019
— A luggage company with a lunar legacy is celebrating the 50th anniversary of the first moon landing.

Zero Halliburton, known for its aluminum briefcases, has introduced two new limited edition technical cases inspired by the containers that were used to return the first lunar samples to Earth in July 1969.

"Our cases have accompanied some of the greatest voyages in history — none more significant than NASA's Apollo 11 mission to the moon," said Tom Nelson, Zero Halliburton's Global President and CEO, in a statement. "As we prepare for the next generation of epic travel feats, we decided to celebrate America's triumph and pay homage to the case that solidified our legendary durability with a limited anniversary edition."

Zero Halliburton's Apollo 11 50th Anniversary Limited Edition Technical Cases, offered in small and medium sizes, are each engraved with NASA's Apollo 50th anniversary logo and come with an embroidered baseball hat and dust bag to match. The cases, which are limited to 50 of each size, list for $525 and $595, respectively.

Astronauts Neil Armstrong and Buzz Aldrin were equipped with two Apollo Lunar Sample Return Containers (ALSRC) to preserve the moon rocks and soil they collected from Tranquility Base, the site of humanity's first lunar landing, for the journey back to Earth. Prepared by the nuclear division of Union Carbide, the modified Zero Halliburton cases included aluminum mesh liners to help absorb impacts.

Once sealed in the vacuum of the moon, the "rock boxes" were not reopened until they were inside the Lunar Receiving Laboratory at the Manned Spacecraft Center (now Johnson Space Center) in Houston for scientific study.

"NASA promised the world the moon — and we carried it back," said Nelson.

The aluminum cases that Armstrong and Aldrin used on the moon measured 19 inches wide by 21 inches tall by 8 inches deep (48 by 27 by 20 centimeters) and weighed about 19 pounds (9 kilograms) empty.

The medium Zero Halliburton Apollo 50th case is about the same size at 18 inches wide, 13 inches tall and 6.5 inches deep (46 by 33 by 16.5 cm), but it is only 5.3 pounds (2.4 kg). The small case is 12 inches wide, 9.5 inches tall and 5.5 inches deep (30.5 by 24 by 14 cm) and weighs 3.5 pounds (1.6 kg).

As technical cases, both sizes come with a customizable foam insert that owners can cut to shape for their desired contents — lunar samples or otherwise.

"Signature draw bolt latches enable smooth access and provide that satisfying click sound that comes from knowing you've got success (or moon rocks) locked-up," describes Zero Halliburton on its website.

In addition to offering the limited edition Apollo 50th anniversary cases, Zero Halliburton is also publishing a five-part series on its website chronicling the Apollo 11 mission and "how Zero Halliburton's reputation for manufacturing high-quality, airtight travel cases resulted in a remarkable opportunity to support the historic mission to the moon."

Titled "Precious Cargo," the five episodes will be released over the course of June and July. The series covers the creation of the ALSRC, the hardware's relation to today's Zero Halliburton cases, the process of testing hardware for spaceflight and the company's favorite souvenirs.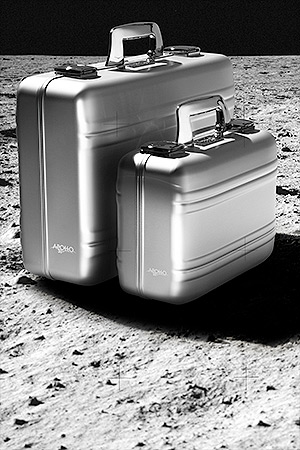 Zero Halliburton's new Apollo 11 50th Anniversary Limited Edition Technical Cases are inspired by the containers that returned to the first moon rocks to Earth in July 1969. (Zero Halliburton)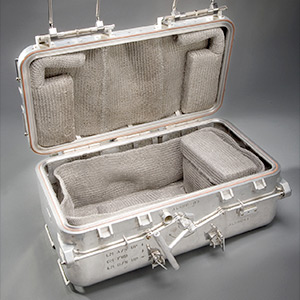 One of two Apollo Lunar Sample Return Containers that were used on the Apollo 11 mission to preserve moon rocks. (Smithsonian)