June 8, 2023
— An astronaut who helped assemble the sprawling International Space Station is now behind a new series of space building projects that are on a very different scale.

Naoko Yamazaki, who as a JAXA (Japan Aerospace Exploration Agency) astronaut flew on the penultimate mission of space shuttle Discovery, has worked with the Japanese toy and hobby company Kawada to launch a new collection of Nanoblock kits themed around space exploration. The Nanoblock "Space" series is set to go on sale in Japan on July 31, followed by a worldwide release.

"I advised on Nanoblock's new space series with the Young Astronauts Club of Japan. There is even an astronaut model [of me]!" Yamazaki posted on Twitter on Wednesday (June 7).

Indeed, one of the 12 newly-announced models is of Yamazaki, herself, wearing the NASA advanced crew escape system pressure suit that she wore to launch and land in 2011. The figure is made up of 190 tiny toy blocks — hence the "nano" in the brand's name — and stands just 2.8 inches tall (7.1 centimeters) when built.

Even at that small size, the model includes a representation of her name tag, the STS-131 mission patch (as a single blue dot) and her helmet, complete with a tinted but still translucent visor. A limited edition release, the Nanoblock Astronaut Naoko Yamazaki model has a list price of 935 yen (or about $7 US).


Other new models in the 2023 space series include:
Other kits that are part of the series are two scale models of backyard telescopes (including a co-branded kit with Vixen) and re-releases and re-packagings of the earlier produced Saturn V rocket (2016); Space Center Deluxe Edition (2013); and Astronaut (2021). There is also a new "blind box" assortment, called the Mini Nano Space Collection, which includes six different, randomly-assorted models, each built up from about 60 pieces. These tiny (2.7 inches or 7 cm) kits feature the SLS, two different astronauts, International Space Station and two sci-fi theme builds.

In addition to revealing the new kits, Kawada also announced two promotions to go along with the sets' release. Beginning on July 22, fans can retweet the official Nanoblock account on Twitter to enter to win one of five new space models.

A week later on July 28, a month-long contest will invite those who purchase 5,000 yen ($35 US) of Nanoblock products to submit their receipts for a chance to win one of 30 prizes, ranging from more of the new space sets to other space goods or an astronomical telescope.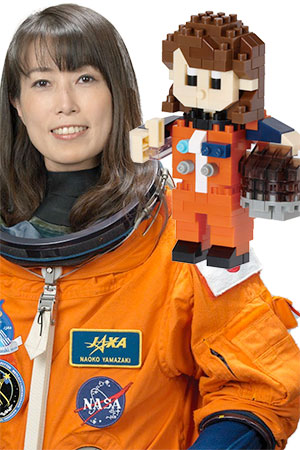 Former JAXA astronaut Naoko Yamazaki not only advised Kawada on its new Nanoblock space series models, she became one, too. A limited edition kit is modeled after her. (Kawada/JAXA / montage by collectSPACE)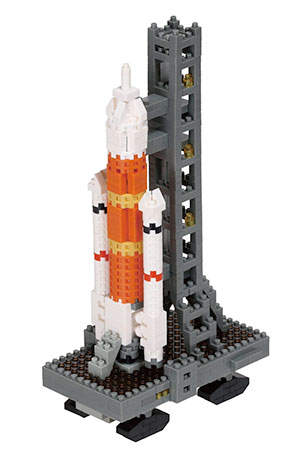 Kawada's new Nanoblock space series includes a model of NASA's Space Launch System (SLS) rocket, which will send international Artemis astronaut crews to orbit and walk on the moon. (Kawada)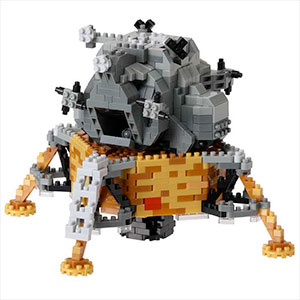 Standing just 4 inches tall (10.2 cm), the 1,360-piece Nanoblock Apollo lunar module can separate into its two stages and includes two spacesuited astronauts and a lunar roving vehicle. (Kawada)